Crisis Text Line Brings Help to Troubled Teens Where They Live — Their Phones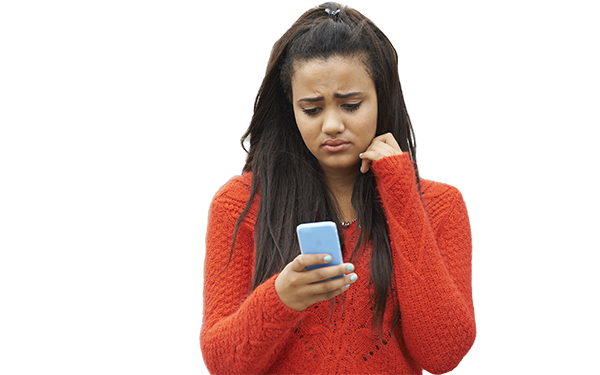 "I want to die or run away. I can't take my family."
"I just feel awful… im in the bathroom at my school crying."
"I have no one to talk to about it. I would like to stop cutting myself."
An incoming text message that a volunteer mental health counselor at Crisis Text Line responds to during a typical shift might look like this.
Between August 2013, when the free, nonprofit text-messaging-based counseling service launched, and July 12, counselors have exchanged more than 19.8 million messages with people nationwide struggling with depression, bullying, eating disorders, sexual abuse, self-harm, suicidal thoughts and other crises.
Seventy percent of those texting in are teens and young adults, ages 13 to 25, according to the organization — and that number could grow as educators become more aware of the service and the possibilities it holds, especially for cash-strapped schools struggling to keep guidance counselors and social workers on the payroll. (A recent 74 investigation found that four of the top 10 school districts in the country currently employ more security officers than counselors)
It's simple enough to use the service — just text "Start" to 741-741, and a live, trained counselor, perhaps located thousands of miles away, responds within a few minutes.
Robert Nikc, an assistant principal at Intermediate School 145 in Queens, said a text counseling service like Crisis Text Line could be a tremendous resource for his students, who are more prone to vent about a problem via a text or social media post than they are to initiate a conversation in person.
"(Texting) is something that they are very comfortable using and they don't have concerns, if you will, about disclosing personal information over that forum to their friends," Nikc said.
---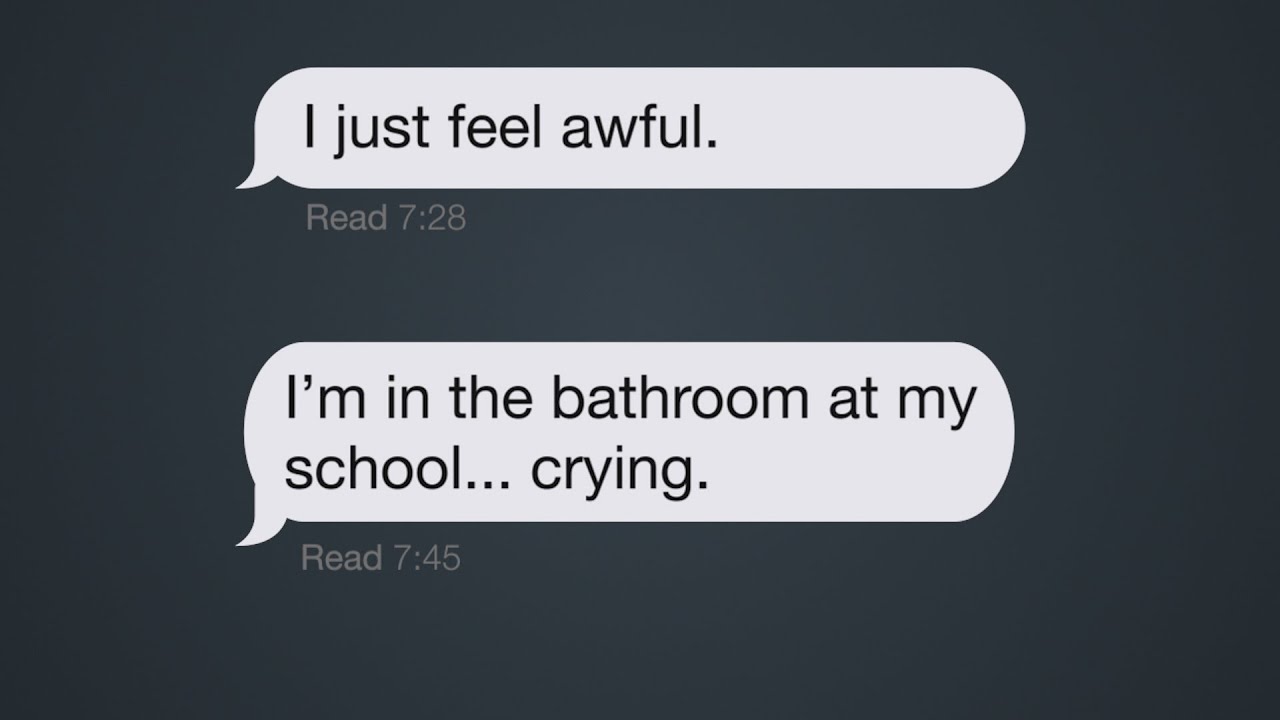 ---
Nikc said he recently learned about the service and plans to present it to his administrative team, which could consider offering it as a resource to students and their families.
The school has nearly 2,000 students in grades six to eight and five full-time school counselors — or one for every 400 students. (The American School Counselor Association recommends a ratio of one counselor for every 250 students.) That a text message conversation is readily available during the hours when teachers, counselors and deans are not (nights are high-volume times for Crisis Text Line) makes the service more appealing, Nikc said, although he cautioned it shouldn't be considered a replacement for one-on-one conversation with an adult.
Starting this year, Crisis Text Line is embarking on a partnership with the popular teen messaging app After School, which has millions of users at more than 20,000 high schools around the country. The app is designed to be inaccessible to the prying eyes of adults — students can post anonymously and they sign up for a school-specific newsfeed by verifying their identity and their school via their Facebook account.
If students post specific words or phrases that alert After School's human moderators to a potential crisis, the app will send a message asking if the user would like to speak confidentially with a Crisis Text Line counselor. In other cases, threats are flagged by a moderator or the app's automatic language detection filters, triggering After School to contact local authorities to intervene.
Since the app began offering a counseling service in April 2015, more than 60,000 students have used it, a spokesman said. (The app first partnered with a different service, Instawell, from April to December last year and switched to Crisis Text Line in early 2016.)
Text-based services that cater to children and teens (and their parents) are nothing new. A school in Los Angeles, for one, sends texts to parents with updates on students' assignments, which boosted homework completion rates by 25 percent, according to The Hechinger Report.
Researchers at the University of Virginia found that when high school seniors were sent text reminders to finish financial aid forms, they were more likely to enroll in a two-year college than those not sent text messages.
But the idea that an app or a text service could end up as the first line of defense for kids who may be at risk for suicide or depression? That has yet to fully catch on with parents and educators.
Executives at both organizations believe that by working together they can speed up that process and improve outreach to youth in crisis and prevent tragedies.
"We know that teenagers don't want to go talk to their parents, or they don't want to go to the school counselor and watch everyone watch them walk into the office, so where teens feel most comfortable is on their phones," said Cory Levy, After School's co-founder and chief operating officer.
And they will pour their hearts out in 140 characters or less — the per message limit set by Crisis Text — in conversations the service says last 45 minutes to an hour on average. The texter in crisis is using a phone but the counselor is on a computer that allows quick access to helpful information or referrals.
The goal is for the counselor to provide a temporary intervention, guiding the texter from what the organization calls a "hot" moment to a "cool calm" using active listening. Most conversations end with a referral to other services, said Crisis Text Line's Director of Communications Liz Eddy.
In order to become counselors, volunteers must be 18 years old, complete 34 hours of training, undergo a background check and make it through the interview process. The organization has about 1,500 counselors.
Eventually the organization plans to create an online referral database of mental health services, shelters and counseling centers that can be regularly updated, Eddy said.
Crisis Text Line is preparing to make a trove of data available to approved researchers in an effort to better inform public policy and improve mental health care services. (The organization has headquarters in New York City and was founded by Nancy Lublin, who previously spent 12 years as the chief executive of DoSomething.org.)
Among the data that is publicly available on its site right now:
— States where texters most often seek help for "school problems," a category used by Crisis Text Line, are South Carolina, Virginia, Illinois and Connecticut.
— Vermont, South Dakota and Mississippi are the top three states for messages exchanged about "bullying." (This data includes all texters, not just young adults).
— LGBT issues are more prevalent among all texters in Alaska, Oklahoma and Nebraska.
At After School, Levy, 24, and his co-founder, CEO Michael Callahan, 33, hope to draw from that data pool and serve a greater purpose in schools. Their app launched a beta version in 2014 and was quickly downloaded by students at thousands of high schools across the U.S. Just as quickly, it seemed, the app became a magnet for bullying, harassment and even threats of violent attacks at schools, despite its stated intention to be a safe space for positive messaging between teens. It was temporarily removed from the Apple store because of inappropriate content.
The updated version of the app — once again available for download in the Apple store — includes new security features designed to protect its young users. The emergency notification system is part of that, along with 24/7 moderators and enforcement of a zero-tolerance policy toward cyberbullying and threats, the app-makers say.
Levy said they ultimately want to use the data to advise state and local education policymakers about how students in a particular region or district are faring mentally and emotionally
To that end, they've talked with educators and administrators in cities like Houston, Dallas, San Francisco, Los Angeles, Chicago and Miami.
"If we know that in Colorado, we get a lot more requests (for the counseling service) than we do in Texas, then maybe we should go talk to the Board of Education in Colorado and tell them that 'Hey, we're seeing a problem in your state,'" he said.
Maria Tavella, a middle school counselor at I.S. 141, "The Steinway" school in Queens, said she tacked the 741-741 number to her bulletin board at the beginning of the year and is now going from class to class to explain how Crisis Text Line works.
The school has 1,200 students in sixth to eighth grade and only two counselors, she said.
Tavella said she often encounters students who have plenty of friends but tell her it's not always safe or reliable to confide in them. The anonymous nature of the service and the understanding that a trained adult is on the other side of the iPhone makes it attractive, she believes.
"Come a weekend, if they can't reach out to their friends, if they can't tell their parents about something, it's nice to know, 'OK, here's something else I can trust, here's someone else I can go to.'"
If you or someone you know needs help, use the Crisis Text Line, or call the National Suicide Prevention Lifeline at 1-800-273-8255.
Support The 74's year-end campaign. Make a tax-exempt donation now.