Creative: This NC School Retrofitted a Used Bus as a "Classroom on Wheels" to Boost Parent Engagement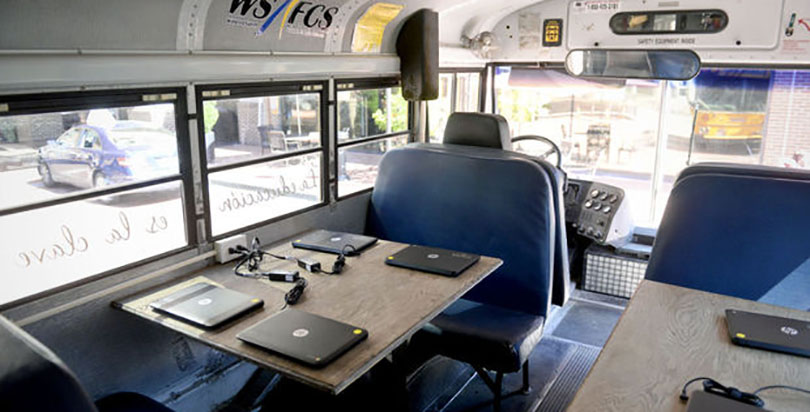 This article is one in a series at The 74 which profiles the heroes, victories, success stories and random acts of kindness to be found at schools all across America. Read more of our recent inspiring profiles at The74million.org/series/inspiring.
In Winston-Salem, North Carolina, school buses don't just take kids to school. One high-tech bus is bringing school to the parents.
With the help of grants from Lowe's Home Improvement and the Winston-Salem Federal Credit Union, the vehicle was purchased from the local school district's fleet and retrofitted with Wi-Fi and computers. Dubbed the Parental Involvement Mobile Unit, the bus offers parent meetings and GED classes.
There's even a child care section at the back of the bus, complete with a small library and toys.
The idea was the brainchild of Javier Correa-Vega and Denise McCoy, transportation department employees who previously were parental involvement coordinators at Philo-Hill Middle School and Konnoak Elementary, respectively.
"The same services we have in the school building, we have on wheels," Correa-Vega told the
Winston-Salem Journal
.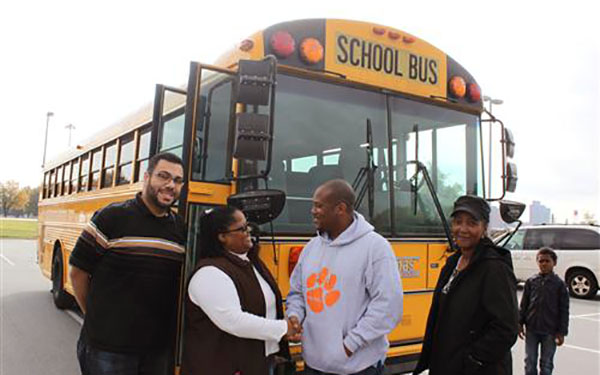 Correa-Vega and McCoy, along with other volunteers, manage the operation of the bus before and after school and on the weekends. "What it does is try to look for an alternative," Kenyatta Bennett, principal at Philo-Hill told the
Journal
, "To perhaps meet parents and families where they are."
In Forsyth County, parents and families need all the help they can get. According to a
New York Times study
, Forsyth County ranks second lowest in the nation for helping poor children rise out of poverty.
For moms in the county, poverty affects their ability to be involved in their child's education, which is key to upward mobility. A
2015 study by the Women's Fund of Winston-Salem
shows poverty rapidly increasing among the county's women in the past 5 years. Since 2010, poverty among white women doubled from 8.4 percent to 16 percent, rose from 27.2 to 34.2 percent for African-American women and increased 39.6 percent to a whopping 50.6 percent for Hispanic women.
"So much of the American city is automobile dependent that you get into a cycle of geographic poverty that's very hard to break out of," Dr. Keith G. Debbage, professor of Urban Planning, Regional Development, Tourism at UNC Greensboro,
told WFDD
.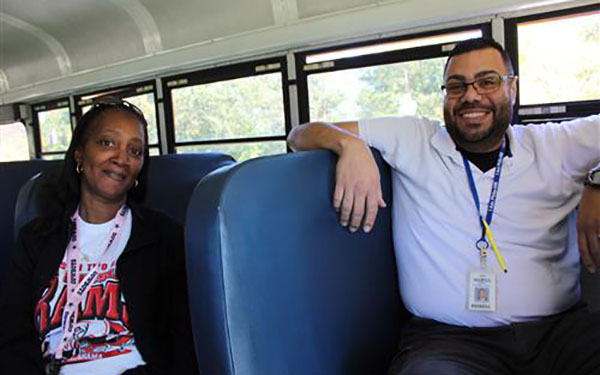 Several studies show
that students with parental involvement do better in school both academically and behaviorally. While the biggest impact occurs during elementary school, experts say that parental involvement is crucial all the way through the high school school years."It really needs to be a partnership between the school and the parents" Sheri Wilson of the National Parent Teacher Association (PTA) told
US News
, adding that the focus should be to "build trusting and respectful relationships."
The Parental Involvement Mobile Unit is helping to build those relationships in Forsyth County. The program is so popular, other schools in the district have requested its services. Thankfully, the Winston-Salem/Forsyth County Schools Board of Education is looking into expanding the program, including hiring a full-time employee to manage it.
Support The 74's year-end campaign. Make a tax-exempt donation now.