COVID Learning Loss: New Texas Data Points to Impact of Pandemic, With Only One in Three El Paso Students Testing at Grade Level in Math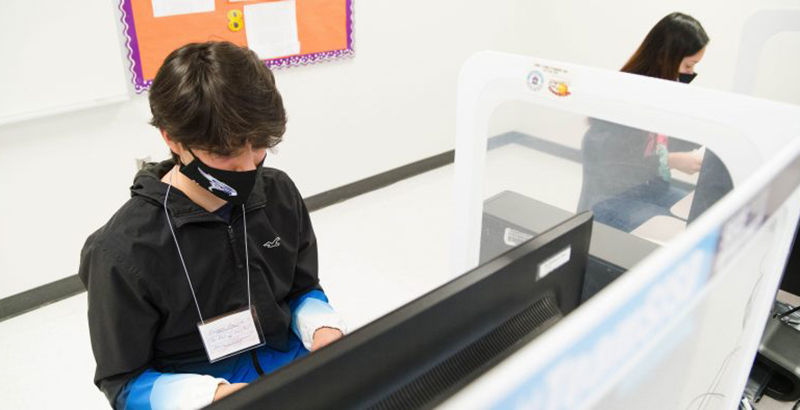 Get essential education news and commentary delivered straight to your inbox. Sign up here for The 74's daily newsletter.
El Paso area high school students performed significantly worse on this spring's state standardized math exam, the first indication of the extent of pandemic learning loss in public education.
The percentage of first-time test takers who scored on grade level for the Algebra I end-of-course exam fell by 47 points compared to 2019, the most recent year the State of Texas Assessments of Academic Readiness were administered.
The Texas Education Agency defines performance that "meets grade level" as "strong knowledge of course content" and preparedness to move to the next grade level. Algebra I is one of five subject exams students must pass to graduate.
Only 32% of students in Region 19, the area that includes 12 school districts in El Paso and Hudspeth counties, scored on grade level this spring, compared to 79% in spring 2019.
Though the percentage of students considered at grade level on end-of-course reading and writing exams also fell, the declines were less severe, mirroring national and state trends.
This spring, 49% of the region's first-time test takers scored on grade level on the English I exam, down from 59% in 2019. The percentage of students on grade level for the English II exam remained unchanged — at 57%.
Most students only engage with math in the classroom, whereas they are able to develop literacy skills in daily life, said Carmen Crosse, assistant superintendent of secondary education in the Socorro Independent School District.
"We read and write as we communicate with others," Crosse said. "Math is not such a skill. It is one that is done academically, in classes."
Texas released STAAR scores for high school end-of-course exams last week, the first statewide data showing the impact of months-long school closures. Results for students in grades 3 through 8 will be available June 28, Texas Education Agency spokesperson Frank Ward said.
Despite pressure from lawmakers and superintendents to cancel this year's state standardized tests, which happened in 2020, Texas Education Commissioner Mike Morath said they were needed to gauge students' academic progress.
But unlike 2019, the STAAR exams were not mandatory this spring. Students who were learning virtually were not required to show up to campus to take the test, though high school seniors were required to take any end-of-course exams they either had not passed or not yet taken.
Though fewer students took the STAAR exams this year, Crosse said the results are still a valuable tool to evaluate learning loss.
All but one of El Paso County's nine districts saw larger math performance declines than the state as a whole.
The share of El Paso County students on grade level in Algebra I dropped between 34 to 55 percentage points, compared to the 24-point drop seen statewide. Only the Canutillo Independent School District saw slightly more of its students perform at grade level in math than the state average.
The county's large, urban districts, including Socorro ISD, were some of the last in the state to resume offering in-person classes in January, though many families kept their students at home given the region's high rates of coronavirus cases. About three-quarters of SISD students finished the school year learning remotely, and close to two-thirds of Ysleta students, according to data the districts provided.
Crosse anticipated SISD would see a decline in the number of students performing at grade level on this year's STAAR exams, but said she was "really floored by the large drop in math," which fell from 80% in 2019 to 25%.
"But I also know that it is a skill that needs to be practiced and that is only practiced in the academic setting," she said.
SISD teachers and administrators are using the results to develop strategies to get students back on track, which Crosse said will likely take more than next school year. That will include integrating concepts students struggled to master into next year's curriculum, as well as offering after-school and Saturday school tutoring programs for students who need extra support.
This fall will see students' return to the classroom, as districts will no longer receive state funding to offer virtual learning.
That will go far in addressing learning loss, Crosse said.
"We know that face-to-face instruction is critical and we know that it is the best way to learn," she said. "Although we did have many kids thrive in the virtual world, we had more kids that did not do as well, whether it was for social-emotional reasons or just academically because of the engagement."
This article first appeared on El Paso Matters and is republished here under a Creative Commons license.
Support The 74's year-end campaign. Make a tax-exempt donation now.