COVID-19 Left Undocumented NYC Mom Feeling Like a 'Zombie,' Longing to 'Hug My Son Really Tight'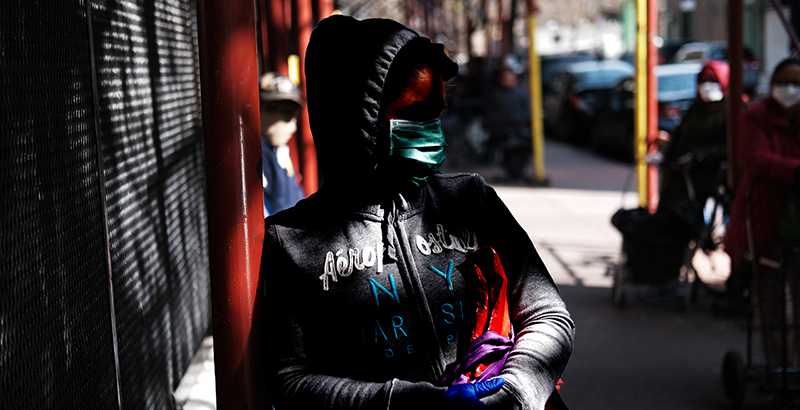 This is one of eight profiles in Displaced: The Faces of American Education, a package from The 74 following the stories of the diverse characters who are a part of the American education system, and how the COVID-19 crisis has upended their lives in a few short weeks. Meet the others, from around the country, here.
Originally from the Dominican Republic, Mercedes wakes up earlier now than she did before the pandemic to help her kids get set up for virtual learning. Then, a few days a week, the 47-year-old mother of three heads out to buy necessities, all while coping with being away from her eldest son and daughter-in-law, both of whom contracted the coronavirus.
Mercedes, an undocumented immigrant living in New York City's East Harlem, shares a small apartment with her husband and their two younger children, Maria, 16, and Christopher, 9. Her oldest son, José, 24, lives in the Bronx with his wife. Although they have since recovered from COVID-19, not being able to see them has been difficult, Mercedes said.
Mercedes makes her trips for errands as quick as possible, both to avoid getting the virus and because she's leaving her children at home. She said she feels like a "zombie" running out to get as much as she can and rushing back home.
(The 74 agreed to withhold the family's last name because both Mercedes and her husband are undocumented immigrants. Mercedes spoke to The 74 in Spanish through a translator.)
The family keep their shoes outside the apartment door now, and Mercedes cleans with Clorox as much as she can throughout the day. If she goes out, she puts the clothes she wore into a laundry bag as soon as she gets home so she can wash them later at a laundromat.
Emerging data show just how damaging and deadly the coronavirus has been for Latino families. The latest New York City health department statistics show that Latinos are dying at twice the rate of their white city counterparts, when adjusted for age, and in a recent Pew Research poll, nearly 50 percent of Hispanics in the U.S. reported that someone in their household had their paycheck cut or their job eliminated because of the virus.
Before the coronavirus hit New York, Mercedes took her children to their schools in the neighborhood each morning and then worked for three to four hours cleaning for an elderly woman, making $80 a day, she said. She has since lost that job, and she's not sure whether she will be able to return to it when the pandemic eases.
Her husband's janitorial job has been reduced to just two days a week and his pay dropped 40 percent — to $150 from $250 a week, now the family's only source of income — and the work puts her husband, also named José, at risk of exposure to the coronavirus.
"That scares me, especially because he has to leave and then come back, and what if he brings something that may lead to me or the kids getting sick?" Mercedes said.
On top of having a tighter budget, Mercedes said she's noticed an increase in the prices at her local grocery store, City Fresh Market, and long lines for free food distribution.
"Now I only buy basic necessities and basic food every one or two days," she said.
Whereas $50 used to cover the family's food for three days, now it can only get them through two days. To help, Mercedes has received two $1,000 stipends from ImmSchools, a nonprofit focused on helping K-12 immigrant students and their families. Federal relief payments excluded undocumented immigrants and their families, and only California so far has created a state program to offer them any financial help.
"I wouldn't know what to do if ImmSchools wasn't there, because now I'm able to at least pay some of my bills," she said.
The organization uses a WhatsApp group to facilitate communication among families and share resources. With help from ImmSchools, Mercedes requested and received two internet-connected iPads from the New York City Department of Education for her children to use for remote learning.
For the first few weeks after New York City schools closed March 16, the family had one laptop and spotty internet service, so the iPads were a big help. Mercedes's daughter, Maria, an 11th-grader, was spending the entire day on virtual learning.
At first, Maria said, she was logged on from 9 a.m. to 9 p.m., but the workload has lightened a bit in the weeks since her district high school first moved online. Still, Maria wishes her teachers were a bit more empathetic, given the circumstances, she said. She only has two live video classes a week, one on Monday and one on Thursday, but she has many independent assignments.
"It's very stressful, especially because I'm not talking to [my teachers] every day, so learning by myself is a little harder," Maria said. Her teachers respond to emails, but "it's not really the same," she added. She also spends an hour or two each day helping her younger brother Christopher, who's in fourth grade, with his assignments and making sure he gets his work done.
Maria works from her bed even though she admits "they do say that you shouldn't do homework where you sleep," because the crowded apartment can be loud with four people at home. For her AP Spanish class, she has to record herself speaking, which is tough when there's background noise, Maria said.
"It's overwhelming for everybody, I just kind of wish teachers were a little more understanding," Maria said. "They are understanding, but at the same time, everyone has different situations and not everyone is able to do the work."
Not being able to help her children with their schoolwork has been frustrating for Mercedes.
"After going through their day of virtual learning, they also get homework, and so that's been the most challenging for me, because with the language barrier, I'm unable to help them the way I wish I could," she said.
Despite the hardships of the moment, Mercedes is dreaming of the day she can see her friends and family without fear.
"The first thing I'm going to do is get together with my friends, go get some coffee, give them a big hug," Mercedes said. "And hug my son really tight."
Get stories like these delivered straight to your inbox. Sign up for The 74 Newsletter