Costanza: Online Education Is Difficult for the Littlest Learners. Here's Some Help for School Leaders, Teachers and Families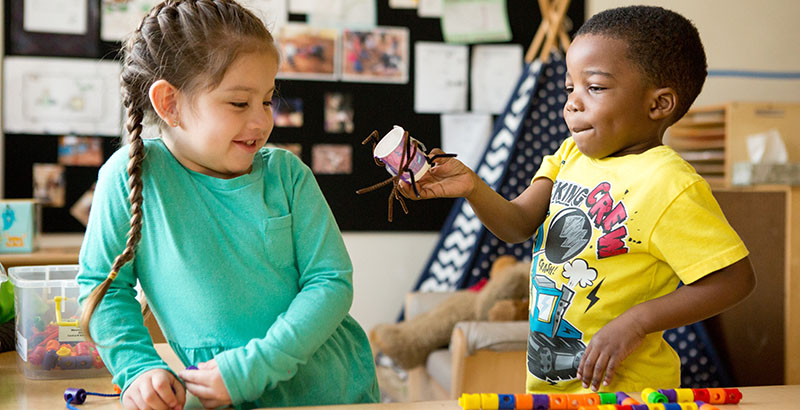 As the coronavirus (COVID-19) pandemic rapidly escalates, educators are facing an unprecedented crisis. Hundreds of colleges and universities have moved to online instruction, and as of this writing, governors in 46 states have shut down all public schools. According to Education Week, the coronavirus has shuttered 123,000 schools, affecting 55 million students.
In the mad scramble, pre-K-12 administrators are coming to terms with a new normal for education, pledging to use technology to maintain continuity of instruction. Administrators are urging teachers to modify their lesson plans for virtual classrooms as they hurriedly prepare their faculty to deliver online learning. They're also recommending that students use project-based learning tools for group assignments despite widespread lack of high-speed internet access in some communities.
Unfortunately, early childhood education is being overlooked during much of this contingency planning. Teaching children ages 8 and younger presents unique challenges — including the fact that their limited attention spans don't allow them to do one thing for very long. Here are four ways district leaders can take early learning and development into account as they deal with long-term school closures:
Help teachers and families talk to children about a scary event.
This is a difficult time for everyone, but it is particularly scary for young children, who, because of their cognitive development, process information primarily in terms of how it impacts them.
That's why it's so important that early learners receive a simple, consistent message from adults — one that is calm but honest, reassuring but realistic. School leaders should consult education experts for age-appropriate language to discuss difficult subjects, then share that information with teachers and families.
Give families specific guidelines for implementing learning at home.
Unlike their middle and high school counterparts, preschool and early-grade educators don't have the luxury of uploading assignments into a Moodle or Canvas-like system — they don't exist for 3- and 4-year-olds. That means it's up to parents and caregivers to make sure learning opportunities continue at home in the event of long-term school closures.
School leaders can help by equipping parents with the proper resources, such as a mock schedule of the instructional day — including enough time for rest — to help them maintain a routine. They also can provide families with guidelines for transforming little moments at home into opportunities for learning. For example, folding laundry is an excellent opportunity to discuss sorting, and setting the table for dinner can become a way to practice counting.
People who don't work in early childhood education often take for granted the rich body of research that guides developmentally appropriate practices that teachers use in the classroom. But the good news is, those practices can be easily implemented. Families need guidance on actions they can take to provide children with a variety of developmentally appropriate experiences, beyond just filling their time.
Help families find ways to bolster their interactions with children.
Pre-K education doesn't easily translate to remote instruction. For starters, research shows that successful early childhood education relies on positive, face-to-face interactions between adults and children to meet developmental milestones. Experts also recommend limited screen time for young children — no more than an hour a day for 3- and 4-year-olds, according to the World Health Organization. Of course, not all screen time is created equal. Media that help children create and develop positive adult-child relationships should always be a focus.
Administrators can provide families with ways to strengthen their interactions, such as reading together, teaching nursery rhymes and building on children's interests. Organizations like the Early Childhood Technical Assistance Center offer checklists and practice guides for improving such interactions.
Recognize that we have no idea how long this will go on.
Administrators should prepare everyone — teachers, parents and students — for the possibility of long-term school closures. Even if your district is already closed, there's still time to help families bring early childhood education into their homes.
What does that look like? Superintendents and principals could create a blog, updated frequently, that offers parents and caregivers resources on strategies for early childhood education. Teachers might send weekly emails that include recommendations for age-appropriate books or activities that spur language and communication skills along with cognitive and social-emotional development.
Even in the midst of this public health crisis, we must resist the temptation to standardize strategies for remote learning. Our children deserve better than a one-size-fits-all approach to managing this health and education emergency.
Vincent Costanza is chief academic officer of Teaching Strategies, which provides curriculum, assessment, professional development and family connection resources to programs across the country. A former kindergarten teacher, he served as director of the New Jersey Office of Primary Education and the Statewide Early Learning Challenge Grant.
Get stories like these delivered straight to your inbox. Sign up for The 74 Newsletter