Cory Booker Has 'Serious Early Concerns' About Nomination of DeVos as Education Sec'y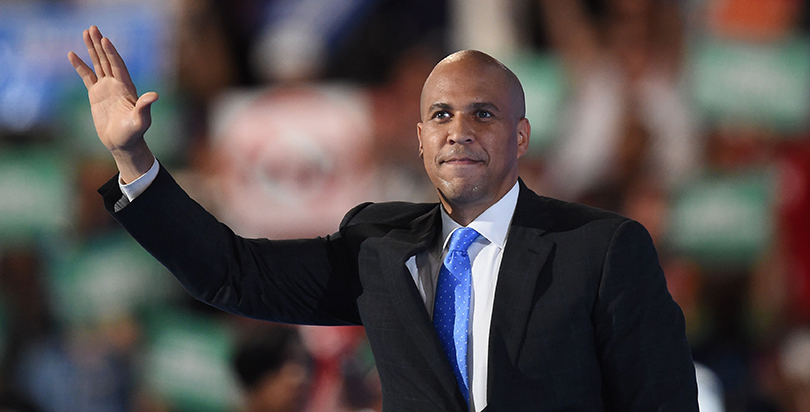 Updated
Sen. Cory Booker has "serious" concerns about President-elect Donald Trump's pick for secretary of education, Betsy DeVos, he told The 74.
In an exclusive statement, the New Jersey lawmaker and education-reform advocate said DeVos's views on early-childhood education, accountability, school discipline and a range of other issues will "play prominently in my consideration."
"It is no secret that I strongly believe we have a lot of work to do to ensure that every child in America has access to a high-quality public education. I greet Ms. DeVos's nomination with a healthy skepticism, and I have serious early concerns," Booker said. "Like all of Trump's nominees, I will approach her nomination with deep scrutiny, especially because I am alarmed by President-elect Trump's overall education agenda and fear that he has little respect for — or interest in — the critical work that the Department of Education performs for our children."
The statement, coming three weeks after the nomination, was the first critical assessment of DeVos that Booker has made — a startling contrast to the rapid public criticisms the senator issued of Trump's selection of Exxon-Mobil CEO Rex Tillerson as secretary of state, Steve Bannon of the white-nationalist site Breitbart as chief White House strategist and Sen. Jeff Sessions (R-Alabama) as attorney general.
"I'm not saying anything," he
told Roll Call
two weeks ago, when asked for his opinion of DeVos. "Jeff Sessions, as I said here, deserves a fair hearing, but I have serious concerns about the kind of people Donald Trump has been choosing, and when the time comes, I'd be happy to sit down for an interview when that's on the floor."
That a prominent Democratic school-reform advocate — who sat on the board of the Alliance for School Choice while DeVos was chairwoman — was slow to comment on a nominee he knows personally is symptomatic of the dicey political predicament facing progressive reformers.
Complicated politics
The politics of education have never been easy for reform-minded Democrats — a point driven home by Education Secretary John King in a speech delivered Wednesday at the Center for American Progress. They have often been caught between families and some civil rights groups hungry for more school options and test-based accountability, and the powerful progressive wing of the party that agrees with teachers unions that those policies hurt the public schools. But at least, for the past eight years, they could hang their hat on President Obama, who supported charter schools and accountability.
(The 74: With Eye Toward Trump, King Urges Advocates to Stand Together for Public Education)
With Obama on his way out and Trump on his way in, the political incentive for progressives to mention education, much less wave the flag for reform, drops significantly. As New York magazine writer Jonathan Chait argued, which Democratic reformer isn't worried that "associating the cause at the national level with America's most famous racist would set it back irrevocably"?
Chait published that piece in November, as word circulated that Trump might be considering two Democrats — former D.C. schools chancellor Michelle Rhee and New York City charter school leader Eva Moskowitz — to be secretary of education. Sure enough, Democrats for Education Reform President Shavar Jeffries responded to the news by seeking to distance the cause from Trump by saying no Democrat should work for him.
"The policies and rhetoric of President-elect Trump run contrary to the most fundamental values of what it means to be a progressive committed to educating our kids and strengthening our families and communities," Jeffries said in a statement.
American Federation for Teachers President Randi Weingarten, a vocal charter-school opponent, praised Jeffries for taking such a hard line. But while neither Moskowitz nor Rhee got the job, both questioned Jeffries's logic, arguing that everyone who cares about kids should root for Trump's success. Booker kept silent.
In light of the speculation about the Secretary of Education role, I wanted to clarify my position and what's best for America's students. pic.twitter.com/DXRZxdAZNX

— Michelle Rhee (@MichelleRhee) November 22, 2016
---
Playing it safe
By remaining above the fray, Booker may have been making a safe political bet.
"You don't go out of your way to poke a core constituency in the eye if you don't have to," said Mike Petrilli, a research fellow at Stanford University's Hoover Institution. "I think Cory Booker is likely going to have an important role to play as a school choice [policy is] proposed in the next few months. I think it's smart of him to save his comments and political capital for that debate."
That may turn out to be true. But Booker has withheld political capital at other pivotal moments for the education-reform movement.
In 2014, then–Newark City Councilman Ras Baraka was running against Jeffries, a former assistant attorney general, to replace Booker as mayor. Baraka, a persistent critic of Booker, ran on a platform that rejected school reforms. Jeffries's perspective on education aligned more closely with Booker's, including an embrace of charter schools.
Booker did not endorse either candidate. "I've got to work with whoever is in office, and I'm not going to make an enemy," he told The New Yorker. Baraka won.
And when the NAACP voted to support a moratorium on charter school growth this summer, Booker remained silent even as other politicians and groups lobbied the civil rights group to change its mind.
To be sure, Booker has defended education reform as well. During the debate over the Every Student Succeeds Act, he was among the Democratic senators who advocated for accountability and even suggested staging a filibuster if it didn't happen. And earlier this year, he gave a speech at the American Federation for Children's national policy summit extolling the value of choice.
(The 74: Senate Dems Turn Up the Heat on NCLB Negotiations, As Booker Suggests Possible Filibuster)
---
Reformers on the left and the right remain confident that he will step in when needed.
"I don't think he's really been quiet. I think he's been expanding [his] message," said Ron Rice, who served as a Newark city councilman when Booker was mayor and is now senior director of government relations for the National Alliance for Public Charter Schools.
It remains an open question whether reform-minded Democrats like Booker will be able to bridge the differences among themselves — including on whether to work with the incoming administration.
"Ideally, the reform community would agree on some core principles," education consultant and former Newark Public Schools superintendent Cami Anderson said in an email. "Then, we evaluate all government officials and policy proposals — whether advanced by a Republican or Democrat — against those core values. To the extent they are not aligned, we hold people accountable."
The Dick & Betsy DeVos Family Foundation provides funding to The 74, and the site's Editor-in-Chief, Campbell Brown, sits on the American Federation for Children's board of directors, which was formerly chaired by Betsy DeVos. Brown played no part in the reporting or editing of this article. The American Federation for Children also sponsored The 74's 2015 New Hampshire education summit.
Support The 74's year-end campaign. Make a tax-exempt donation now.