Cool to Be Kind: At Schools Across America, Embracing Kindness as the Theme for the Start of the School Year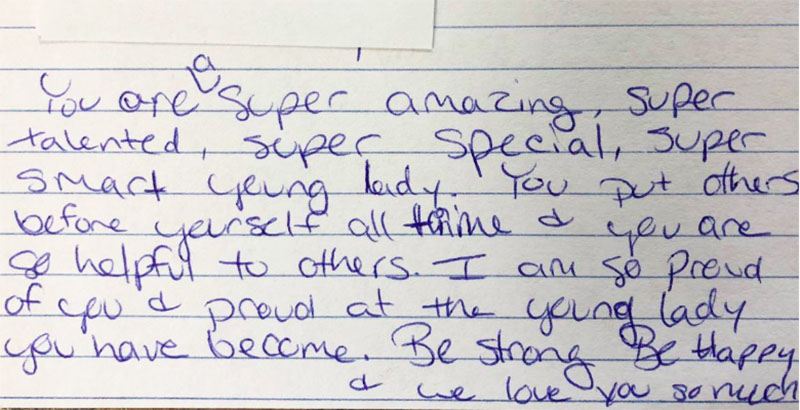 This article is one in a series at The 74 that profiles the heroes, victories, success stories, and random acts of kindness found at schools all across America. Read more of our recent inspiring profiles at The74Million.org/series/inspiring.
Rousseau called kindness the greatest wisdom of all. Our schools are calling it a powerful virtue that can be harnessed to make the world a better place. To that end, they're weaving kindness into the fabric of students' lives in a variety of ways.
The kindness craze has seen a band of bikers and a celebrity rapper become heroes for defending students against horrendous behavior.
Watch out, Mean Girls — you're going down.
Megan Kuntz, a middle school student from suburban Streamwood, Illinois, was so badly bullied last year, she was terrified of going back to school. Dozens of Chicago-area bikers who learned of her plight last month on social media weren't having that.
The swarm of motorcycle riders, who met online and joined up to support Megan, provided an imposing escort for her on the first day of school. Sporting a biker bandanna, the beaming girl fist-bumped some of her entourage on the way in.
"The next thing you know, I've got a whole family back here that's supporting my daughter," Megan's mom, Jill Kuntz, told ABC 7 Chicago. The bikers stood behind her in T-shirts and black leather vests emblazoned with pins and American flag patches.
The message in the collective vrooms of their hogs as they drove Megan to class had been clear: We have your back, and bullying is not acceptable.
"She's on cloud nine today going to school for the first time," said Megan's mom.
For a sophomore at a school near Orlando, Florida, WKYC.com reported, Atlanta rapper T.I. became the new sheriff in town after a cafeteria worker at the girl's school took her lunch away because her account was 15 cents short.
"Despicable!!!" and "petty," T.I. posted on Twitter, WKYC reported, calling the food services worker "a poor excuse for a grown person."
The University High School student came back with a quarter the next day, but no need — T.I. had put a thousand bucks in her account, which takes care of her lunch for the rest of the year. A civil rights lawyer moved by the story started a GoFundMe campaign to help pay for student lunches for kids in struggling families.
It's gratifying to hear about valiant grown-ups. But kids are also sticking up for one another.
Four students at Hernando Middle School in Memphis, Tennessee, get to school at 6:30 a.m. each day to personally greet every student who walks through the door.
"One time every morning someone has said, 'Hey, why are you doing this?' eighth-grader Bethany Wilder told the news website Local Memphis. "And I think it's nice for other people to know that you don't have to have a reason to be kind. You just have to do it and make someone's day."
"Kindness is like butter. The earth is toast. You have to spread it around," added seventh-grade metaphor master Cody Eaton.
Niceness is its own reward, of course, but at Mount Judea School in Arkansas, it also comes with prizes. Dozens of students of all ages have received certificates recognizing a multitude of good deeds. They can even win cash in a raffle, HarrisonDaily.com reported.
School initiatives can take kids far. But first, you need to like yourself to be kind.
Which is why Charlotte, North Carolina, seventh-grade teacher Justin Parmenter came up with an awesome way to remind parents that they have the most important job in the world, the Miami Herald reported. He gave parents at an open house at the Waddell Language Academy an assignment: Write notes of encouragement to your children. School can be hard.
And, boy, did these moms and dads nail it: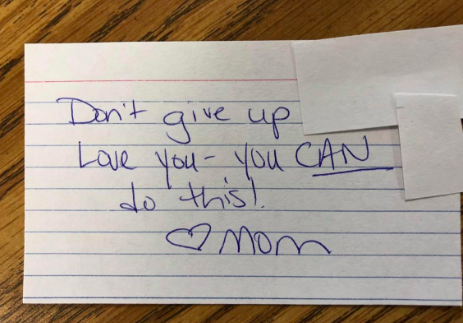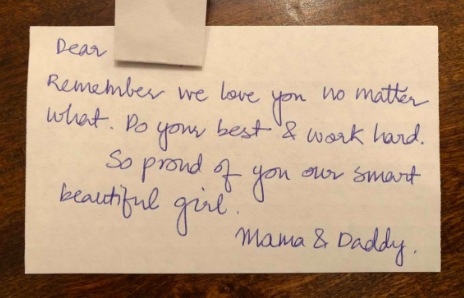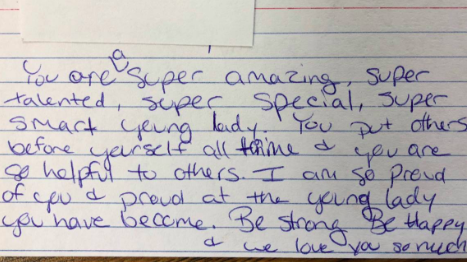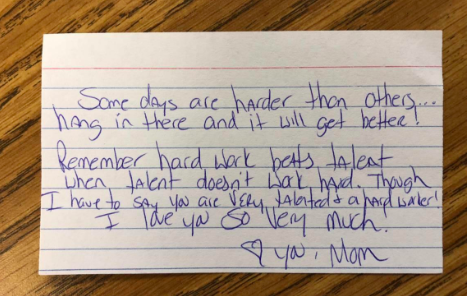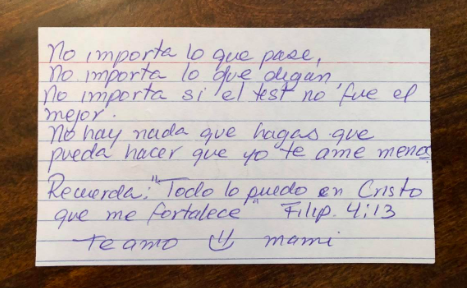 Get stories like these delivered straight to your inbox. Sign up for The 74 Newsletter