Commentary: With 8 Clear Goals and a Public Progress Meter, Arizona Is Improving Education for All the State's Students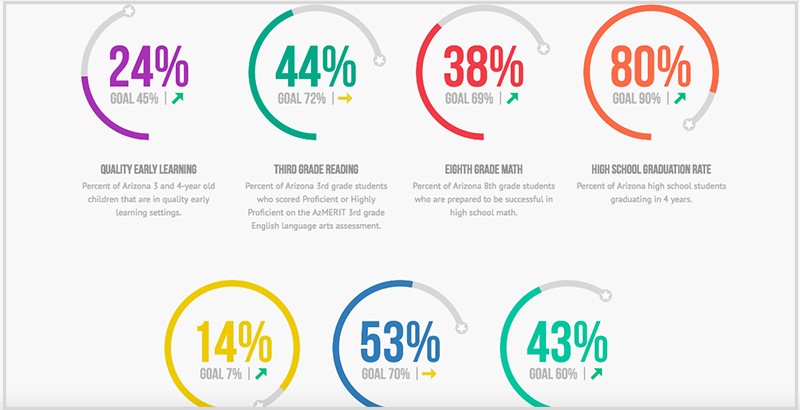 In a state that ranks near the bottom in teacher pay, with thousands of vacant teaching positions, dwindling enrollment in teacher training programs, lagging test scores, and a stubborn achievement gap, it can be hard to envision how to move forward.
Stories of Arizona families who cannot afford quality preschool, or teachers financially unable to continue in their chosen profession, are tales that leaders hear all too often, and while there are many positive programs in our schools and communities, we know we need to do more.
To that end, Expect More Arizona and the Center for the Future of Arizona launched the Arizona Education Progress Meter in 2016 to serve as a nonpartisan, shared source of information and to provide a guidepost for the future. Centered on a set of eight key metrics and corresponding goals, the data paint a clear picture of where we stand today, as well as what success should look like. Because, as we all know, what gets measured gets done.
The Progress Meter is innovative and unique, but it's a model that any state could replicate. The primary factor for success is the engagement of education experts and community stakeholders who are willing to collaborate. In Arizona, it took nearly two years of engagement with hundreds of individuals and organizations to fully develop the dashboard.
Each indicator was chosen based on its reflection of future academic performance. For example, data show that students who are proficient in reading at the end of third grade are more likely to graduate from high school, enroll in college, and earn a degree. So a goal-setting framework was established in late 2017 to ensure these benchmarks would be achievable by 2030 and to help Arizona make progress toward the state goal of 60 percent postsecondary attainment. We also knew it was critical for the goals to take into consideration Arizona's political and financial context, and to address closing the achievement gap and ensuring gains for all students.
Data experts at the Morrison Institute for Public Policy at Arizona State University are gathering, analyzing, and validating data on an ongoing basis, so everyone can easily see how our schools are doing.
The 2030 goals (and benchmark levels) are:
● Increasing the number of children in quality early learning settings to 45 percent from 21 percent
● Boosting third-grade reading proficiency to 72 percent from 41 percent
● Improving math proficiency among eighth-graders to 69 percent from 36 percent
● Raising the high school graduation rate to 90 percent from 78 percent
● Decreasing the number of 16-to-24-year-olds who are neither working nor in school to 7 percent from 15 percent
● Raising the number of high school graduates who pursue postsecondary education to 70 percent from 53 percent
● Increasing postsecondary attainment rates to 60 percent from 42 percent
● Increasing teacher pay to the national median (by 2022)
As any education advocate can tell you, systemic change doesn't come easily or quickly. That's why we embarked on a mission to get everyone in Arizona on board. To date, we've enlisted support from such diverse groups as the Arizona Department of Education, the state teachers union, the Arizona Chamber of Commerce and Industry, and many more, along with hundreds of cities, towns, counties, school districts, and community organizations that have adopted the vision of the Arizona Education Progress Meter.
Only a year after the goals were launched, positive change is already happening; six of the goals have seen movement in a positive direction. And a growing number of groups, including legislators, philanthropic groups, school districts, and business leaders, are aligning their efforts with the Progress Meter. For instance:
● The City of Tempe, home of Arizona State University, adopted the Progress Meter framework and then approved and funded a pilot program to provide preschool to low-income youth. The city has even set its own goal for postsecondary attainment, which is higher than the statewide goal.
● Several major foundations have shifted their giving to prioritize programs that are directly impacting Progress Meter priorities. One program will introduce $1.24 million in public-private investment to fund an expanded system of career pathways, which will impact four of the eight Progress Meter goals.
● One large urban school district recently integrated the Progress Meter metrics and priorities into its 2025 strategic plan. The district's team is helping to inform city leaders and other stakeholders about the issues and opportunities to work together.
● A state legislator has convened "lightning rod groups" to tackle eighth-grade math performance and how schools can most effectively improve teaching and learning in both eighth grade and the years leading up to it.
The vision shared by the many supporters of the Progress Meter is that every student must receive an excellent education every step of the way, regardless of background, income, or zip code. In the months and years to come, we'll continue to work closely with our partners to share best practices and ways that they can positively impact education and support their schools.
Armed with the Progress Meter's clear, measurable goals, it's now easy to see what success looks like, so we'll know when we've arrived there. Yet the goals allow for the freedom and flexibility that individual schools and communities need to address their unique challenges and effect change in the way that will be most valuable for their students. We have a long way to go, but meeting these goals will be a game-changer for Arizona.
Christine Thompson is president and CEO of Expect More Arizona, a statewide nonprofit, nonpartisan education advocacy organization working to ensure every child receives an excellent education, every step of the way.
Support The 74's year-end campaign. Make a tax-exempt donation now.