Commentary: This Is a Tough Time for Teachers. What One Educator Thinks Unions Must Do to Survive Under Janus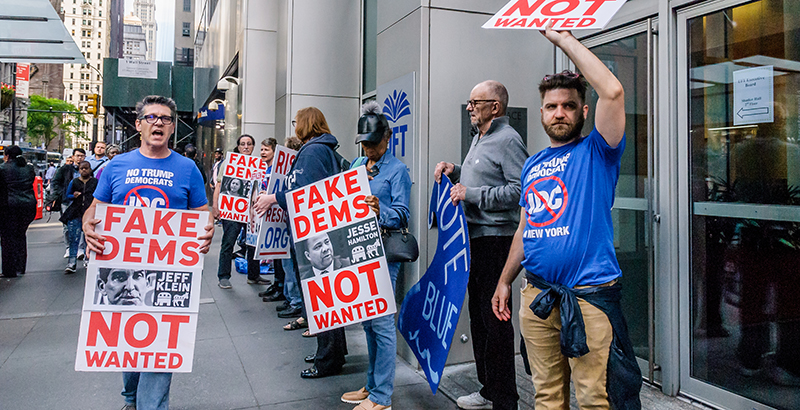 This is a tough time for teachers.
Across the country, educators are striking for basic education funding, grappling with the threat of mass shootings, and working under a federal Department of Education that seeks to roll back students' civil rights.
But one of the issues most likely to impact teachers is currently not on most of their radars. A recent nationally representative survey by Educators for Excellence found that three-quarters of teachers had heard very little or nothing at all about the Janus v. AFSCME Supreme Court case, which eliminated the "fair share" laws that fund teachers unions' work and could lead to a steep decrease in union membership and resources.
Unions are essential to teachers' ability to advocate for themselves and their students, and the Janus decision could strike a tremendous blow to teachers' influence on education policy. But we teachers shouldn't resign ourselves to this fate. We can continue to lift up our voices on the issues that matter to us by becoming more involved in our unions to make sure they stay strong.
However, if we are standing up for our unions, they, in turn, must stand for our beliefs. In this new era in which union membership will likely no longer be a given, teachers unions will have to work especially hard to engage their members and actively fight for the issues we care about.
My union is worth fighting for. Teachers unions have played a critical role advocating for resources that fund our schools and protections for our educators. Their advocacy has granted me financial security that I could only dream of when I was a kid. In the single-parent household in which I grew up, money was always tight and on our minds. We would go to the hospital only if one of us was in great pain, and we never went to the dentist.
But as a member of the United Federation of Teachers, I have the peace of mind that comes with affordable health insurance and knowing I will be able to retire with a pension that will support me in my retirement years. This is not the case for many teachers in places with a less robust union presence, like West Virginia and Kentucky, where teachers went on strike earlier this year to demand a living wage.
My colleagues across the nation agree that we need unions. The same Educators for Excellence survey found that 94 percent of unionized teachers regard unions as essential or important, as do 74 percent of nonunionized teachers. Educators know that unions speak on behalf of all teachers, and their strong voice benefits teachers and families alike.
Still, the Janus decision might lead to a loss in union membership — and the funds that make unions such a powerful voice for our profession.
If union leaders don't step up to meet these new challenges, their ability to fight for their members will erode. The need is clear: While educators value union advocacy on bread-and-butter issues, like salaries and job protections, the survey also found that many teachers feel their unions are out of step on policy issues. Fifty-two percent of unionized teachers said their union represents their perspective only somewhat, and for 20 percent, it was not very much or not at all. Teachers who feel that their unions don't reflect their opinions may decide that the best way to get them to listen is to vote with their feet and renounce their membership.
Post-Janus, our unions will have to work hard to close the gaps between what teachers want their unions to prioritize and what they have been prioritizing. It needs to be easier for members to share our views. This is possible when we have a chance to truly engage with our union leaders through, for example, more frequent school visits, better access to information, and online voting in union elections. If teachers see that their unions care about their opinions, they are more likely to remain members.
During tough times, people need to stand together. I plan to not only stay a dues-paying member, but also to attend more meetings and share my opinions with my union rep. In return, I expect my union to be more representative of its members' diverse views as it charts a path forward to strengthen our schools and our profession.
Nicole Manning has taught high school math for 12 years and is a member of Educators for Excellence–New York.
Support The 74's year-end campaign. Make a tax-exempt donation now.