Commentary: The Question That Stopped This Teacher in Her Tracks: 'I Know My Son Can Write, but Does He Have a Friend?'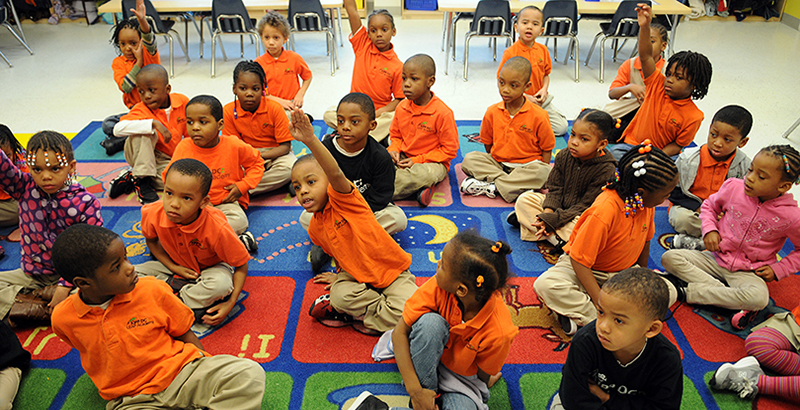 Early in my career, I was a new pre-K teacher on a Marine Corps base. As my first round of parent conferences approached, I was nervous. Marines, in my experience, are punctual and organized. They want reasoning rooted in facts. I wanted my conferences to be the same, so I made sure I was fully prepared.
Throughout the year, I had been observing and documenting my students' knowledge, skills, and behavior using an ongoing, observation-based assessment system. I had portfolio samples, my assessment ratings, and copious notes from my observations of each child. I was especially excited to meet the mother of one child in particular.
His name was Zachary.
All teachers have had a student like Zachary: the kind of child you get to teach every few years, the one who blows your mind with how advanced he or she is. While most boys in my class had little interest in paper and pencils, I would often find Zachary in the library area or the art area writing, drawing, or reading. At the start of the year, he was already able to sound out words, and once I introduced him to the dictionary, the sky was the limit for his writing. It was so exciting for me to watch his literacy growth skyrocket before my eyes!
At parent-teacher conferences, I planned to walk moms and dads through their children's portfolios and offer my thoughts on the strengths and areas of growth I'd observed thus far. When I met with Zachary's mother, I showed her work sample after work sample — I gushed about his advanced reading and writing skills. I even played her a recording of him reading. But when I finally took a breath and looked up at his mother, I realized she was frowning and shaking her head.
"Yes, I know he can write," she sighed, "but does he have a friend? Does he ever play with anybody?"
I was stunned, unsure what to say.
I hadn't thought about it before, but as I ran back through my memories of working with Zachary, I realized that while he played near other children, he never really played with them. The other students were kind to him, but his classmates never invited him to play, and he never asked to join.
That day, I learned a very important lesson: By focusing so heavily on one aspect of his development, I had formed an incomplete picture of Zachary. I had fallen into the assessment trap.
Sadly, it's all too easy — particularly for novice teachers — to fall prey to an assessment paradigm rooted in turning nuance into bar charts, development into lines on a graph or color-coded boxes. Assessments can, after all, help us find signals amid the noise and spot patterns earlier than our experience might allow. We crave the validation of green lights and checkboxes as much as the security of red flags that let us know when a student is falling behind in building foundational skills for reading, or in making sense of shapes and numbers.
But in our quest for clarity, we risk overlooking the whole child. We can neglect the kind of social-emotional, physical, and cognitive development that forms the building blocks of educational success. We can ignore the aspects of development that our family partners are often far more attuned to, or concerned about.
I learned a powerful lesson about the assessment trap that day — a lesson that has helped guide my work with students, teachers, and families ever since.
After the conferences ended, I made some changes to my teaching practice, including a complete revamp of my assessment process. I thought very differently about the role and design of assessments in early childhood education. I began to look for subtleties in the data. I realized that assessments aren't just about taking note of children's advanced skills or recognizing when they fall below widely held expectations; they are also about the details and nuances surrounding each child's learning and development.
I sought out assessments that challenged me as an educator; not those that just provided easy answers, but those that fostered the sort of self-reflection that helped me to get to know and understand every child, providing a basis for building strong, respectful partnerships with their families.
A good assessment shouldn't bog you down. It shouldn't feel laborious. It should help you to truly know all the children in your class — not just how high they can count, or how many words they can read, but who they are as people, as friends, and as learners.
Perhaps most importantly, I also changed the format of my family conferences. From then on, I began each one by having a relaxed conversation with families about their children, and I made sure that I was really listening and learning. These conversations provided important context for the observations and data points I'd gathered, enabling me to better understand, serve, and deepen my relationships with students and their families.
The conversation with Zachary's mom taught me something not only about her son but also about the goals she envisioned for his development. Honest discussion of those goals is an important step in creating a meaningful, supportive partnership. Because great teachers know that families' goals for their children are just as important as — perhaps more important than — the goals that we, as educators, have for our students.
Kai-Leé Berke is a lifelong educator and CEO of Teaching Strategies.
Get stories like these delivered straight to your inbox. Sign up for The 74 Newsletter