Commentary: School Counselors Are First Responders, Supporting Students & Families in Times of Trauma. They're Needed Now More Than Ever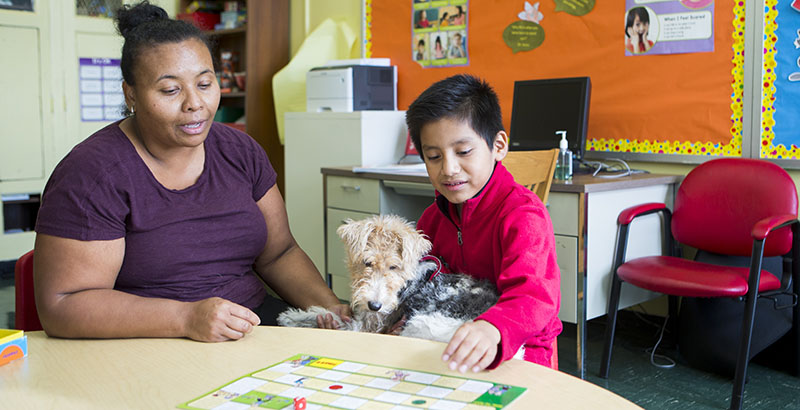 For decades, school counselors have been first responders, providing support for students, their families and school communities regarding trauma caused by gun violence, job loss, food scarcity, family deaths, mental health issues and turbulent peer relationships. The complex job of school counseling requires healing trauma while allowing the educational process to occur. Counselors recognize that the current public-health crisis is magnifying ongoing crises for many communities living with inadequate health care, chronic medical issues, poor nutrition, job instability and unhealthy levels of stress — all of which we must find the will to address.
For experienced school counselors in New York City, COVID-19 is not the first disaster they have had to work through. Students and school communities have always been the bedrock of citywide recovery. As essential workers in schools in every neighborhood, counselors helped heal and raise up all New Yorkers in the aftermath of 9/11, the earthquake in Haiti and Superstorm Sandy.
As the nation's largest district and epicenter of the coronavirus crisis experiences the full force and human toll of COVID-19, we have to keep in sight the day when schools reopen. School counselors know the playbook to follow once school returns.
However, COVID-19 presents unique challenges. Counselors have had to learn how to stay emotionally connected to students and families in the new virtual classroom in a society where stark differences in access to resources make huge differences in students' ability to learn. Compounding the lack of technology and internet connectivity that make it so challenging for high-needs students to participate in remote learning is the trauma experienced in those same communities, disproportionately ravaged by COVID-19. While loss is being encountered by schools in every borough, many counselors find themselves transformed into full-time grief counselors for families staggering under the emotional weight of the loss of loved ones, sudden unemployment, mental and physical anguish, and hunger.
After major crises subside, children can work through trauma by telling their stories in a safe space, supported by their school community — principals, teachers, cafeteria staff, school security staff, crossing guards and custodians. So as we get closer to school reopening, we need to create opportunities for telling personal stories and sharing emotions and experiences. Healing tools may include regular group sharing sessions, special school rituals and the expressive cleansing power of writing and the arts. Each school community should be free to find its own unique restorative path to emotional and educational health.
Some may call for an immediate focus solely on academics. However, research and experience demonstrate that emotional well-being is the foundation for sustained academic achievement. A public school recovery playbook needs to consist of both these tracks. Crises like COVID-19 have a way of connecting people regardless of their job titles, so reopened schools have an opportunity to become emotionally healthier places where individuals can look each other in the eye and freely tell their own stories. Such a new educational framework could be enormously restorative to the health of school communities that are the foundations of neighborhoods all around the city.
Healing trauma in school takes time — at least four to six months — so we will have to be patient. It's important to keep programs that give space for school communities to grieve in place and to pay attention to the tipping point when conversation begins to shift to other topics. That's one indication that students, families, teachers and administrators have begun to come out on the other side of the emotional trauma inflicted by COVID-19.
Meantime, come the fall, we must embrace the opportunities to see one another, hear one another grieve together, and reawaken the potential of our students to grow. When we are ready, we must once again make our public schools centers of healing for our great city.
Kevin Dahill-Fuchel, LCSW, is executive director of Counseling in Schools, a nonprofit that for more than 30 years has promoted the emotional and social growth of children so they can thrive in school and succeed in life.
Support The 74's year-end campaign. Make a tax-exempt donation now.