Commentary: Like Hurricane Katrina, COVID-19 Is an Opportunity for Change. From Curriculum to Attendance to Racial Inequities, Areas for Schools to Consider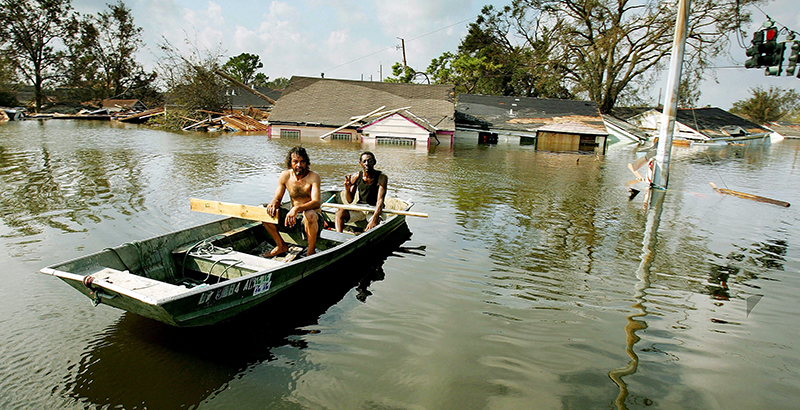 The coronavirus pandemic brings back eerie memories for us from the days and weeks following Hurricane Katrina. Public schools are rapidly reconstructing a place for instruction. Societal inequities are being exacerbated. There's no playbook. Yet there is an urgent, moral imperative to serve students and families.
This is both a crisis and an opportunity to pivot and change to meet the needs of students and families.
In 2005, New Orleans experienced devastation that opened the door to reinventing how public education was delivered. Today, just 8 percent of New Orleans public schools are in the bottom 10th of the state, compared with 62 percent before the hurricane.
Reinventing education after the pandemic doesn't need to be an overhaul of school governance, as in New Orleans. The answer will be different in different communities and should be responsive to local values and aspirations.
Rethink curriculum and policies. For some districts, this could mean a shift toward competency-based learning.
Schools may work with their departments of education to rethink policies, i.e., changing the number of required days students must attend school. For others, it could be moving toward project-based assessments from traditional testing. Or building intergovernmental partnerships among schools, libraries and park districts to create better access to the internet, creative spaces and physical activity. The most important thing is for school systems to listen to families, students and staff and to answer the question of how best to seize this unprecedented opportunity. Returning to things just as they were  may not be a good option.
Support mental health for school system staff and students. Creating a supportive culture is paramount to learning. Consider what adults and children are experiencing amid the pandemic that has shifted every part of normal life. After Katrina, our work in schools was rooted in a trauma-informed approach. Whether schools are remote or in-person, they should prioritize staff and student resources and access to mental health professionals.
Prepare for enrollment and attendance fluctuation. In the months to come, many families will have to make housing decisions while looking for work. Districts that already had high mobility will likely see that increase. After Katrina, we could not predict how many students we would have, when and at which schools, or how many students would need to transfer due to temporary housing. Remote learning will only exacerbate enrollment and attendance instability. Prepare internally tracking absenteeism, and monitor it closely, daily. Attendance matters for student achievement — and for funding. Plan resources with a great deal of flexibility for the coming year.
Work to address racial inequities. According to McKinsey & Co., "the average Black or Hispanic student remains roughly two years behind the average white one, and low-income students continue to be underrepresented among top performers," which points to a widening of the achievement gap during the current pandemic. Plans for engaging students online, as well as strategies to identify and support students who aren't logging on, are critical in virtual learning. Schools must build systems to assess where each student is academically and to catch them up on learning lost amid COVID-19.
Focus on a strong curriculum and professional development. After Katrina, we were able to make significant academic gains in the first few years from an emphasis on coaching teachers, heavily staffing key areas such as academic intervention and using disaster recovery funding to develop solid core curricula. Invest in high-quality, technology-enabled school models focused on engaging, developing and supporting teachers and other staff to lead transformative remote classrooms. This will require meeting your team where they are and supporting them as they shift delivery of instruction. Consider pairing teammates experienced with technology with those less experienced or comfortable. Celebrate the early adopters and take steps to support those who need it.
Advocate for funding adequacy and equity. Since Katrina and the initial school improvements, New Orleans has increased expectations for student achievement via an ambitious accountability system. That has been met by a plateau in school performance scores. The hurricane-related federal and philanthropic aid that poured into New Orleans has mostly dried up, and schools are forging ahead with funding levels that are not adequate relative to student needs. This is significant, because what Katrina taught us is that anything is possible for children when adequate resources exist. The current economic crisis will exacerbate pre-existing inequities. State budget shortfalls will impact the poorest districts the hardest, and racial and ethnic minority groups are being disproportionately affected by COVID-19, resulting in further inequities to already challenged communities. There needs to be collective urgency in addressing equity in public funding, both at the state level and within districts, as dollars get stretched further.
Governance and leadership matter now more than ever. The relationship between school leadership and board governance is especially critical now. Leveraging your board members and the resources they can bring to the table to serve schools is critical in crisis.The importance of clear and frequent communication between school leaders and boards is heightened due to the frequent updates and changes that schools experience each day during crises. Boards and leaders must agree on how schools are to move forward, and they must effectively explain their decisions to the communities they serve. In the aftermath of Hurricane Katrina, governance, especially in the charter school sector, was secondary to school leadership. Over time, New Orleans schools have grown to better understand the necessity of strong governance and how partnership is key in serving their communities. Now is the time for citizens to consider volunteering to serve on their local school boards and to become active advocates for increased resources needed to improve outcomes for students.
Kevin Guitterrez is governance director of the Louisiana Association of Public Charter Schools and was the founding chief academic officer of the Algiers Charter School Association. Carrie Stewart is co-founder and CEO of Afton Partners, an education finance consultancy, and was the founding chief operating officer of the Algiers Charter Schools Association.
Get stories like these delivered straight to your inbox. Sign up for The 74 Newsletter