Commentary: For MLK Day, a Case for Citizenship Education as a Key to Stopping the Contagion of Hate That's Plaguing Our Country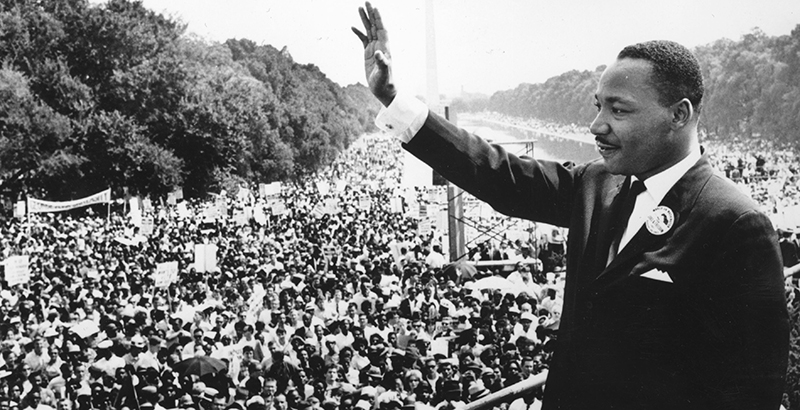 Ask teenagers what resolution they made for the new year, and you might be surprised at what you hear. Like most people, they may tick off studying more or eating better, but they are much more likely than adults to resolve to make the world a better place. Young people are our best hope for creating tolerance and combating hate.
The breakdown in civility is becoming increasingly acceptable, with new narratives that inflame the base elements in each one of us. In truth, democracy, and the values of diversity and tolerance on which it depends, are themselves under siege, and young people are particularly vulnerable to divisive messaging and scapegoating preached by loud, powerful voices.
As schools across the United States salute Martin Luther King Jr., few of them are equipped to teach students how to be leaders like him — people who understand the power of being a citizen, grasp the importance of embracing differences, and understand how to work for change. It's easier to close schools on MLK Jr. Day than to implement a thoughtful citizenship curriculum when there are already so many demands on schools.
Yet broadening the reach and quality of citizenship education offers a vital, untapped path to addressing our country's problems. Our differences need to be resolved through public and private discourse, fact-based analysis, and independent reflection.
Unfortunately, citizenship education is rarely offered today. It retreated as education leaders determined that in order to ensure our country's global competitiveness, schools must orient their curricula around basic skills — reading, math, and science — deemed essential to economic growth.
As a result, a shockingly high percentage of students have little knowledge of the basic structure of democratic institutions: why they exist, what they do, or how they function. U.S. eighth-graders have made no academic progress in basic civics since 2010, according to federal education statistics. Fewer than one-third of students have scored proficient or better on the National Assessment of Educational Progress civics exam in 2014, and only 3 percent or fewer scored at the advanced level in the subject.
Without a background in citizenship and a well-honed faculty for distinguishing between fact and opinion, young people fall victim to simplistic slogans that ignore the complexity of social policy issues to serve the strategic interests of their promoters.
The good news is that we can unlearn racism, hatred, and bigotry, especially as teenagers. Good citizens are made, not born. The knowledge and skills that enable effective citizenship must be taught as systematically as we teach math, language arts, and science, from an understanding of how democracies work and independent thinking to effective collaboration and inclusive leadership.
My organization, High Resolves, was created to design and deliver immersive experiences that teach young people what it means to be a productive citizen in an inclusive and just society. These experiences push participants to make choices in the context of a game, but to then reflect on the moral basis of their choices and contemplate who they want to be.
Imagine 60 students walking into a gym wearing photos of people from around the world. They are given one simple instruction: Find your people. The initial reaction, more often than not, is to group by race and ethnicity. But after multiple rounds of meeting others and sharing their personal interests, the decision becomes harder. What if you have a common passion for music or sports? What if you are introverted? Students learn that personal and collective identity are complex, nuanced matters, not simply skin-deep.
High Resolves is not alone in this work. Organizations like Facing History and Ourselves, iCivics, Generation Citizen, Peace First, and dozens of others have created great learning experiences as well. We must question why we, as a society, haven't taken advantage of all this work and invested much more heavily in rolling out citizenship education in our communities.
If we fail to act, we will be left to wonder how many more crises of democracy, injustice, and social conflict it will take to open up the level of institutional investment in citizenship education that the world so clearly, and so desperately, needs.
Mehrdad Baghai is co-founder, chairman, and global CEO of High Resolves, a nonprofit that delivers learning experiences in schools across the world to inoculate students against hatred and galvanize them to take action in their communities.
Support The 74's year-end campaign. Make a tax-exempt donation now.