Commentary: By Ending Advanced Placement Courses, 8 Elite Private Schools Set a Dangerous Precedent That Could Hurt Disadvantaged Kids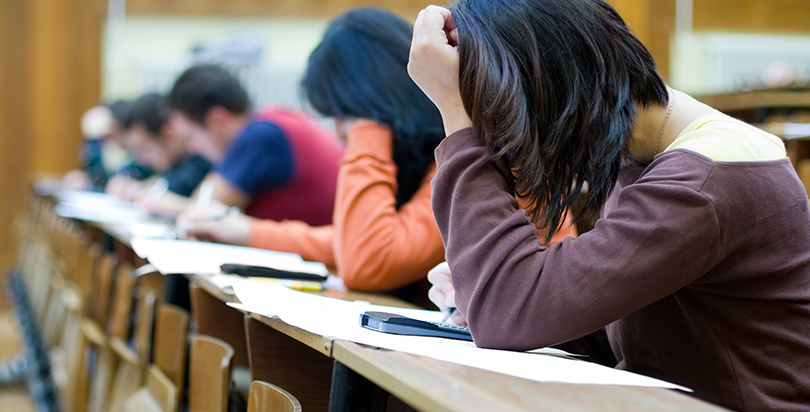 In June, eight elite private schools in the Washington, D.C., area announced that they would eliminate their Advanced Placement courses. Although this policy change directly affects only the students at these eight schools, it could have significant impacts on many more students and inspire other schools to follow suit.
These schools claim that increased AP enrollment across the country devalues it as a factor in college admissions, that fewer colleges are awarding credit for AP work, and that AP courses sacrifice critical thinking and skills building to cover a wide range of material in a yearlong course.
None of these claims holds up under close scrutiny.
The first claim — that AP courses have become "less noteworthy" because 40 percent of high school students now take these classes — has no evidence to support it. In fact, many elite schools, such as Stanford University, recommend that science and engineering majors use AP credit to reduce their course requirements and expect all students to take "the most demanding courses available in their secondary school," which includes Advanced Placement.
Second, contrary to the schools' claims, colleges around the country continue to award credit for AP work. In fact, 19 states require their public colleges and universities to do so. And while 86 percent of the top 153 universities and colleges do have some restrictions — such as capping the total number of credits awarded, or increasing the AP score needed for earning those credits — only nine of these schools fully disallow AP work. What's more, setting policies for awarding of such credit is nothing new.
Finally, the schools argue that AP courses sacrifice skill-based learning for memorization — a complaint that fairly alludes to an overreliance on testing in American education, but one that the College Board, which created and administers the AP program, is working to address. In 2018 and 2019, the College Board will launch a new version of the U.S. Government and Politics exam to better emphasize analysis, reasoning, and communication skills; revise the AP Biology curriculum to stress broad concepts instead of memorization of facts; and shorten the AP World History curriculum to reduce the amount of content taught in a single year.
Unfortunately, these misleading claims have gained some traction, and, if taken at face value, they could persuade other schools to reduce the already limited access that low-income students and students of color have to rigorous, college-preparatory coursework. These students are already less likely than their more privileged peers to have resources that strengthen college applications, such as International Baccalaureate courses, SAT coaching, and extracurricular activities. According to the most recent Civil Rights Data Collection, high schools with large black and Hispanic enrollment are less likely than other schools to offer rigorous courses, including calculus, chemistry, and physics.
Exposure to college-level material and preparation for advanced exams can level the playing field for college acceptance. Students who take AP exams are more likely to have a higher grade point average and higher ACT scores, enroll in and graduate from a four-year college or university, and earn higher incomes than non-AP students. At Hammond High School in Columbia, Maryland, which has a large minority population, few students of color were enrolled in AP or other advanced courses before the school eliminated prerequisites and encouraged every student to take at least one high-level class in 2010. Six years later, minority student enrollment in advanced courses had drastically increased.
AP courses can also help reduce the cost of college. Students who score a 3 or higher, depending on the institution, can test out of required classes, reducing their overall course load and increasing the likelihood of graduating in four years. This is particularly helpful for students of color, who graduate from college at rates far below their white peers.
In a promising trend, more students of color have enrolled in AP courses in recent years. Between 2008 and 2017, enrollment in at least one AP exam almost doubled for black students and increased sevenfold for Hispanic students.
Yet, in 48 states, there is still a gap between overall high school enrollment for students of color and the percentage of those students taking AP exams.
Thankfully, there are a number of things states can do to encourage schools to increase enrollment and diversity in AP and other rigorous courses, including mandating that high schools provide advanced coursework, establishing incentive programs, and providing professional development to teachers. Although Congress eliminated funding for the Advanced Placement Incentive Program in 2012, states can help low-income students afford AP courses and tests, or provide reimbursement for teachers to participate in AP or International Baccalaureate training.
Districts can also help students afford testing fees. Under the Every Student Succeeds Act, Congress consolidated the Advanced Placement Test Fee Program into Title IV block grants, and Title I funds can be used to cover fees for advanced tests for low-income students as well.
While AP courses are certainly not perfect, they provide an important college preparatory pathway that is beneficial for students in low-income and high-income schools alike. It is essential to maintain and increase AP enrollment to continue improving equity and student outcomes.
Sarah Shapiro is a research assistant for K-12 education at the Center for American Progress.
Support The 74's year-end campaign. Make a tax-exempt donation now.