Reville: 9 Places Where Communities & Families Are Working Together in a New Social Compact for Student Success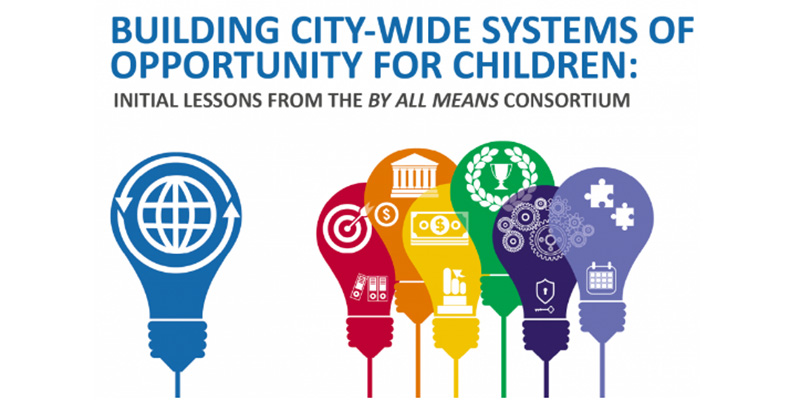 For too long, our answer to the problems of poverty, inequality, diminishing social mobility, and unfair access to learning opportunities has been "the schools will fix it." However, U.S. public schools, even after a quarter-century of well-intentioned, vigorous, and expensive school reform, have been unable to fix these problems or close the achievement gaps that are symptoms of them.
It is still the case that schools generally act to reinforce rather than change the existing social/economic order. The best predictor of your educational achievement and attainment is still your family's socioeconomic status. Education reformers in the 1990s set out to change the correlation between demographics and destiny in America. Now, after reviewing the evidence, we can definitively say those efforts have failed.
Based on that evidence, we need to step back and rewrite the problem statement that education reform was designed to address. A new statement might acknowledge poverty and inequity as directly implicated in failures by schools and individuals to achieve success for students. Taking this into account means reform needs a new theory of action: If we hope to prepare all students to succeed in college and careers, our communities will have to provide all children with the supports and services (comparable to what affluent children take for granted) needed to guarantee that they can come to continuously improving schools each and every day ready to learn.
For schools to work, children need to be safe, trauma-free, healthy, well nourished, and emotionally stable. Children also need positive stimulation, enrichment, and opportunities to learn in the 80 percent of their waking hours they spend outside of school. Affluent children usually take these aspects of life, support, and enrichment for granted. Less advantaged children need the adults in their communities to rise up and provide these essential ingredients for building a successful life.
Community-based, holistic approaches to child development and education are working in places where initiatives like StriveTogether, the Promise Neighborhoods, Communities in Schools, Say Yes to Education, and the Coalition for Community Schools are operating. In our work with Harvard's By All Means cities, visionary mayors, superintendents, and children's advocates in and outside of government have been joining together in powerful "children's cabinets" to set goals for child and youth development, to determine strategies, to jointly build new systems of support and opportunity, and to hold themselves accountable for real progress.
Here's what the work looks like:
In Illinois, the Partnership for Resilience is a broad collaborative linking the health care and education systems in a group of economically struggling districts south of Chicago known as the Southland that includes Calumet Park, Dolton West, and Ford Heights. In one participating school district, disciplinary referrals decreased by 72 percent, detentions by 87 percent, suspensions by 79 percent and expulsions by 100 percent over two years. Students made statistically significant gains in English and math across all grades K-8 during this period.
In Salem, Massachusetts, every child from kindergarten through grade 8 has an individual success plan, which maps strategies inside and outside of school, customized to the needs of the particular student. Through a collaboration with City Connects, Salem and its "Our Salem, Our Kids" initiative are genuinely personalizing education.
In Providence, 850 students received high-quality summer learning opportunities in 2017, with consistent program elements including requirements for the number of weeks of programming and data-sharing with the district. Participating students showed dramatic academic growth. Collaborating with local organizations like the Providence After School Alliance and national programs like BELL, Providence is on its way to making out-of-school learning a reality for a substantial number of its students.
In Louisville, Kentucky, more than 20 stakeholder organizations signed a memorandum of understanding outlining their shared commitment to working collaboratively across sectors to improve opportunities and outcomes for the city's children. In addition, the Jefferson County Public Schools and Louisville Metro government signed agreements to share student and financial data as a first step toward identifying the areas of greatest need and aligning spending more closely with priorities.
In Oakland, California, the mayor has launched the Oakland's Children's Initiative as a strategy for creating sustainable public funding for expanding early childhood education and cradle-to-career supports. If the initiative passes in November 2018, it will raise approximately $30 million annually.
In Somerville, Massachusetts, the city has raised substantial funds to launch partnerships with organizations including Citizen Schools, the Calculus Project, and the Breakthrough Collaborative to increase the availability of afterschool programming for underserved middle-grade students.
In addition, many other organizations have spent decades in communities, developing complex strategies to provide greater support and opportunities for children. Several evidence-based models exist, including the following:
Launched at the Center for Optimized Student Support at Boston College's Lynch School of Education, City Connects coordinates prevention, intervention, and enrichment services to foster students' academic, social-emotional, and physical well-being. A range of studies show that this model boosts both students' academic achievement and life chances by increasing grades and test scores and reducing dropout and chronic absenteeism rates.
Studies of the effect of Communities In Schools, a national model that offers an array of tiered supports to elementary, middle, and high school students, reveal promising academic and nonacademic outcomes. Elementary school students enrolled at partnered schools have higher attendance rates, while high school students have better on-time graduation rates than students who did not receive integrated supports. The organization's intensive case management services also enhance high school students' school engagement, attitude about school, and belief about the value of education, and a study of the Chicago program showed that elementary and middle school students in partner schools reached proficiency at higher rates than those in nonpartner schools.
Harlem Children's Zone Promise Academy K-12 Charter Schools, located in New York City, connects students to an array of comprehensive supports, including afterschool programs, access to healthy meals, and on-site medical, dental, and psychological services. Middle, high school, and college students also work individually with student advocates who support their academic and personal development. Academic gains are impressive: Middle school students closed the black-white achievement gap in math and decreased it by half in English. The Promise Academy model also helps reduce students' risky behavior; girls are less likely to become pregnant, and boys are less likely be incarcerated.
These examples are the building blocks of an integrated, complex, 21st century system of education and child development designed to ensure every child has the opportunity to become a successful contributing member of our society. These communities are demonstrating the emerging form of a new social compact for our most vulnerable children. This rising movement, broadly focused on student needs and success, not exclusively preoccupied with school success, shows what it will take to put all children, not just some, in a position to be successful.
This new social compact between our communities and our families should guarantee that children, all children, can expect to receive the supports and opportunities they will need to go to school each and every day fully ready to learn. Since low-income students and students of color are now a majority of the children in U.S. public schools, it's vital to bear in mind that their success will determine our success as a country, an economy, and a democracy.
Paul Reville is a professor at the Harvard Graduate School of Education, director of its Education Redesign Lab, and a former Massachusetts secretary of education.
Get stories like these delivered straight to your inbox. Sign up for The 74 Newsletter