Commentary: 40 Percent of NYC Kindergarten Kids Go to a School Their Parents Chose. More Families Need That Option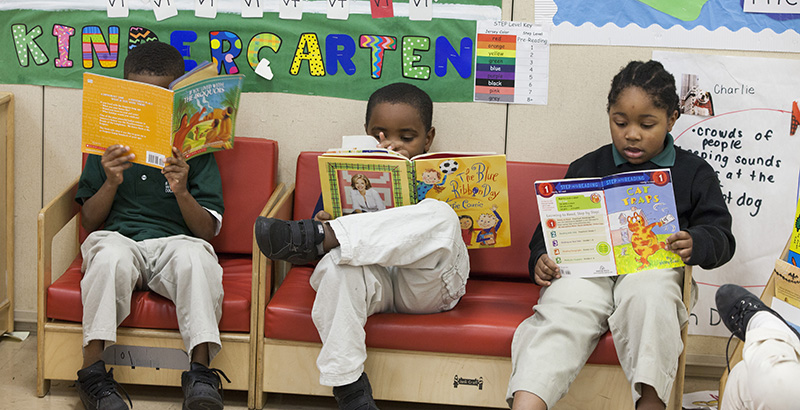 Correction appended May 17
A new report from the Center for New York City Affairs at The New School finds that 40 percent of city kindergarten students attend a school other than the one to which they are geographically assigned — up from 28 percent a decade ago. A growing number of parents are taking their children's education into their own hands, and that is good news. We should embrace and encourage more and better choices in education so even more families are empowered to find the schools that work best for their children.
Minority parents are already way ahead on this issue. For example, parents of almost 60 percent of all black kindergartners are opting out of zoned schools in New York City. Nationwide, 72 percent of Latinos and 66 percent of African Americans support school choice, according to a recent poll by the American Federation for Children.
These parents recognize what Americans have believed for centuries: There is room for many types of schooling and education, and one size does not fit all. We need to rethink and broaden our definition of public education in order to adequately prepare our children to meet 21st century challenges.
The current model of public schools run by the government and assigned to families based on their address (often leading to segregation by race and income) has been around only since the late 19th century, a result of anti-Catholic laws discriminating against the influx of immigrant children from countries such as Ireland and Italy. Before these laws defunded private schools, the education landscape included schools of all sizes, catering to various religions, cultures, and theories of learning.
Meanwhile, many other countries continue to invest in all types of schools, recognizing that education contributes to the common good. Rather than having one main prescribed way of teaching children, countries such as Canada, Great Britain, and Sweden let families choose from a variety of options, including government-run neighborhood schools, religious schools, and private independent schools, supported at some level by public funds.
Policymakers and politicians in New York seem to get hung up on tinkering with the racial balance of each school, or worrying about "saving" low-performing schools that parents are fleeing when given the chance. But instead of schools and systems, we should focus on empowering every family with access to the school that will best meet their child's particular needs and allow them to reach their full potential.
Already, more than 27,000 New York City kindergartners leave their school zones to attend charter schools and other out-of-district options, with 47,800 more children on city charter school waiting lists this year. Thousands more students find their way to private and parochial schools, many of them coming from low-income neighborhoods. At the Children's Scholarship Fund, we hear often from low-income families who want an alternative to their zoned school and are willing to sacrifice to pay a portion of the tuition to make that happen.
The schools our scholarship recipients attend mostly operate on shoestring budgets, yet they offer safe and caring learning environments, where families' cultures, faiths, and values are reinforced, yielding higher high school graduation and college enrollment and graduation rates.
Independent studies show that private school graduates, particularly Catholic school alumni, have high levels of voting, volunteering, and other civic engagement. Ultimately, we all benefit when children are equipped with the knowledge and tools they need to graciously engage with their fellow citizens.
Our focus needs to change from our school systems to our students themselves; what works for our children is in the best interest of everyone, and nobody is in a better position to make decisions for children than their parents.
Darla M. Romfo is president and chief operating officer of the Children's Scholarship Fund, a nonprofit that provides partial scholarships for low-income children in grades K-8 to go to the school that best meets their needs.
Correction: The poll numbers cited were pulled from a post that has since been corrected. The numbers have been updated.
Get stories like these delivered straight to your inbox. Sign up for The 74 Newsletter