Come Together: New Poll Finds High Bipartisan Support for Improving Early Education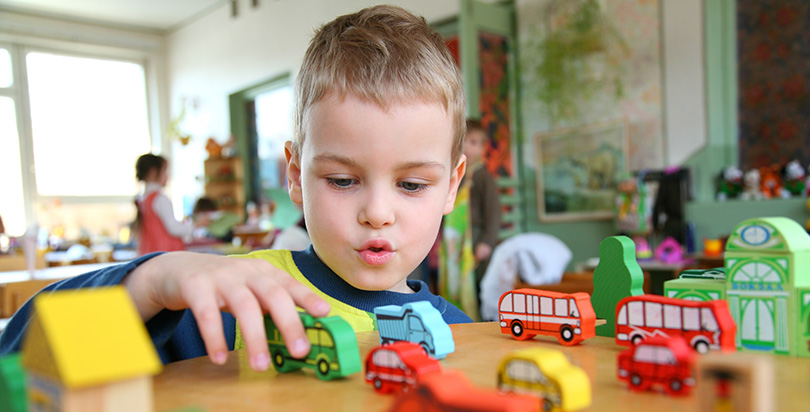 The political mood in the United States has soured dramatically in recent months, but there's still one issue that draws bipartisan support: early childhood education.
Seventy-nine percent of voters in a new poll want Congress and the Trump administration to work together to improve the quality of child care and preschool and make it more affordable, according to a
new poll from the First Five Years Fund
, an early childhood education advocacy group.
"Voters understand that birth through age 5 is a critical time in a child's development that truly builds the foundation for later success in school and life," Kris Perry, executive director of the First Five Years Fund, said on a webinar.
Only about 1 in 5 people surveyed, or 21 percent, said Congress and Trump are paying enough attention to early childhood education.
Majorities of respondents from both parties, as well as those who identified as independent, supported different specific options for federal help, including making child care and early education more affordable; helping states and communities expand services for children from low- and middle-income families; providing voluntary home visiting programs to first-time parents; and increasing child care tax credits.
It is "incredibly important" that support for specific ideas exists across the political spectrum, said Jay Campbell, a pollster with Hart Research, a Democratic-aligned firm that conducted the study with GOP firm Public Opinion Strategies.
"It is incredibly easy for people to say, 'Yes, early education is important, yes I value education.' It's a lot harder to say I specifically support a policy that … comes out of taxpayers' own pockets," he said.
More voters said quality early childhood education was an "extremely" or "very" important issue than said the same of reducing taxes, reducing the federal deficit, strengthening the military, or securing borders. It was on par in importance with reducing health care costs and growing the number of good-paying jobs.
Most of those surveyed, 57 percent, said they would have a more favorable opinion of their member of Congress if he or she voted to increase funding for early education, while only 6 percent said such a vote would negatively impact their perception of a lawmaker.
That figure, and the high percentage of respondents who say different branches of the federal government should work together, shows that early childhood may be an exception to the conventional wisdom that Democratic voters don't want legislators to work with the Trump administration on any issue, Campbell said.
Nationally, only about a third of 4-year-olds and 5 percent of 3-year-olds were enrolled in a state-funded preschool program last year, according to a recent report. Another 8 percent were enrolled in Head Start, the federal program for low-income children, and 3 percent in special education programs.
Congress in its fiscal 2017 budget increased funding for Head Start and the Child Care and Development Block Grant, which helps low-income families afford child care services. The Trump administration proposed holding funding for those programs flat at the slightly lower fiscal 2016 levels.
Trump on the campaign trail proposed allowing parents to deduct the cost of child care from their taxes, a strategy critics said wouldn't help low-income families who often pay no federal income taxes, with another $1,200 available through the earned income tax credit.
The Washington Post reported in April
that the administration would instead look to increase the Child and Dependent Care tax credit, which is currently capped at $2,100 annually.
The early childhood education survey of 1,000 people was conducted on landline and cell phones April 28 through May 2 and has a margin of error of plus or minus 3.1 percent.
Get stories like these delivered straight to your inbox. Sign up for The 74 Newsletter