College Presidents Slowly Becoming More Diverse but Still Mostly White Men in Their 60s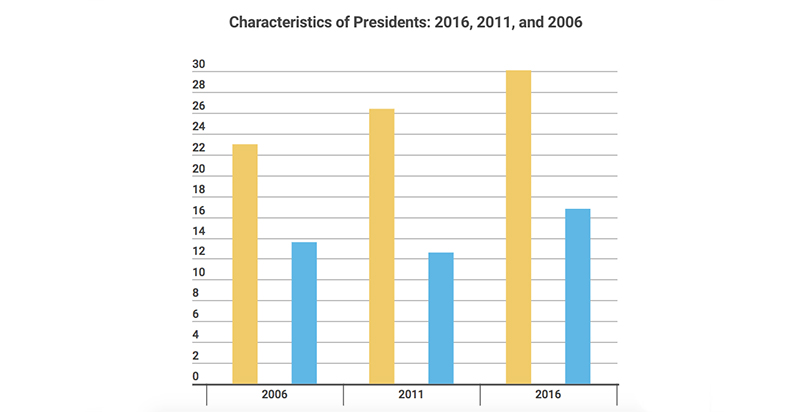 College presidents are getting older while their students stay the same age.
That's among the conclusions of the American Council on Education's 2017 survey of higher education leaders. The average age of college presidents rose to 62 last year from 61 the year prior, and from 52 a decade ago.
The eighth edition of the American College President Study, which has been conducted roughly every five years since 1986, polled more than 1,500 presidents of two- and four-year institutions across the country. Although the percentage of college presidents who were minorities has increased 9 percent since 1986, the majority of respondents were still most often white sexagenarians, and their overriding concern was fundraising.
Demographically, the profession is shifting toward greater racial and gender diversity, though this transformation is occurring more slowly than that of their own students. According to data from the National Center for Education Statistics, the percentage of white students enrolled in higher education declined from 84 percent in 1976 to 58 percent in 2014; meanwhile, 83 percent of their school leaders are still white. Perhaps even more surprisingly, 70 percent are male, in spite of the fact that women have outnumbered men on college campuses every year since 1979.
And while the share of women in leadership roles has meaningfully risen over the decades — climbing to 30 percent in 2016 from a low of 9.5 percent in 1986 — so too has the average age of college and university presidents overall. At 62 years, it is one year higher than during the survey's last iteration, in 2011, and 10 years higher than in 1986. Since that year, the proportion of presidents over the age of 71 has gone up from 5 percent to 11 percent, while the percentage of those under 50 has declined precipitously: from 42 percent in 1986 to 10 percent today.
According to the report's authors, the advancing senescence of the office is due to a demand for candidates with proven track records.
"The vast majority of college and university presidents were established leaders from within higher education with top-level administrative experience," they write. "Prior presidential experience and senior executive positions within academic affairs were the most common signposts on the path to the presidency."
That expertise is most coveted in the area of development and growth, which the presidents list as their main priority. Sixty-five percent of respondents said that they spent the most time tending to budgetary concerns, while 58 percent pointed to the somewhat overlapping activity of fundraising. No wonder 44 percent said that their main problem was not having enough time to think.
Get stories like these delivered straight to your inbox. Sign up for The 74 Newsletter