Mandates, Tests, 'Enforcers' Help College Students Remain on Colorado Campuses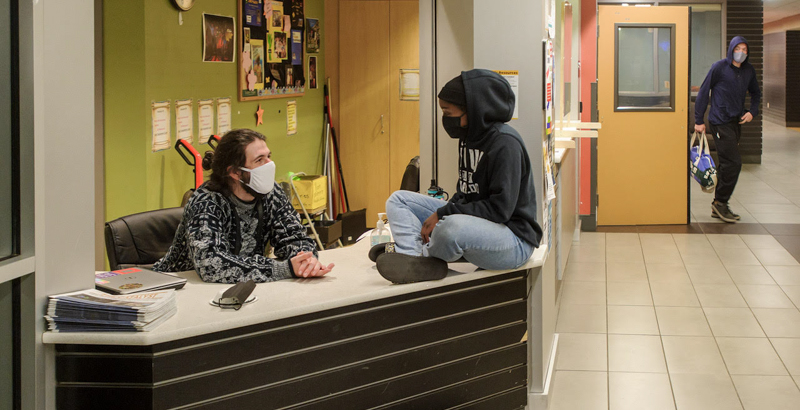 Support The 74's year-end campaign. Make a tax-exempt donation now.
One Colorado college hired students to act as COVID enforcers.
Another school conducts about 10,000 COVID-19 tests a week.
As fall semester concludes, Newsline examined how three Colorado colleges and universities managed COVID-19 on campus as a wave of cases arose in the state. Since the start of the semester, COVID-19 cases increased across Colorado. In August, Colorado had the seventh-lowest COVID-19 rate, but by the beginning of November the state ranked fifth in the country for COVID-19 infection rates.
Adams State University
Adams State University has required the COVID-19 vaccine for students, faculty and staff since Oct. 15.
Unvaccinated students have been required to take weekly COVID-19 tests beginning the week of Oct. 18, and students who don't are "subject to disciplinary action through the Student Code of Conduct," according to an Oct. 15 update.
"I haven't particularly heard of any instances where students have faced disciplinary actions other than just warnings a time or two, but I do know they are doing the weekly testing," Courtney Hocking, president of the Associated Students and Faculty — similar to a student government association — said. The disciplinary action follows the typical disciplinary protocol at ASU.
ASU recently hired COVID enforcers — students who check in with other students who need to be tested, Hocking said. If a person misses a weekly COVID-19 test, the enforcer would check in with the person who missed the test to remind them.
"We do have people going around who are peers and we thought that would be more effective, having a peer-lead reminding style when it comes to the weekly testing," Hocking said.
The idea was brought forth by the vice president of student affairs. "He was really passionate about making sure that students are following directions, but it's not just listening to it from the administration who they don't know, but it would be their peers, so that was definitely the administration who took that front," Hocking said.
As the president of the ASF, Hocking has a seat on the president's cabinet, so she can bring any student concerns about COVID-19 directly to the upper administration, she said.
They are in the process of scheduling a meeting for the beginning of next semester with the ASU faculty members, including the ASU COVID task force and the president, for students to be able to directly ask questions about spring semester COVID-19 protocols, Hocking said.
As of Nov. 27, almost 91% of employees and 70% of students are vaccinated, according to an ASU spreadsheet. The combined vaccination rate is 75%.
There were four positive COVID-19 cases at ASU between Nov. 7 and Nov. 13, and three positive COVID-19 cases the following week, according to the document.
"More or less, students have been relatively supportive of (the COVID-19 vaccine requirement). I think more than anything, we just wanted to be on campus," Hocking said.
"In the beginning, there was some pushback, but I think once it was explained to students that this is to keep us on campus so we don't go online again, people really started to follow the rules a lot more," Hocking said when asked if the ASF received complaints from students regarding the mask or vaccine requirements. "I think the fear of going online again really outweighs the mask-wearing and the vaccine requirements."
"I think the fear of going online again really outweighs the mask-wearing and the vaccine requirements," said Courtney Hocking, President of the Associated Students and Faculty at Adams State University.
Students do follow the mask mandate, Hocking said.
ASU offers weekly drawings for prizes for students who have uploaded their vaccination information. Hocking said this was not an ASF initiative, but she was part of the conversation about it. "We talked about the reward system kind of outweighing the disciplinary system, and I know that a lot of people were excited for these drawings."
Colorado College
Colorado College has required students, staff and faculty to be vaccinated against COVID-19 since Aug. 1.
There was "an increase in infections among students this week in connection with large social gatherings," Colorado College officials wrote in a Nov. 5 email.
There were 88 COVID-19 cases at the school between Nov. 3 and Nov. 9, according to the school's COVID-19 dashboard. This was a spike in cases, as the two previous weeks had seen eight and 14 positive tests, respectively.
The school added additional screening testing as a result of the number of students testing positive, according to a Nov. 9 message from the school. "As testing continues this week, initially we anticipate additional cases, followed by a decline and return to baseline."
The school's new president wrote in a different Nov. 9 message that the increase in students receiving positive test results "stems from Halloween parties where students were indoors and unmasked."
Not all CC community members agree with that conclusion.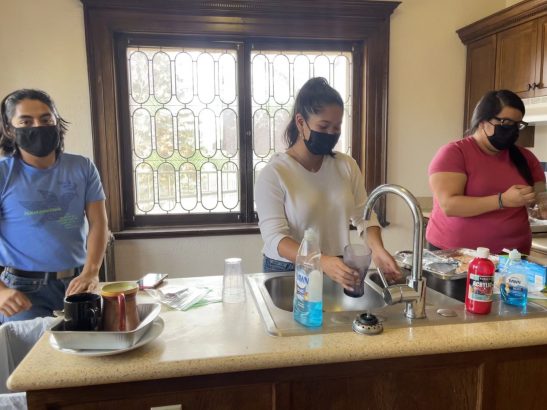 The Catalyst, CC's independent student newspaper, wrote on Nov. 11 that "at least one" student wonders if the spread of COVID-19 could "be linked to mass indoor gatherings taking place at hockey games in the new Ed Robson Arena."
Ed Robson Arena, the new ice rink on campus, seats over 3,000 people and allows the school's hockey team to play games on campus for the first time, according to the website.
"I personally believe that the hockey rink is a risky situation, it's a risky place to be at in terms of COVID," said Fer Juárez Duran, the vice president of internal affairs in the student government association at CC. "I think it's not one or the other, it's a mixture of people coming into our community and people not being the most responsible at off-campus parties. The whole thing just kind of mixed together and created a big COVID scare a couple of weeks ago."
There have been "many, many complaints" from students about having to wear masks, Duran said. "There's also been complaints about the school being too lenient, so we get a lot of both sides of the table."
The student government has conversations with the administration about the COVID-19 situation on campus, said Duran, who also works as a resident advisor on campus. He thinks the school administration is listening to the complaints from students.
As an RA, Duran said that a lot of the COVID policies are "very much disrespected" in the freshmen dorms. Duran added that he has also seen an increase in other, non-COVID-19 related, misconduct.
"A couple" classes that started in-person have been moved online, Duran said. As far as he knows, the decision to move a class online is at the discretion of the professor and the department.
"The school has repeated to us, time and time again, that there is no evidence of transmission through classrooms, so that's a very reassuring statement, and I hope that we can keep it that way," Duran said.
"The college has mentioned that there is no plan on moving things completely online," Duran said.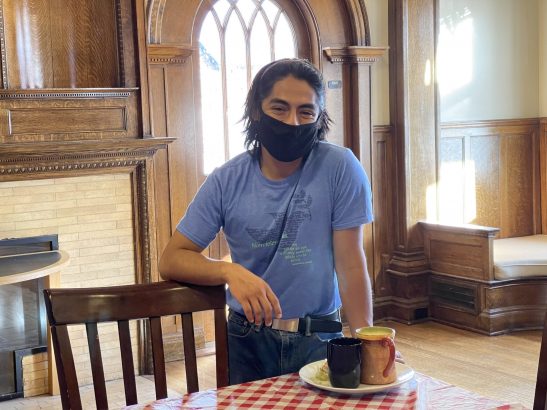 Duran said that for the most part, in terms of COVID-19, he feels safe on campus. "I think that the vaccination rate here at Colorado College makes it so that I feel mostly safe, and the mask culture also makes it feel a lot more safe."
Students wear masks in classrooms, and will be asked to leave if they are not complying with the mask policies, Duran said, but some students will not wear a mask in the common areas of private residences, despite the requirement.
"As students leave their room, once they enter a common space, like the hall, they are required to wear a mask, but oftentimes, they are reluctant to, since to them, they see it as their living space."
Jeremy Cashion, a second year student at Colorado College, tested positive for COVID-19 on Nov. 4. He was asymptomatic but got tested because one of his co-workers tested positive, Cashion said.
Cashion is an RA in South Hall, one of three dorms that first-year students are required to live in.
Cashion was quarantined in his room on campus — a single — for a day, he said. The school brought him a bag with three meals on the day he was quarantined, and that was going to be the plan for the duration of his 10-day isolation, but because Cashion was within driving distance of his home, he went home and completed his isolation there, he said.
The school sectioned off certain single-person bathrooms based on where people tested positive, to separate students who had COVID-19 from the rest of the students living in the dorm, Cashion said.
"There's a very strong and very good pressure to wear masks when in classroom settings," Cashion said.
As an RA, Cashion said that trying to enforce the mask requirement has been one of the biggest challenges for residential life and residential experience this year. "There's been a lot of conflicts between housing and students because there's a very strong pushback against (the mask requirement) in residential spaces."
It would not surprise Cashion if either the Halloween parties or the hockey games were one of the causes of the increase in COVID-19 cases, he said.
"The school has placed a lot of emphasis on COVID safety. You can't be in any indoor space without a mask, and if you're unvaccinated, you can't be on campus, even outside, without a mask," Cashion said. "And yet at the same time, they have this arena that's completely full of people, people that are screaming, that are getting excited about the game, shoulder to shoulder with one another."
Cashion said that similarly, on Halloween, you could walk down the street and hear parties at student houses, so it would also not surprise him if that were an issue.
"In regards to policy, I think the school is definitely trying to navigate to the best of their ability, what enables people to have a conducive and productive education while simultaneously trying to maintain safety," Cashion said. "However, I think sometimes there are some apparent contradictions in that policy. One, for example, we have to wear masks when we're by ourselves, but we can go to a hockey game in a packed arena."
Isaac Yee was having breakfast on Nov. 9 when one of his friends at the table said he felt sick, so they all went to get tested, Yee said. An hour after getting tested, Yee was in his dorm room with his roommate when he got a call from the school's COVID-19 response team informing him that he tested positive. Later that day, Yee's roommate got tested and was positive.
In the afternoon after Yee tested positive, the school delivered a bag with "instant oats, some Cheetos, and a Nature Valley bar," but the next day, they began delivering three meals, he said.
Staff members call students in quarantine once a day to see if the quarantined student needs anything, Yee said. In addition, the day after Yee tested positive, he got a call from El Paso County Public Health for contact tracing.
Yee said that as far as he knew, he was the only person at the time who tested positive in his wing of the dorm. Because there was no bathroom designated for students who had COVID-19, he wrote "For COVID people only" on a piece of paper and put it on the door of a single-person bathroom.
Yee quarantined in his room until Nov. 12, when he then went to Denver to quarantine with his girlfriend, who also had COVID-19.
"To single handedly blame it on the Halloween parties, I don't think is super correct," Yee said. "I think the Halloween parties could have been a vector for transmission, but I definitely don't think it's the only source."
Following the increase in COVID-19 cases in early November, the student health center conducted "more than 1,400 COVID-19 tests, with lower positivity as the week progressed," the school wrote in a FAQ, which was last updated on Nov. 29. "Our protocols and testing program are working, and Colorado College continues to have a much lower positivity rate than that of the surrounding community."
University of Denver
University of Denver has required the COVID-19 vaccine for in-person students, faculty and staff since prior to the start of fall semester.
DU operates on a quarter system, and fall quarter ended Nov. 23. Students will not be back to campus until the first week of January, Jon Stone, the media relations manager for DU, wrote in an email.
DU conducts approximately 10,000 tests per week, Stone wrote.
Conditions across the city and state could lead to some changes in protocols, Stone wrote. "However, given the low positivity rate we maintained throughout the entire fall quarter, no changes have been currently made to our testing plans for spring."
DU will continue with the "high frequency of testing that we performed this fall," Stone wrote.
The seven-day positivity rate between Nov. 18 and Nov. 24 was 0.48%, with 10 employees and 10 students testing positive for COVID-19 that week, according to DU's COVID-19 dashboard.
DU also requires on-campus students, faculty and staff to get the flu vaccine. This is a permanent requirement, according to the DU health and counseling website.
Colorado Newsline is part of States Newsroom, a network of news bureaus supported by grants and a coalition of donors as a 501c(3) public charity. Colorado Newsline maintains editorial independence. Contact Editor Quentin Young for questions: info@coloradonewsline.com. Follow Colorado Newsline on Facebook and Twitter.
Support The 74's year-end campaign. Make a tax-exempt donation now.