College Counseling in the Time of Coronavirus: With Less Pomp and Uncertain Circumstances, San Antonio Seniors Cling to Elusive College Dreams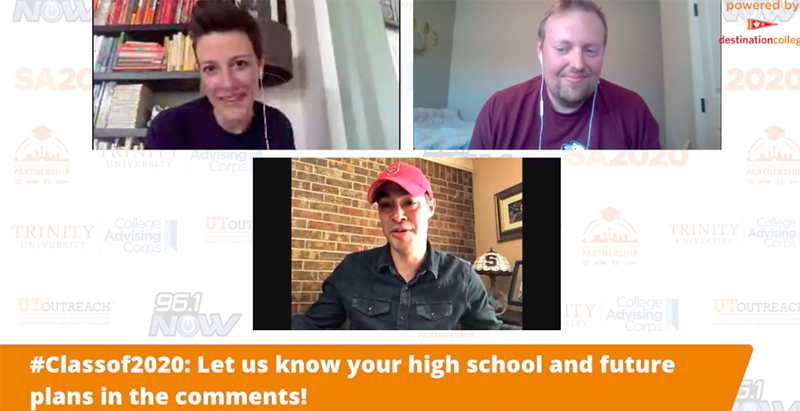 COVID-19 hasn't killed this city's college dreams — it has awakened a resolve to reach them.
The dedication became evident to college advocate Molly Cox on May 1 when 13,000 students, parents and educators logged on to a virtual College Signing Day event to celebrate San Antonio's graduates and their future goals.
The event would usually take place in a local gymnasium, but the idea of crowding together 1,200 cheering seniors to celebrate getting into college this spring was a non-starter.
Just like graduations, sporting events and concerts, San Antonio's College Signing Day would not proceed as planned. There would be no performing university mascots, dance contests or seas of chanting seniors in college T-shirts, said Cox, who is the executive director of community impact and data tracking nonprofit SA2020.
But when the two-hour event moved online on May 1, something else happened that was just as exciting.
"We were not bound by who could get on the bus and come to us," said Cox. "Even though there's an energy in the room that you cannot get online, there was something particularly magical … that you could just log in."
And thousands did.
It was a testament to the power of access, she said, and access is what college-going culture is all about. Access and belief.
Despite setbacks created by the pandemic, educators, advisers and advocates in San Antonio remain committed to seeing more young people earn college degrees. To do that, they will have to help students take a big step amid raging uncertainty.
COVID-19 and the ensuing economic crisis have many across the country in higher education fearing the worst for national college enrollment in fall 2020. College review site Niche released survey results showing that many students have been in wait-and-see mode regarding their plans next year. In the most recent round of surveys, the number of students reconsidering their school choices had increased to 57 percent from 34 percent. Around 9 percent reported that they are deferring enrollment for at least one year.
At the same time, the pandemic has clearly and obviously favored those with college education, supporting what Cox and others have been saying all along: College matters. Throughout the pandemic, those with college degrees have been less likely to lose their jobs and more likely to be able to work from home, stabilizing income and protecting health.
"Students still want to go to college," said Eduardo Sesatty, San Antonio Independent School District's director of postsecondary initiatives. "All of our behaviors and emotions and actions are driven by that assumption."
Desire or not, continuing their education could be a tough decision for students who know they could be working full time this summer and fall to support their families. Even if students defer enrollment or transfer their plans to local institutions, advisers want to keep college in the foreground. They will do so without the momentum of big events, relying instead on persistence, belief and personal connections forged by college advisers.
In the best of times, data show there's work to be done to increase college enrollment and degree attainment in San Antonio. This year 62 percent of 8,700 college-bound seniors surveyed by college advising nonprofits will be the first in their families. The Alamo City appears regularly among the least educated cities and metro areas in the nation as compiled by CityLab demographer Richard Florida, and white residents hold degrees at twice the rate of Latinos.
And, again, these are not the best of times.
Data from the first part of 2020 had been promising, Sesatty said. It was looking as if more students in his district would complete the Free Application for Federal Student Aid than ever before, a hopeful sign that more would enroll in college. But when schools closed in March, progress stalled. Though the district still exceeds the national average, the number of students who have completed the FAFSA hovers around 74 percent, about where it was last year at this time.
Sesatty isn't giving up though, he said. "There's still time."
Initiatives to increase college enrollment in San Antonio have long faced skepticism, Cox said, and the current crisis will likely kick up the same dust: Some kids go to college to pursue their dreams; others go to work to help their families.
For her part, when Cox hears arguments that college may simply not be "for every student," she pushes back. She challenges naysayers to picture in their minds the student who should not be in college. That imagined student, she says, likely reflects broader societal exclusion — dark skin and low income.
The college advisers, many of whom are themselves first-generation college graduates and people of color, resist that racism and classism as well. They're also resisting the pressure to let COVID-19 dictate who gets to go to college.
The "how" of college advising has changed with the pandemic, said Sesatty, who moved his entire team to a remote advising model within days of school closures, but not the "why."
Making it yours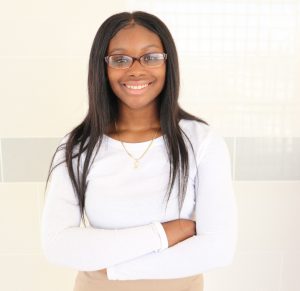 Kiree Turbin, a graduating senior at Sam Houston High School, is still well on her way to college, even if the specifics have shifted. She had been planning to go to Stillman College in Alabama, but she decided, with so much unsettled about fall 2020, that it would be wise to stick closer to home.
"I'm not disappointed at all. We have pretty good schools here," Turbin said.
Her school's college adviser told her to do what worked best for her and to look closely at scholarship offers, Turbin said. "She was understanding of how I felt."
Flexibility is key, said Rebeca González, director of the San Antonio Education Partnership program, who oversees a team of college advisers like the one who worked with Turbin. COVID-19 has radically changed not only their immediate financial situations but also the role older teens play in their families. Those who are now providing vital income for their households may need to defer a year or more. That's OK, González said; her team will be there when they are ready: "We always try to meet students where they are."
To help students weather their profound disappointment, advisers try to make the case to keep going, not to end on a low note.
"It's not what they anticipated and what they hoped for," González admitted, but she reminds them that "they are still in process and can stay in process."
In some ways, the loss of pomp and circumstance has helped advisers make the case that high school graduation is a stepping stone, not a finish line, she explained. San Antonio's high school graduation rate has risen consistently over the past decade, without the same increase in students taking the next step into higher education.
New pressures, old barriers
College enrollment for San Antonio students has remained relatively flat over the past decade, according to data from the Urban Education Institute at the University of Texas at San Antonio. This in spite of research showing that bachelor's degrees or advanced degrees still carry demonstrable economic benefits. Recent job loss statistics reinforce these data yet again.
The benefit isn't only to the student, Cox pointed out. Her organization analyzed employment statistics and found that if San Antonio increased its population with bachelor's degrees by 1 percent, the average income from that increase would add $1.4 billion to San Antonio's economy — a number that looks even more appealing as the city confronts the projected $200 million budget hole left by COVID-19.
So why do low enrollment and college completion rates persist?
The stubborn enrollment figures point to a problem, Cox said. "We've made [college] unattainable for some students. Systematically."
Some of the systemic barriers — specifically advanced coursework, guidance and college tuition — are being taken on by both K-12 and higher education systems, but the pandemic will likely complicate more or less everything.
San Antonio Independent School District, where Sesatty works, has partnered with KIPP Through College, the charter network's successful college-advising initiative, to improve its college "matching" process. Students are paired with colleges and universities where financial aid, academics and campus culture align with the student's aspirations. A good match, Sesatty explained, makes it more likely that a student will earn their degree.
The matching issue is complicated by students wanting to stay close to home. Many of the colleges with the highest graduation rates for minority students and students from low-income families are far from San Antonio, even outside Texas. Sesatty regularly advises students to consider those schools. Those who sacrifice a good match in order to stay close to home, statistically speaking, may be less likely to earn their degree.
SAISD has also increased its dual-credit, AP and International Baccalaureate offerings, all of which are possible, though more difficult, to continue in whatever distance learning scenarios are necessary next year.
Higher education institutions in San Antonio have also committed to removing barriers to college enrollment and degree attainment. Community college network Alamo Colleges and the University of Texas at San Antonio have recently begun programs to cover tuition for eligible students. Though the latter anticipates budget cuts as high as 10 percent, a spokesperson said that the university's "Bold Promise" initiative would not be affected. The Alamo Colleges program, AlamoPROMISE, is also on track, with 5,000 incoming scholars participating in the fall.
"As part of the district's annual budget recommendation to the Board of Trustees in July," Associate Vice Chancellor of Communications Kristi Wyatt said, "we will present how the program will continue moving forward."
In 2019 Texas A&M University-San Antonio launched the ASPIRE partnership with seven South Side school districts — all but one of which have economically disadvantaged rates above 80 percent — to create lab schools and curriculum support that increase college readiness. While all school-based initiatives will be shaped by health and safety protocols in the fall, Cox is hopeful about the long-term potential of the initiative.
"I think ASPIRE could potentially shift educational outcomes in our southern school districts exponentially," Cox said.
As important as those things are, say college advisers, another, less quantitative issue remains: Students must see college enrollment and degree attainment as part of their story. Those around them have to see it too.
"It really comes down to the notion of belief," Sesatty said — the shared belief that college is beneficial and attainable for every student.
To change that core belief, Cox said, San Antonio will have to rally around a college-going culture not just for a year or even a decade, but for long enough to change deeply held beliefs rooted in racism and classism: that college is a privilege for the privileged.
That's why Cox couldn't simply cancel College Signing Day when circumstances changed. It's one way, she said, the city can communicate to all students in the grimmest of circumstances: "We legit believe in you."
Get stories like these delivered straight to your inbox. Sign up for The 74 Newsletter