College Costs May Be a Top Concern Amid COVID-19 Economic Crash, but Here's Why Picking a Cheaper School Now May Actually Leave Students Worse Off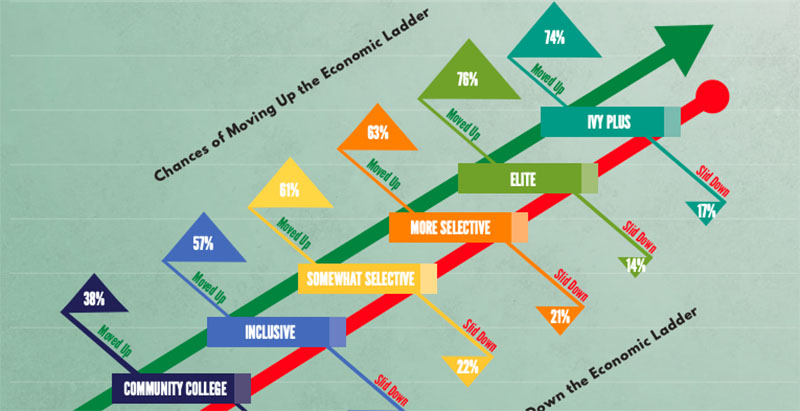 College affordability will be top of mind for many as the coronavirus pandemic continues to upend family finances. But the temptation to save on college costs now may have consequences later in a student's life, a new report cautions.
At issue is that academically talented students who choose to attend community colleges — which tend to be less expensive — often don't end up transferring to a costlier four-year college or university, where they could earn bachelor's degrees that tend to garner higher incomes down the line for graduates than do associate's degrees.
"I would also advise people to keep in mind that the college that they start at really does make a difference," said Shanna Smith Jaggars, assistant vice provost of research and program assessment for The Ohio State University. She's also the author of the new report, part of a series on higher education reforms published by the think tank Third Way.
A top concern Jaggars points out in the report is the role that free college programs play in persuading a student to attend a community college instead of a four-year university. There are roughly 300 of these so-called promise programs nationally, run not just by states but also by local governments, sometimes in conjunction with charities. Free college programs vary not only in amount but also in when they begin funding a student's education. Most local promise programs are "last-dollar," which means the financial support a student could get is tacked on only after state and federal grant aid is applied to a student's tuition.
"In some ways that's nice because students are getting a message that they might not otherwise get, that they should aspire to college and that it is possible," Jaggars said. "In other ways it's disingenuous because financially the student is not really getting that much."
Promise programs also typically apply just to community colleges, not more expensive public universities that issue bachelor's degrees. Plus, the message of free college may divert a student from attending a four-year university.
To be sure, community colleges are essential institutions in the higher-education ecosystem. They are affordable, they offer career training for students seeking skill boosts without the requirement to commit four years to college, and they give an opportunity to transfer into four-year universities for higher learning.
But the transfer pathways between community colleges and public four-year universities are often a series of hurdles and complications for students. There can be a lack of clarity over which courses count for transfer into a university. Other times a course may transfer, but not toward a student's major, requiring the student to take on additional coursework. And universities may not have consistent expectations across its campuses in the same state, forcing students eyeing transfer to know well in advance which institution they want to attend. Community colleges themselves may struggle with providing students road maps for the courses they need to transfer.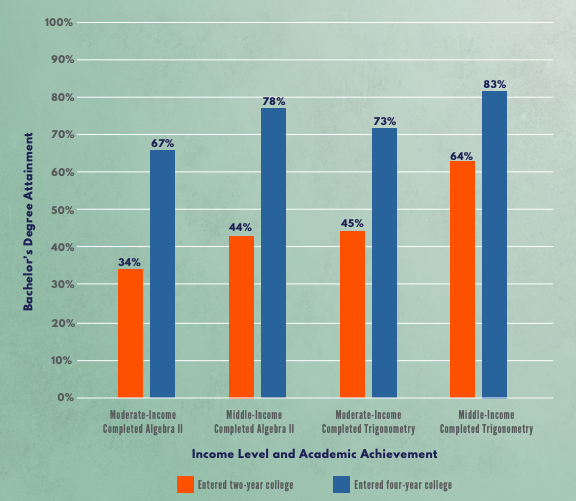 Past research by Jaggars shows that middle-income students enrolled in a community college honors program are less likely to earn a bachelor's degree than their peers with similar family incomes and high school grades who had entered four-year colleges directly. While 66 percent of these community college honors students were still enrolled at any college after three years, the same was true for 80 percent of their peers who went to a four-year college directly, the Third Way report said. Of honors students, 54 percent were enrolled in a four-year college after three years. That's lower than the 73 percent of their peers who entered a four-year college directly and remained there after three years.
For the Third Way report, Jaggars also calculated the prospect that a middle-income student in her honors college study would have of moving up the economic ladder depending on the type of college they attended. That analysis was based on groundbreaking data amassed by Harvard researchers, in partnership with the Internal Revenue Service, on how people born in the early 1980s fared economically in relation to the colleges they attended and whether their colleges improved their economic position.
Attending a community college gives a middle-income student a 38 percent chance of advancing economically, but a near equal chance (37 percent) of sliding down. Transferring to a university that has fairly open admissions standards boosts the likelihood of improving economically to 57 percent, with a 23 percent chance of worsening. The more selective the institution, the higher the odds that the student will experience better economic outcomes.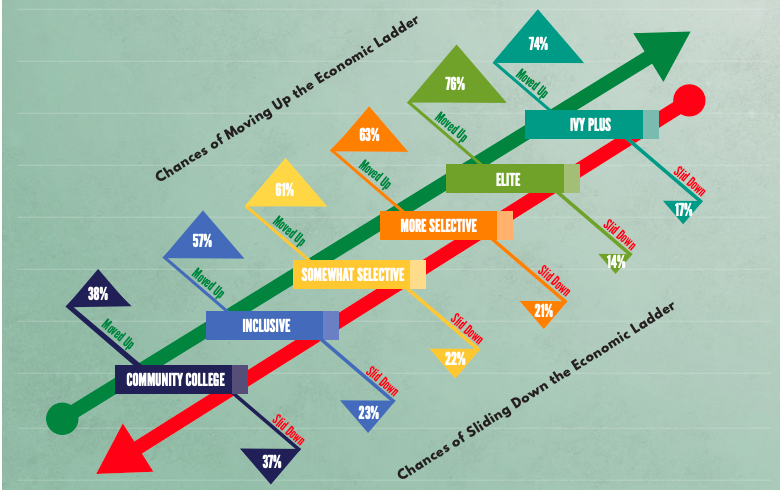 The report recommends several policy changes to inform students about their college choices and to improve degree completion. One is a high school course on college selectivity and how that relates to financial aid. Next is smoothing the transfer process from community college to four-year colleges and universities so that students who do make a financial decision to start at the less expensive community college aren't penalized with lower odds of completing a bachelor's degree. Another recommendation, less likely in a recession when funding for higher education drops, is for promise programs to offer funding on a "first-dollar" basis, a term that means that grants can cover tuition while federal and state aid covers living expenses like housing and food. Relatedly, these programs should offer more money to students who want to enter a four-year university — $3,000, for example, if the same program offers $1,500 to enter a community college.
Support The 74's year-end campaign. Make a tax-exempt donation now.