College Classes for HS Students Have Been Growing in Popularity. But With K-12 Schools Shuttered, COVID Is Fueling a Dual-Enrollment Boom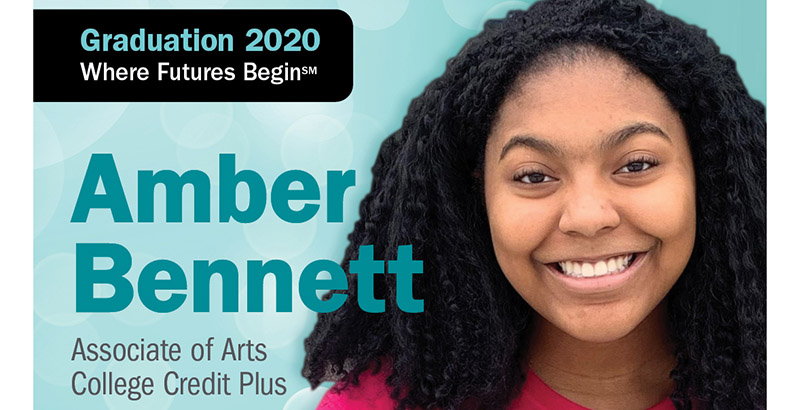 Clarification appended June 24
Amber Bennett was 11 when she took her first class at Cuyahoga Community College in Cleveland, Ohio. As a seventh-grader, she was eligible for College Credit Plus, a statewide dual enrollment program designed to increase access for low-income students, students who were the first in their families to attend college and children of color.
"It was weird and cool at the same time, because people at college were so mature, and they're all eager to learn," Bennett says. "They were all kind of shocked to see an 11-year-old in the classroom. They didn't baby me, but they would take me under their wing and make sure I was OK."
Now 15, Bennett earned her associate of arts degree in May — before even starting 10th grade at Ohio Connections Academy, her online public high school. In the fall, she'll pursue a bachelor's in psychology at Notre Dame through College Plus.
Across the United States, the number of high school students, like Bennett, who participate in dual-enrollment programs has more than doubled over the past two decades. But as the coronavirus has shuttered K-12 schools nationwide, dual enrollment in summer classes has skyrocketed, and early signs point to a similar trend for the fall.
The number of students under 18 at public two-year colleges — used as a proxy to estimate dual-enrollment participation — grew almost 9 percent in spring 2020 over the same time last year, according to the National Student Clearinghouse Research Center. Around three-quarters of the nearly 725,000 dual-enrollment students take classes at community colleges, the rest at four-year schools.
Individual colleges are anticipating that even more middle and high school students will sign up. "Particularly this year, given all the turmoil, we are expecting more high school students to take college classes," said Sanjay Rai, senior vice president for academic affairs at Montgomery College, which operates three campuses in Maryland.
Traditionally, high school students have turned to dual enrollment to access advanced academic classes, embark on a career path or save money on college by accumulating credits at lower cost. Research shows that earning credits in high school increases the chances that students will graduate, go on to college and attain an associate's or bachelor's degree. But this year, with many districts still struggling to figure out how to deliver either online or in-person education, and with camp and many summer jobs largely off the table, dual enrollment also offers a welcome degree of certainty about students' educational experience.
At Montgomery College, summer dual enrollment has skyrocketed, with a 270 percent increase, and registration for fall, which is still open, is topping 225 percent.
At Cuyahoga Community College, where Bennett studies, summer dual enrollment is up a more modest 15 percent. Angela Johnson, vice president of enrollment management, says that some of the boost may be from high school students stuck at home due to COVID-19. "Because all of our summer classes are online, there is a little bit more flexibility that they have now," she says.
Community colleges in other parts of the country have also seen significant boosts. As of June 5, dual enrollment for the Foothill-De Anza Community College District in Santa Clara County, California, was up 26 percent. Not only are more students enrolled, but they are also taking more classes. Several community colleges in Washington state reported increases in dual enrollment in the spring quarter, including Spokane Community College, which saw a 4 percent boost. In Florida, Tallahassee Community College saw a 71 percent increase in summer dual enrollment, and Palm Beach State had a 60 percent hike.
'Actual experience with teaching online'
Dante Moore, 17, started in Montgomery's publicly funded early college program at the Rockville campus during his junior year at Paint Branch High School in Burtonsville. He was initially reluctant because he didn't want to miss out on the high school experience. But, he says, it turned out that almost half of his college classes were filled with dual-enrollment students, and he could still participate in extracurricular activities and events at his high school.
Moore just earned both his associate's degree in science and his high school diploma and will major in chemistry at University of Maryland College Park starting in the fall. "It's just a good way to get ahead and save money while you're doing it," he says. "And you get to learn what it's like to be an actual college student."
As rewarding as the in-person experience is, the benefits are even clearer online.
Rai says local school districts in Montgomery County did well in transitioning to remote learning, but colleges have more technological infrastructure, so students might find them more attractive if K-12 schools remain online in the fall. "As a higher education institution, we have more tools and more experience in teaching online classes," he says.
Kristy Nguyen, a rising senior at Squalicum High School in Bellingham, Washington, is enrolled in the Running Start program at Whatcom Community College. She says her experience this spring with online dual-enrollment classes was much better than the remote learning provided by her high school. "I feel like the profs have actual experience with teaching online, so they know what material to give out, so stuff makes sense," she says. "For my high school classes, none of my teachers have experience teaching online high school. So the material and instructions that they hand out tend to be more confusing and less clear."
Madeline Bowles, a 17-year-old rising senior at Ballard High School in Seattle, had been thinking about dual enrollment before COVID-19, but her experience this spring solidified her decision to sign up in the fall. "The way that the public school system was handling it was not great, especially at first," Bowles says. "In recent months, I've definitely seen that I struggle with online learning — that's just kind of the learner I am. And I wasn't really sure how to go about furthering my education."
She now plans to take half of her fall classes at North Seattle Community College, which has given her more reassurance about what her education will look like in September. Seattle Public Schools hasn't given her any information about her fall high school classes, but "North Seattle has communicated with me in the three weeks [since] I've applied and become a student there," Bowles says. "And they've already [said] that they have programs in place already for online learning. And so I know that part of my education is ready for the fall."
Dual-enrollment classes also offer a clearer path toward earning college credit than some other options, like Advanced Placement and International Baccalaureate. "Given all the uncertainties with AP exams, IB exams, SATs not being offered and certain institutions saying they will not be requiring it … having more college credit makes a student more competitive," Rai says.
From the student perspective, Nguyen says the benefits of AP versus dual enrollment depend on where graduates want to go college. "For me, the college I was looking at, the credits for dual enrollment transferred over pretty well," she says. "To get college credit in AP classes, it really depends on what score you get at the end of the year on the AP exam. As opposed to dual enrollment, where your college credit doesn't depend on one big exam."
Dual-enrollment credits generally transfer to colleges and universities in the same state. "If you want to go out of state to an elite school, you do AP, but the vast majority of students are staying in-state at the local public community college [or] public university, the regionals and the private less-selectives, not the flagships," says Davis Jenkins, a senior research associate at the Community College Research Center at Columbia University Teachers College. "And for those purposes, dual enrollment is a lot better. And in fact, there's no research showing that taking AP [classes] increases your chances of completing college."
'A game-changer'
Community colleges have long been a pathway to higher education for low-income students and those who are the first in their family with the opportunity to earn a degree.
In states such as Ohio, Washington, Texas and Florida, dual-enrollment classes are free, though Jenkins warns that that could change if budget cuts slash education funding. Montgomery College's early college program, which offers associate's degrees for county high school students in several STEM fields, elementary education and business, is funded through the public school system. Any Montgomery County Public Schools student can also take up to four classes at the college at a 35 percent tuition discount, a program that has grown 37 percent over the past five years and in 2019-20 enrolled 936 students.
"We see big benefits of even just taking a few courses," Jenkins says. "But we see the best benefits where you have active outreach, well-taught courses, and the student is advised by the college — and not just advised generally, but advised about how to think about career and college majors."
Still, middle-class students with college-educated parents are more likely to participate in dual enrollment than their low-income, first-generation peers. Linda Perlstein, an associate director of the College Excellence Program at The Aspen Institute, is concerned that COVID-19 will make accessing dual-enrollment programs even more difficult for underserved populations.
"A lot of times, students don't even know about dual enrollment, and the natural ways that [students] are channeled into dual enrollment are threatened right now," she says. "There are counselors who are doing a lot of pipeline work, reaching out to the students who would most benefit from the opportunity, that I'm concerned may not be happening."
At Amarillo Community College in Amarillo, Texas, registration for fall dual enrollment is down significantly compared with this time last year because college officials have been unable to go into high schools to sign students up.
Amanda Haney, director of the College Credit Plus at Lorain High School, where around one-third of students take classes at Lorain County Community College, says her school has also seen a slight decline in sign-ups. One hundred percent of her students are eligible for free or reduced-price school lunch, a federal measure of poverty. "We are a low-income district, so for us, technology is a huge concern," she says. "If anything, we've seen a little bit of a drop, just because of the technology. And since everything is online right now, there's a lack of access."
In Lorain County, almost 45 percent of this year's high school students have graduated with credit from at least one college class, compared with 22 percent statewide in 2018-19. "That 45 percent that includes almost $6.5 million worth of college savings," says Tracy Green, vice president of strategic and institutional development at Lorain County Community College. "College Credit Plus is the most cost-effective way for any student in Lorain County to access higher education."
Located approximately 30 miles west of Cleveland, the college offers dual enrollment for 16 public school districts. Dual-enrolled students make up around 30 percent of the total population, and some of their advanced classes are taught at their own schools — increasing access for students in communities that lack public transportation.
"For the courses to take place at the high school was really a game-changer," Green says.
Lorain County also recently expanded the career and technical programs it offers through its partner high schools, which has helped boost participation. This year, the college granted degrees to 125 high school students, including 17-year-old Anna Lewis, who will be starting at the University of Toledo as a chemistry major in August. "A few weeks ago, I graduated from Lorain County Community College with my associate's degree in science," she says. "And then, a week later, I graduated from my high school with my diploma."
Lewis would recommend dual enrollment to any of her classmates. "I think that is really helpful, not only because I got pretty much two years of my college education done for free, but I also really liked that I got used to how the college system works," she says.
Note: Davis Jenkins's quote has been clarified to specify participation in AP classes.
Get stories like these delivered straight to your inbox. Sign up for The 74 Newsletter