Colin Powell on Education, Opportunity & Immigrant Students Ahead of America's Promise 20th-Anniversary Gala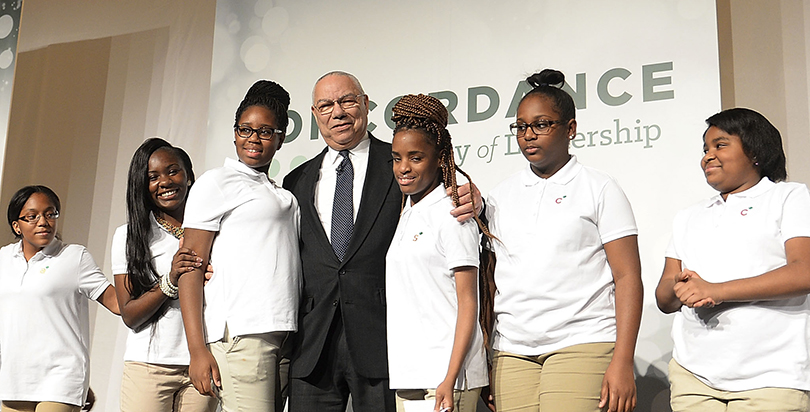 It was 20 years ago when a group of U.S. presidents set aside partisan politics to make a promise. Against the backdrop of Independence Hall in Philadelphia, the commanders-in-chief agreed at a summit organized by Gen. Colin Powell to focus their energies on the challenges facing America's most at-risk kids.
Former presidents don't often cross party lines to form partnerships on domestic policy issues. But Powell, a retired four-star general who later became secretary of state under President George W. Bush, amassed quite a lineup: then-President Bill Clinton; former presidents George H.W. Bush, Jimmy Carter, and Gerald Ford; and former first lady Nancy Reagan, representing Ronald Reagan, who was ill at the time. Each of them, in partnership with business and community leaders, agreed to pursue education and youth-development policies that would give all children equal opportunities for success.
"I'm a general. I tell them to fall in," Powell, who founded the nonprofit America's Promise Alliance after that 1997 event, told The 74 with a chuckle. "It turned out to be quite easy."
On Tuesday, the alliance will host
a summit and gala in New York City
to renew that commitment. Bill Clinton is slated to deliver the keynote address, with speakers including former U.S. education secretary Arne Duncan, Louisville Mayor Greg Fischer, Thomas B. Fordham Institute President Michael Petrilli, and
New York Times Magazine
reporter Nikole Hannah-Jones. Though the speakers span the political and geographic spectrum, for each of them, their work focuses on equity.
"Economic and social problems in America are becoming more geographically concentrated, with certain communities facing multiple layers of need and challenge," Powell said. "This has resulted in pockets of intergenerational poverty in urban and rural areas where there are few examples of success, few clear pathways to success, and little belief in a brighter future. We must do more to ensure opportunity exists for all young people, no matter where they're born or where they grow up."
Born in Harlem to Jamaican immigrants and educated in New York City public schools, Powell is best known for his military and diplomatic expertise, not as an education policy wonk. But a visit to Palm Beach, Florida, shortly after he left the Army lit a spark, he told The 74. While in town to speak at a ritzy luncheon, he took a detour to a Boys and Girls Club at the other end of the county. He spoke to a group of children about his upbringing and his parents, who kept him in line and emphasized the importance of school.
"When I was through, a kid raised his hand and said, 'General, that's great for you, but what if you live in a home where you know your father hates you? What if you live in a home where no one ever says anything nice? What if you live in a home where nobody cares about you? What do you do then? Can you still make it?' "
Powell offered an optimistic response: Where kids start in life doesn't necessarily determine where they'll end up.
That conversation helped motivate Powell to join the Boys and Girls Club's board of governors, he said, and ultimately to found the America's Promise Alliance. More of a movement than an organization providing specific services, he said, the nonprofit brings together 200 communities and 400 national organizations with goals of fostering youth relationships with caring adults, safe communities, health, effective education, and opportunities for young people to serve others.
The group has also promoted a presidential "declaration" to focus on child well-being, garnering signatures from Presidents George W. Bush and Barack Obama. Though they haven't asked President Donald Trump yet, Powell said he expects him to join in.
"Education does not begin in a school; education begins in a home," Powell said. "The big piece of my education as a child, as I remember it, was how to mind things: Mind your adults, mind your manners, mind what you say. In other words, behave and understand your responsibility with the family, your responsibility within society."
Looking forward
Tuesday's 20th-anniversary event will feature panel discussions, musical performances, and an awards presentation. Topics will include a number of education-related subjects, among them the school-to-prison pipeline, school funding inequities, and the role educators play in serving immigrant children.
Though a session about the challenges immigrant children face in graduating from high school wasn't targeted at Trump, context is difficult to ignore, said John Gomperts, the alliance's president and CEO. As schools work to address a growing population of immigrant students, districts across the country have
adopted "sanctuary school" policies
to ease student fears and protect them should they run into trouble with federal immigration authorities. In the past few years, Powell
has clashed with Trump over immigration policy
.
"Today, some 41 million immigrants and 37 million U.S.-born children of immigrants live in the U.S.," Powell said. "Every one of these people deserves the same educational opportunities I had. As a nation, we have to invest in our collective future by making education and citizenship accessible to every child."
Since the initial summit, the nation's focus on education has become more robust, Gomperts said, through organizations such as Teach for America, charter schools, and mentoring programs like the Boys and Girls Club. Research on childhood development has also improved, he said, including cognitive science — how kids learn, and how adversity, stress, and trauma affect brain function.
"The other thing is all the work people have done around economic mobility and why some kids seem stuck, and why moving from poverty or near-poverty into solidly middle class has become so challenging, and so challenging that it appears in certain communities that kids don't really feel any hope around that," Gomperts said. "If you don't feel any hope around that, then a lot of bad things begin to happen."
The alliance's largest K-12 education initiative is its
GradNation campaign
, launched in 2013 with the ambitious goal by 2020 of helping 90 percent of American youth graduate from high school. During the 1996–97 school year, just 65.7 percent of young adults made it to graduation. Last year, the national graduation rate reached a record 83.2 percent.
"This effort has set clear goals, sponsored groundbreaking studies, and conducted 205 summits in all 50 states to help set local agendas," Alma Powell, who became the organization's chairwoman when her husband was tapped to lead the State Department, said in a statement. "And the rising graduation rate, particularly among low-income students and students of color, is some of the best news in American education."
---
---
Get stories like these delivered straight to your inbox. Sign up for The 74 Newsletter