Coleman: Creating Great School Options Isn't Just a Priority — It's Our Mission to the Moon. We Must Tackle It with the Seriousness of Rocket Scientists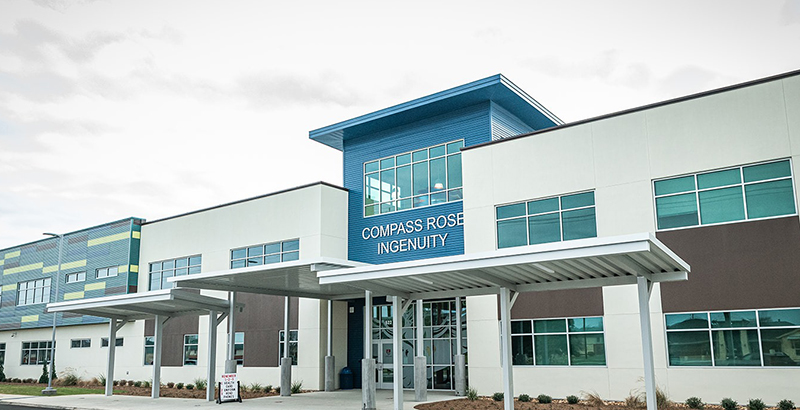 Get stories like these delivered straight to your inbox. Sign up for The 74 Newsletter
When Trayvion Newton graduated high school last year, he opened up to his classmates at Legacy Preparatory Charter Academy in Mesquite, Texas, about a dark period in his life.
Trayvion's mother had lost their home when he was 7 years old. They lived together in a shelter — a life of 5 a.m. wakeup calls, cramped quarters and fearful showers in public bathrooms.
At school, however, the days were brighter. Trayvion developed a sense of who he really was: "a creative, innovative, and curious scholar." He ultimately became president of the student council and captain of the robotics club. And he excelled in the classroom.
"I've gone from homeless," he said in his graduation speech, "to a salutatorian."
The story of Trayvion's triumph shows just how powerful schools can be as engines of opportunity. Even the most vulnerable students — those sometimes written off by adults — will thrive in the right educational community.
Unfortunately, far too few of these students in Texas have access to such a school. In 2019, just 19 percent of low-income fourth graders were proficient readers, according to the Nation's Report Card. That's 42nd out of 50 states.
The pandemic has made the situation more urgent still. All students need extra support to catch up academically — but for many low-income kids, disrupted schooling widened learning gaps that already existed.
So right now, creating more great educational options for the students who need them most isn't just a priority — it's our mission to the moon. We need to tackle it with the seriousness of rocket scientists and the imagination of astronauts.
Public charter schools are helping Texas do that. Twenty-five years ago, a small group of educators opened their doors to 2,500 students at what was then a brand-new kind of school. In exchange for enhanced accountability, lawmakers granted these educators more freedom to make decisions — to design schools with creativity and a laser focus on meeting students' needs in all their complexity.
This week, educators and families across the U.S. are celebrating National School Choice Week. In Texas and beyond, we're reflecting on how far we've come in creating new educational opportunities for students — but also advocating for the growing number of families who still need them.
Building the first public charter schools here wasn't simple or easy. One superintendent held classes in the back of an empty restaurant. Another cleaned classrooms herself. But families rallied around them — especially those whose children had traditionally been underserved.
Today, Texas public charter schools educate more than 365,000 students. About 71 percent are from low-income homes, compared with 60 percent of students in traditional school districts. But that statistic alone misses an important nuance.
The state Legislature passed a landmark school finance bill in 2019 that delineates five tiers of student need, as measured by the annual household income of Census block groups. As a result, we know that about 40 percent of public charter school students are from families with annual incomes of $40,500 or less — and face even steeper challenges. (In traditional school districts, this is true of 24 percent of students.)
Supporting those students isn't only about academics. It also means forging close connections with families and advocating on behalf of broader community needs, so obstacles to learning outside of school can be nimbly and urgently addressed.
For example: At Compass Rose Public Schools, based in San Antonio, educators quickly helped connect families with resources to help navigate the pandemic and last year's Winter Storm Uri — both of which led to lost wages, housing insecurity and other challenges. Compass Rose was also among many charter schools that partnered with a local food bank to distribute meals.
Now that Texas charter schools are 25 years in, we're seeing the long-term impact of such responsive school cultures come into sharper focus. About 60 percent of low-income charter school students enroll in college — 16 points higher than the statewide average — and every day we hear from more of them about their successes.
School Choice Week shines a spotlight on just how many parents are calling for more high-quality educational options — especially as the pandemic has given them bracing clarity about what their children need and how they best learn.
According to a study by the National Alliance for Public Charter Schools, enrollment at charters increased in nearly every state and by 240,000 students total during the first year of the pandemic.
In the Lone Star State alone, there were 55,000 students on charter school wait lists at the end of 2020, according to a Texas Education Agency analysis. Gov. Greg Abbott last month announced the state would allocate $10 million in state emergency education relief funds toward creating and replicating high-quality public charter schools so more families will have access to them. That's an important step that more states would do well to emulate.
As we celebrate National School Choice Week, we can look back on a quarter-century of enfranchising families and students — like Trayvion.
So I hope that if you see students decked out in yellow shirts marking the occasion, you take a moment to introduce yourself — because they're among the next generation of scientists, artists and leaders. And their voices are powerful.
Starlee Coleman is CEO of the Texas Public Charter Schools Association.
Get stories like these delivered straight to your inbox. Sign up for The 74 Newsletter