Cohen & Briery: Math Is Everywhere, Not Just in the Classroom. How to Make Your School Playground an Outdoor Math Learning Lab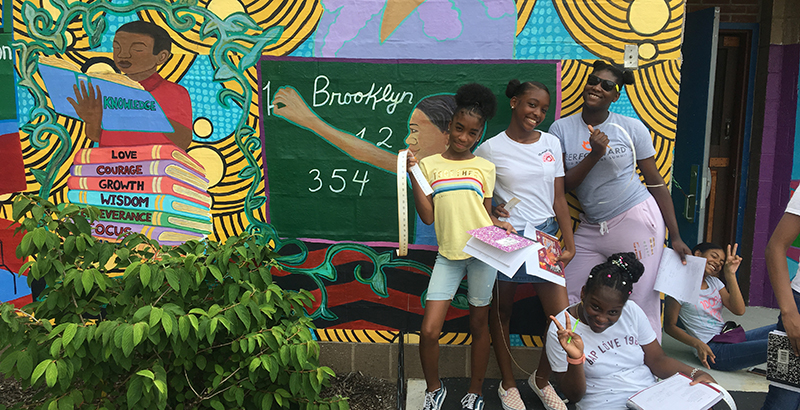 Across the country, teachers and communities are finding opportunities to bring more place-based learning opportunities into education. But these methods aren't commonly used to teach math. Given the benefits of putting math skills to use in real-world situations, they should be.
Whether in a park, community space, historic site or museum, a place-based math experience can spark student interest, reinforce mathematical thinking, excite mathematical imagination, electrify mathematical senses and introduce a new lens through which students see and understand their environment. Offering a nearby outdoor space that requires no permission slips to visit, any school playground can present a prime place-based math learning opportunity.
That is why UrbanMathTrails, a place-based math learning organization that promotes authentic connections between math and the environment, and The Trust for Public Land, which builds and designs parks and playgrounds for communities, partnered to bring more than 200 school playgrounds to life for elementary school students as innovative outdoor centers of learning. The result is an accessible and engaging Math in the Playground curriculum with more than 60 lessons that explore shapes, angles, ratios, measurements, quantities and patterns. We have started rolling out this curriculum to New York City teachers over the past few months; more than 200 schools have the materials, and more than 40 teachers from a school in Manhattan's East Village attended the first training in October.
Playgrounds are the perfect environment to change the way students experience math for many reasons.
Learning is highly visual and kinesthetic; by taking their math lessons outdoors, students can physically explore geometry, size, scale and materials, and move around while learning. Playgrounds offer multiple opportunities for hands-on math activities: for example, using both non-standard (hand span, arm span, step length) and standard measurement units (feet and meters), students can compare the lengths of lanes on a running track. They can analyze, compare and identify shapes and angles—of basketball courts, swings, slides and climbing structures, fences, gates, recycling bins, school windows, entrances and exits, as well as cars and other objects on the street. They can measure playground features and convert within the metric or U.S. measurement system, apply geometry concepts and skills, and explore symmetry and symmetrical relationships — one of the most powerful and pervasive concepts in mathematics.
Playgrounds provide ample opportunities for children to collect data about physical layouts, available equipment and groupings of people (number of boys vs. girls; students wearing red vs. blue, etc.) — and graph the results. They can even model the graph with their bodies, play human number line games to order integers, fractions and decimals, or estimate approximate positions on a number line between a range of numbers. Math becomes very concrete for students, and much more enjoyable, when they can literally embody these concepts.
For most of the lessons in our curriculum, students work in teams and answer questions on handouts from their teacher. Some of the tasks require measuring tapes and maybe sidewalk chalk. All require keen observation about the space.
This way of teaching is gaining popularity. Our curriculum has been widely shared, not only among the city's early-childhood educators but also among hundreds of members of the National Council of Teachers of Mathematics, the world's largest mathematics education organization.
Teachers, math support specialists and coaches, math club coordinators, and professors of STEM and math education around the world have requested our curriculum, instructions, cue cards and props to reinforce skills, to introduce or review a topic, to pre-teach, as an exit ticket, or as an extension activity, for both large classes and small groups.
Both teachers and students enjoy the benefits of taking a break from math texts, from the classroom, from the routine, and bringing math into the wider world.
Jan Cohen is founder of UrbanMathTrails, Tiffany Briery is NYC playgrounds program manager for The Trust for Public Land.
Get stories like these delivered straight to your inbox. Sign up for The 74 Newsletter