Coggins: When Teachers Have to Be CFOs — Online Classroom Fundraising Speaks Volumes About Inequitable Resources in Our Nation's Schools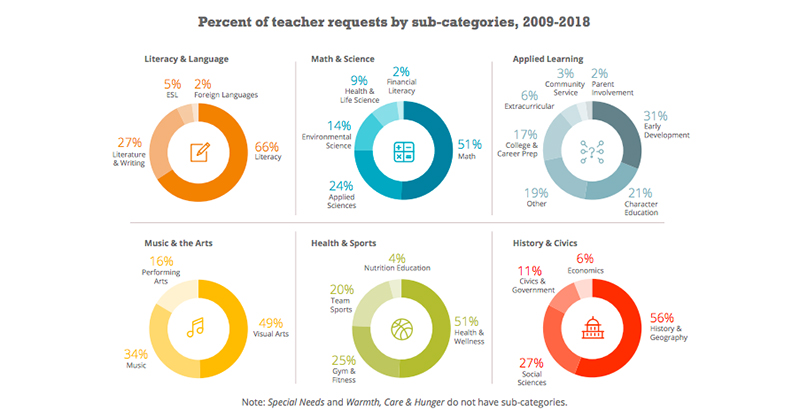 The nationwide misalignment between the science of how to teach children to read and how reading is actually taught in most schools has been in the news for more than a year. The sustained attention of the pundit class to this issue raises a question: Why is this urgency to change practice not trickling into every teachers lounge in America? What might teachers be discussing instead?
A new report from Grantmakers for Education on the use of the crowdfunding site DonorsChoose offers an explanation. Teachers aren't talking about the reading wars because they're too busy trying to solve the resource wars.
The report chronicles the meteoric rise in the use of crowdfunding by teachers, particularly in low-income schools, over the past decade. Aggregated across almost 2 million teacher requests, a picture of widening systemic inequity comes into view. Submissions from high- and low-poverty schools differ greatly in terms of the volume of requests, what supports are requested and the likelihood that they get funded. It is a call to action for those in power, from philanthropy to policy, to use their influence to reconsider the meaning of resource equity in the era of a shrinking social safety net.
At an event discussing the report, educators from low-income schools shared a glimpse into their work life. One taught at a school that required all faculty members to have at least one active DonorsChoose request live at all times to support the school's needs. Others discussed how they mentored new teachers in tricks of the fundraising trade. They noted that some days, it was worth posting three or more projects because donors were more active than usual. They had learned that certain topics were more likely to get funded than others, and to be on the lookout for days when a major donor was offering matching grants. This is life in the Title I teachers lounge of 2020.
As teachers have become adept at taking on the role of chief development officer for their classrooms, their requests have implications for how we understand the shortcomings of current funding formulas:
1 Funding inequity is deep and growing.
Each analysis of the DonorsChoose database tells a story of inequity. Teacher requests grew at an astonishing compound rate of 23 percent annually, revealing a growing need to supplement where government funding leaves off. The vast majority of fundraising is done by teachers in high-poverty schools. While that means more dollars flow to these schools overall, requests by teachers in more affluent schools are more likely to get funded. Further, teachers in high-poverty schools are more likely to request "need to have" items for their students, like toothbrushes, while teachers in low-poverty schools are more likely to seek "nice to have" supplies, like resources to teach economics.
2 Requests for basic needs are skyrocketing.
Increasingly, teachers in high-poverty settings are taking on responsibility for ensuring that their students have adequate nutrition and warm coats. To capture this growing demand, DonorsChoose took the unusual step of adding a category — Warmth, Care and Hunger — in 2016. In the three years since, that category has grown almost four times as fast as any other, with an annual compound growth rate of 187 percent.
3 Academic needs remain unmet and are teachers' top priority.
Despite widespread hand-wringing about an inferred lack of interest by teachers in state-of-the-art reading and math instruction, the report suggests otherwise. "Literacy and Language" has been the most-requested category for 10 years running, with "Math and Science" coming in second. No other categories even come close. For perspective, the fast-growing category of "Warmth, Care and Hunger" still comprised only 2 percent of all requests in 2019, while "Literacy and Language" comprised 36 percent.
Teachers' paid time away from students is limited. The ways they use it offer insight into what must be fixed at a system level to ensure that teachers are improving at their craft and students are getting what they need to succeed. Resource adequacy and distribution deserve a fresh look in this moment of flat education budgets. If we want teachers to focus on incorporating emerging research into their classroom practice — true professional development — we need to take fundraising off their plates.
Celine Coggins, Ph.D., is executive director of Grantmakers for Education and a lecturer at the Harvard Graduate School of Education. 
Get stories like these delivered straight to your inbox. Sign up for The 74 Newsletter