CodeMonkey's Banana Quest Game Gives Learning Coding a Certain Appeal for Students and Teachers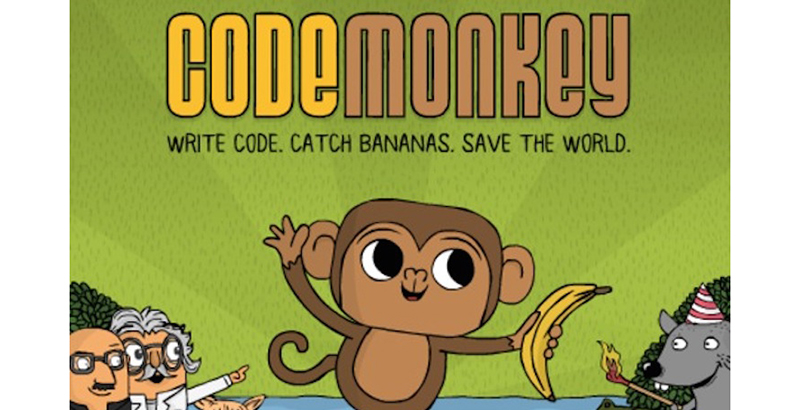 The CodeMonkey tagline sums up the focus of the educational program, both for teachers and students: "Write code, catch bananas." Teachers appreciate the first part, the ability of this online software tool to teach students — mainly elementary-age — how to write code in a fun, game-like environment. For the students, that game aspect of catching bananas becomes the focus.
In its basic form, CodeMonkey teaches foundational concepts through a rewarding and engaging experience that has students trying to code their monkey toward the next banana. The program uses text-based coding so that students learn to program like a developer. So far, CodeMonkey has reached more than 75,000 teachers and 10 million kids.
Students work separately, with the program giving hints to the coding solution based on the individual's level and success. If a student has shown high capabilities in previous levels, the hints will come more slowly and there will be fewer of them. If a student has struggled, hints may come more quickly. With multiyear courses, CodeMonkey aims to allow students to progress through more difficult courses and programming languages over time.
"Coding is an important language for students to be learning," says Kelsey Parrasch, a fourth-grade teacher now at Willard School in Ridgewood, New Jersey, who has used CodeMonkey in her classroom for the past three years in Edgewater, New Jersey. "CodeMonkey allowed my students to become hooked on coding and computer science. Honestly, I became hooked on it too. The levels are so fun, and they make coding feel so accessible."
Javier Aguilar, a computer applications and computer science teacher for pre-kindergarten to fifth-grade students at East Fort Worth Montessori Academy in Fort Worth, Texas, who also leads afterschool coding and robotics clubs, says CodeMonkey created a fresh engagement for him and his students as they moved to more advanced levels.
"I am an educator who always likes to research for programs and software that spark the interest of my students," Aguilar says. "My students learn more about computer science when they perform and practice critical thinking, teamwork, creativity and problem-solving with success in the maze of the CodeMonkey."
CodeMonkey offers a full curriculum, complete with lesson plans, designed to be taught for 45 minutes once a week, says Boaz Zaionce, vice president of marketing based in Israel. Some courses run longer, some shorter, depending on the teacher's pace. "They don't have to be computer-science teachers," Zaionce says, "they just have to read the lesson plan."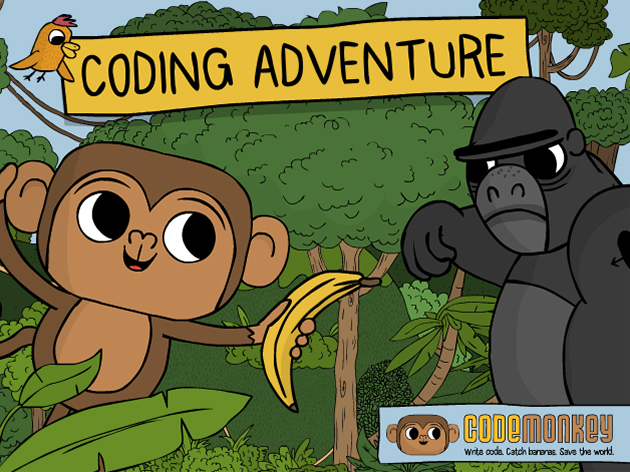 The basic levels begin with the CoffeeScript language, a mix of Java and Python. "The idea," Zaionce says, "is we teach them a language where they only learn the principles of coding, and then they can implement that into any language they use later." CoffeeScript uses only text — no hyphens, commas or exact spacing — creating a clean, easy language for young students.
Aguilar says that along with learning the concepts and terminology of computer science, his students enjoy the process when using CodeMonkey. He's also seen increased engagement among girls learning computer science.
CodeMonkey is aimed primarily at grades three through six, but middle schoolers also use the program, and the development team is creating a block-based coding game — the step before language-based coding — designed for students 4 or 5 years old.
Parrasch says she knows she's helping prepare her students for the future by giving them these tools. "My students became better problem solvers," she says. "When they were faced with a challenging level, they took a step back and carefully evaluated how to properly code it. They also turned to classmates for help sometimes, and the teamwork I would see was wonderful." At every step of the program, she saw students gain confidence.
CodeMonkey was created in 2014 after its founders realized it was difficult for kids to understand coding, and they used a methodology developed at MIT centered on making something both engaging and educational. "First, we made a game and then we made a game aligned to the standards of education today," Zaionce says. "What captures the attention of a kid? How can we make a kid sit and study but not understand they are really studying because they are playing a game?"
After inclusion in an accelerator program, the CodeMonkey pilot was adopted by the Israel Ministry of Education on a nationwide scale for elementary-age students. "Israel is not very big, but it was still a very good starting point," Zaionce says.
Now with offices in the United States, Israel and China, CodeMonkey has grown organically, first with individual teachers signing on and then with principals and entire districts buying a license to give to all teachers who want to use it. The program's main market is now the U.S. and Canada, but the Chinese market is growing rapidly, and CodeMonkey is making inroads in Australia and Europe as well.
As developers continue to work on the block-based game, CodeMonkey aims to introduce more courses with updated languages and methods. The desktop-based program, which also works on tablets, will soon expand its mobile offerings. "If we can teach through the mobile phone, that is also good," Zaionce says. "We have more languages and more countries to take over."
Everything, though, goes back to that student pointing a monkey toward a banana. "The levels immediately engage students and make coding fun," Parrasch says. "I always have students begging to play when they have a few minutes of free time."
Get stories like these delivered straight to your inbox. Sign up for The 74 Newsletter