'Clock Boy' Ahmed Mohamed Sues, Citing Bias in Texas Schools — and Has the Stats to Prove It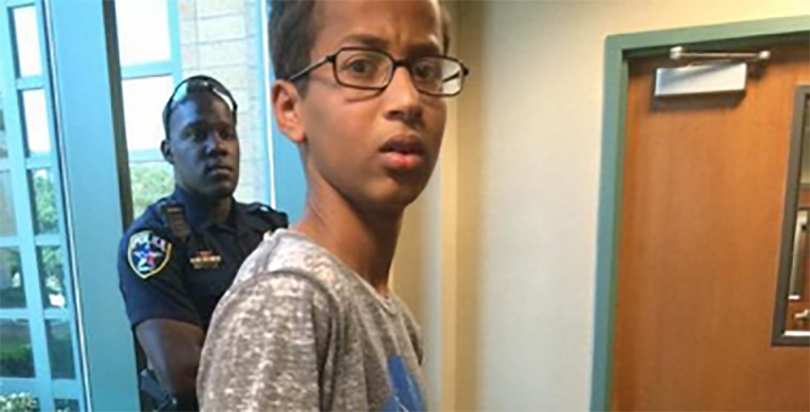 Updated Aug. 17
It was a perfect media story. A Muslim boy who liked to make things built a clock and brought it to school. A teacher thought it looked like a bomb; the police and school officials ambiguously called it a "hoax bomb." He was arrested, taken out of the school in handcuffs, and questioned by police without being allowed to call his parents.
Charges were later dropped. The school still decided to suspend him.
Last week, the family of that now-famous boy, 14-year-old Ahmed Mohamed, filed a scathing
civil rights lawsuit
against Irving, Texas, the Dallas suburb where they lived, and its school district. Their complaint argues that the district knew its discipline policies targeted black students disproportionately but failed to respond adequately — even after commissioning a report that found extensive racial inequality.
These policies were exacerbated by strong anti-Muslim sentiment in the community, the complaint says, leading to Mohamed's arrest.
The family's action comes even as the disproportionate number of suspensions received by African-American students has become a national education issue and anti-Muslim bigotry remains widespread. Mohamed, the family argues, was the victim of both forms of discrimination.
"Of course, there are other kids like me who were getting suspended but I couldn't do anything about it, because I had no power in that realm, but now, I have social power," Mohamed told The 74. (Read the complete interview here) "I can influence people, and with this lawsuit, my main goal is to help kids who can't help themselves."
Mohamed, who said he wants to become both a civil rights leader and an engineer, is a U.S. citizen; the family immigrated from Sudan. His father twice ran for the presidency in Sudan.
"The pattern of over-disciplining African American children led directly to the over-discipline of Ahmed Mohamed for showing off his homemade clock-in-a-pencil-box to his teacher," they argue in the complaint, which was filed last week in Dallas federal court. "Obviously, none of the administrators or police officers thought it was a bomb since there was no emergency protocol activated and no sense of genuine concern or panic."
Mohamed was just weeks into his freshman year at MacArthur High School when he brought in a homemade digital clock inside a pencil box to show his teacher — she took it from him and called the authorities. (He'd earlier shown another teacher, who complimented his effort but told Mohamed not to show it to others.)
The city's police chief ultimately acknowledged that Mohamed's arrest was a "mistake," but school officials subsequently gave him a three-day suspension for bringing in prohibited materials.
Mohamed argued he didn't have any banned items.
The incident became
a social media craze
; President Obama, education secretary John King, and Facebook founder Mark Zuckerberg came to his defense, arguing school officials should have embraced rather than punished his ingenuity. The Department of Justice's Civil Rights Division opened an
investigation
into whether the City of Irving harassed or disciplined students on the basis of race, religion, or national origin. Results from the investigation are pending.
The Mohamed family contends that the district and its board of trustees had a history of discrimination against and "paranoia" about African Americans and the Muslim religion. In 2011, school board president Steven Jones, who is white, was elected on a campaign to stop a "black controlled school district," according to the complaint, and referred to the district as "black town."
The following year, school board members received an email from
a Tea Party blogger
contending that the state curriculum system had an Islamic bias and that "Christians are going to have to stand up against the pro-Islamic teaching in our public schools" (she sent a similar version to districts across the state).
It hired a "very socially and fiscally conservative" insider —
described as a former social studies teacher
who "watches Glenn Beck on a regular basis" — to study the materials. A review found that Christianity was discussed twice as often as other religions in state instructional materials.
The complaint also claims that Mohamed was "hunted" during middle school by a vice-principal, who gave him frequent detentions and in-school suspensions for "horseplay," and who made him bring a note from his parents before he could pray outside during lunch. Mohamed had also been referred to an alternative school for allegedly poking a student with a pencil and for forcing soap down another student's throat — charges the complaint argues were inaccurately portrayed and harmless.
The district said in a statement it denied violating Mohamed's rights, declining to comment further because the litigation is pending.
Analyzing Texas Education Agency
school discipline data
, which goes back to the 2007-08 school year on the state website, Mohamed's attorneys determined that suspensions were given to African-American students twice as often as white students — "even after years of knowledge of the disparity" by district leaders. Although black students made up about 14 percent of the district's school population in the 2014-15 school year, they accounted for 26 percent of out-of-school suspensions.
The state education department does not track discipline statistics based on religion.
Using the federal government's method for calculating suspension rates, African-American students at Irving schools were on average 1.6 times more likely to receive in-school suspensions than their white peers and 1.7 times more likely to receive out-of-school suspensions between 2007-08 and 2014-15.
Students who receive in-school suspension are typically assigned to a designated area in the school from anywhere between a class period to a few days; out-of-school suspensions are more severe, with students sent away for up to three days.
---
---
In 2013-2014, the latest year for which we have complete data at the federal level, African-American students in Irving were 1.5 times more likely than their white classmates to receive one or more out-of-school suspension. The discrepancy among all Texas students was even higher, with African-American students 4.9 times more likely to be sent home than white students.
The national average fell between the two: African-American students were 3.8 times as likely to receive an out-of-school suspension as white students, according to the
U.S. Department of Education
.
---
---
Mohamed's attorney, Susan Hutchison, said she didn't compare suspension rates, or their disparity, to the national average, "but the fact that it's institutionalized nationwide, I don't think that excuses it being done on any level."
Additionally, the Mohamed complaint argues the district had an opportunity to level off suspension rates between ethnic groups, but failed to follow through.
After an internal audit in 2008 found that African-American students were sent to alternative schools more frequently than white and Hispanic students, the district hired consultant Mack Hines, who also is a professor at Sam Houston State University, to conduct a study on how African-American students felt they were treated during the school day.
His report
, titled "The Skin They're In," analyzed the experiences of 124 African-American fifth-grade students in 20 Irving elementary schools and found that the students felt "isolated" and "alienated" and were punished more frequently.
"The kids just wanted to be treated fairly but they felt they were being treated differently than white kids, especially by white teachers," Hines said. The teachers in Irving "really had a hard time understanding why they should focus on African-American students. They wanted to make everything about all students," despite challenges specific to black children.
School officials
heavily criticized
the findings as being methodologically unsound and unsupported in asserting that Hispanic students "used their language and prevalence in numbers to create a toxic relationship" with black students and that the two groups were engaged in a "race war."
Hutchison said the report remained compelling because the anecdotal evidence showed pervasive racial discrimination in Irving schools.
"His findings in the report support the idea that discipline was being administered discriminatorily on the basis of race," she said, "and even though he found that, the very trustees that hired him rejected his report and his findings, and rejected his recommendations."
Hines was slightly more qualified. He argued that public pushback from the report's findings prevented officials from fully recognizing the problem.
State suspension data show Irving suspensions did take a dip between the 2013-14 and 2014-15 school years, which a district spokeswoman said likely resulted from a change in district leadership. Despite the overall decline, however, the gap between African-American and white students remained about the same.
In a
2011 report
, the Council of State Governments Justice Center analyzed millions of school and juvenile justice records in Texas and found nearly 60 percent of students were suspended or expelled at least once between seventh and 12th grade. After controlling for 83 different variables to isolate the effect of race, researchers found African Americans were 31 percent more likely to be disciplined at Texas schools compared to otherwise similar white and Hispanic students.
Pedro Noguera, an English professor at the University of California, Los Angeles, who has written widely on race and education, compared inequalities in school discipline to a U.S. Department of Justice
report released last week
about bias in the Baltimore Police Department, where officers disproportionately stopped, searched, and charged African-American residents.
"Sometimes showing disparate racial impact doesn't necessarily prove discrimination, but it demonstrates that something is going on that warrants closer investigation," he said. "I think disparate impact is an indicator of a larger problem that needs to be looked at."
Mohamed and his family moved to Qatar after the incident and are currently in the U.S. for the summer. However, they plan to return to Qatar after receiving death threats.
"Irving is just a microcosm of the problems we're having throughout the nation with the anti-Muslim sentiment," Hutchison said. "I truly believe that America stands when we stand for equality and justice, and that America flounders when we give in to the fear and the hate."
Support The 74's year-end campaign. Make a tax-exempt donation now.