Clinton Says She Wouldn't Opt Out, But Her Common Core Critique Hints at a Rebuke of Obama, Duncan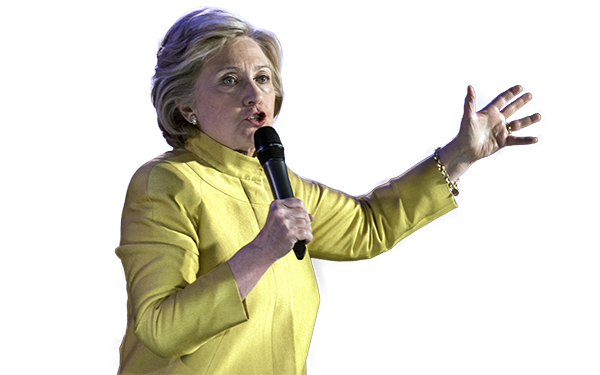 Presidential candidate Hillary Clinton says the roll out of the Common Core standards was "disastrous" — remarks that could easily be read as a rebuke of President Obama's education reform efforts led by former Secretary of Education Arne Duncan, as well as a critique of current Secretary John King who aggressively pushed through the standards in New York.
The
comments
came in a meeting with Newsday, a newspaper in Long Island, home to a
large movement
of parents who are opting their children out of state tests. Clinton also said she has "always supported national standards" and that Common Core should be done, but done "right." She said there needs to be "better and fewer tests" — echoing a recent
report
from the Center for American Progress — and that she would "probably" recommend that her granddaughter take the state test.
Clinton's comments are among her lengthiest exposition on education issues to date during the presidential campaign. On the Common Core, she said, " I know Common Core started out as a…non-partisan effort that was endorsed very much across the political spectrum. … What went wrong? I think the roll-out was disastrous. I think the way they rolled out the Common Core and the expectation you can turn on a dime… They didn't even have, as I'm told, they didn't even have the instructional materials ready. They didn't have any kind of training programs."
Clinton doesn't name names in this criticism, but the Secretary of Education during the implementation of Common Core was Arne Duncan, who used federal dollars to push states to adopt the standards. The state with the
rockiest roll-out
— certainly the one that helped trigger that largest opt out movement — may have been New York, where current Secretary of Education John King served as New York's Education Commissioner while the standards were put in place. Even
some
Common Core supporters
now say that the phasing in of the standards in New York should have been handled differently.
In an interview earlier this year, King
defended
the Common Core, "It's important that folks realize that the standards are a matter of state policymaking. And what we've said…is that states need to have standards that push towards college and career readiness."
Some of the controversy caused by the Common Core stems from its relationship with standardized tests. Consistent with
past statements
, Clinton expressed skepticism of using test scores to evaluate teachers — another initiative backed by both Duncan and King. In contrast to New York, the Common Core has faced
significantly less
controversy in California, which has adopted the standards and tests aligned to them, but doesn't connect student scores to teacher evaluation.
(Notably, though, Duncan granted waivers from No Child Left Behind to states that temporarily paused the use of tests scores in teacher evaluation while the Common Core was being implemented. New York recently placed a four-year moratorium on using state tests to evaluate teachers, but will
continue to use local ones
.)
Clinton also reiterated her support for "good" charter schools to Newsday, though was critical of "lousy" and "for-profit" ones. She suggested that the full potential of the charter movement had not been realized: "Remember the original idea behind charter schools was let's loosen some of the restrictions, but then once they try things, let's migrate them back into the public schools. And that migration hasn't been as fruitful as I think it could be."
Clinton, a
committed supporter
of many education reforms in Arkansas, continues to walk a fine line on education policy; her comments suggest a partial, though not complete, break from the Obama administration, and perhaps a kinder, gentler approach — for better or for worse — to education reform.
"Yes, we need accountability measures, but let's connect them to what the teachers are facing. When you are a teacher in a poor school, and you have enormous behavioral problems, when you have kids coming to school hungry, when you have kids who are homeless, you have a tougher job than the kids who show up in Chappaqua where I live," she said.
Still, it's not clear what specific education policies a Clinton administration would pursue — and what any presidential administration
would be able to get done on the issue
. The new
federal education law
significantly scales back the U.S. Department of Education's ability to push changes at the state level. In fact, the law expressly forbids the feds from advancing specific academic standards or teacher evaluation systems — two signature policies of the Obama administration.
(Disclosure: In my previous job at Educators for Excellence-New York, I worked with New York teachers who supported the Common Core in advocating for improved implementation of the standards in New York.)
Get stories like these delivered straight to your inbox. Sign up for The 74 Newsletter