City of Las Vegas Approved to Open Charter School Prioritizing Bilingual Education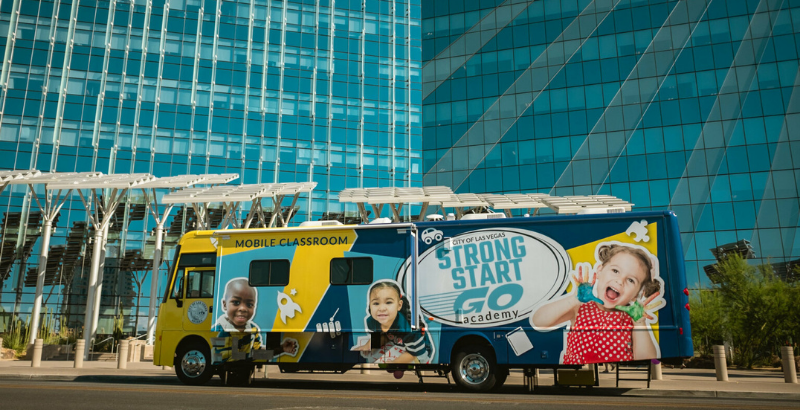 No paywall. No pop-up ads.
The City of Las Vegas has been given the green light to open its own charter school.
The Nevada State Public Charter School Board voted on Jan. 28 to conditionally approve Strong Start Academy, an elementary school that will use the same name as the city's existing subsidized preschool program. The vote was unanimous and enthusiastic, with Chair Melissa Mackedon calling it a "historic vote" and other members acknowledging that it opens the door for other cities or municipalities to open schools of their own.
Mackedon said the City of Las Vegas will "show Nevadas how cities can support education."
The city's initial application was denied by the Charter School Board in November. It was one of two applications revised and resubmitted for consideration in January. The other applicant, Pioneer Technology and Arts Academy, was denied a second time on a split 4-3 vote.
Strong Start plans to open with 180 students in grades kindergarten through second grade before expanding in subsequent years up to fifth grade. It will offer bilingual education, with students receiving academic instruction in both English and Spanish.
As a charter school, Strong Start will receive per pupil dollars from the state's education budget. It will receive additional financial support from the City of Las Vegas, which has already committed $1 million in startup funds toward the project.
Additionally, the city will cover all facility costs for the charter school. The approved plan has Strong Start opening in August for the 2022-23 academic year in three different locations. Each of its initial three grades will be colocated at the city's existing tuition-free preschool programs. City staff hopes to eventually secure a permanent facility, which would also be city-owned and maintained.
Tammy Malich, the director of youth development and social innovation with the City of Las Vegas, told the Charter School Board the city is also exploring the possibility of creating a new staff position that will serve as a "liaison" for the charter school. Grant writers at the city are also working on securing outside funding, including a $750,000 grant from the U.S. Department of Education's Charter School Program, which is facilitated in Nevada by the nonprofit Opportunity 180.
Malich said the city will continue supporting Clark County School District and other schools within its jurisdiction.
But at least one Charter School Board member acknowledged that the existence of a city-run charter is controversial and expressed concerns about whether the city would continue its support for the charter school as its mayor and city council change.
"I feel confident (in you all),'" board member Sheila Moulton said to Malich and other representatives of Strong Start. "I just don't feel awful confident in the politics of it."
Moulton, who served on the Clark County School Board for 12 years, noted the recent filing of a ballot initiative petition by a Henderson city councilperson that would seek to change the state constitution to allow cities to withdraw from the existing school district and set up their own district. Currently, the Nevada Constitution allows for one school district per county. Charter schools are independent of districts and collectively not considered a legal district. (If they were, the Charter School Authority would be the third largest district in the state.) If that petition is successful in getting on the ballot, it will renew discussions on breaking up CCSD and bring attention to the ways cities are getting involved with K-12 education.
Las Vegas Mayor Carolyn Goodman founded The Meadows School, a private school, and has been outspoken in her support of the city opening a charter school. Her current term ends in 2024 and she is unable to run again due to term limits. The sitting city council voted 6-1 in favor of the new charter school.
Notably, the one dissenting vote was cast by Councilman Cedric Crear, who represents one of the three wards the city is targeting with its charter school. Crear before that vote noted that the three existing charter schools in the area being targeted by the city are struggling.
"I'm not sold on the whole concept of the city being engaged in running a school," he said at the time. "We have so many challenges that we're facing. This is a very, very, very uphill battle."
Crear has already announced he plans to run for mayor in 2024.
Las Vegas City Council will likely receive a public update on the charter school at its upcoming Feb. 16 meeting when it will be asked to formally transfer the committed $1 million in support funding to the nonprofit organization the city created to formally run the school.
Editor's Note: This article has been updated to reflect that the $750,000 grant received by Strong Start Academy is from the U.S. Department of Education's Charter School Program.
Nevada Current is part of States Newsroom, a network of news bureaus supported by grants and a coalition of donors as a 501c(3) public charity. Nevada Current maintains editorial independence. Contact Editor Hugh Jackson for questions: info@nevadacurrent.com. Follow Nevada Current on Facebook and Twitter.
Get stories like these delivered straight to your inbox. Sign up for The 74 Newsletter