Two Years Ago, Cincinnati Voted to Fund a $15 Million Pre-K Program for Struggling Families. Now More Than 1,300 Kids Have Gotten a Leg Up on Kindergarten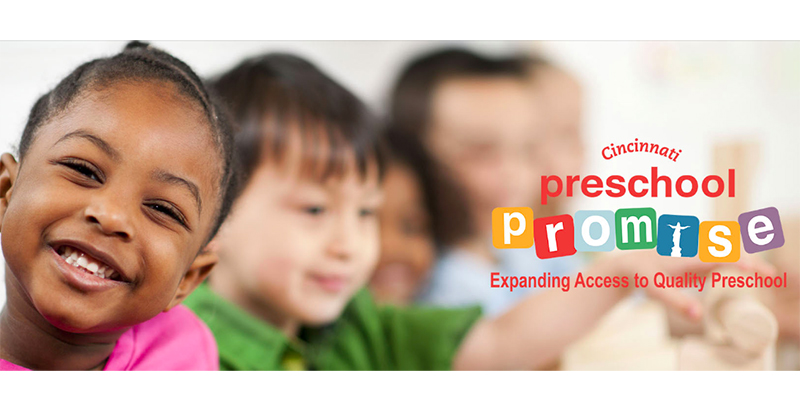 This article is one in a series at The 74 that profiles the heroes, victories, success stories, and random acts of kindness found at schools all across America. Read more of our recent inspiring profiles at The74Million.org/series/inspiring.
They're not called formative years for nothing.
Children who are not ready for kindergarten are less likely to be reading at grade level by third grade and face more devastating pitfalls later, such as dropping out of high school and ending up in the prison system, says Shiloh Turner, executive director of Cincinnati Preschool Promise.
That's why her organization aims to make good on its pledge to give many more low-income youngsters — the Census Bureau estimates the Ohio city has more than 4,000 3- and 4-year olds at or below poverty level — a fair chance to thrive during their destiny-shaping early childhood.
.@CincyPromise continues to be a game changer for this region!https://t.co/fodPQApUT9

— Kevin Tighe (@tighekevin) July 13, 2018
The initiative is off to a good start. In its first year, the five-year, $15 million-a-year program, overwhelmingly approved by voters in 2016, has helped more than 1,300 struggling families get their children into quality preschools.
One of those kids is Nakesha Forney's son, Landon.
"The program has helped me to be able to get him ready for his future," Forney told Cincinnati's WCPO 9. "It goes beyond kindergarten."
"Although kids are approximately a quarter of our population today, they are 100 percent of our future." https://t.co/vZTacjqIUc via @nytimes #EarlyEd #KindergartenReady

— Preschool Promise (@CincyPromise) July 17, 2018
Forney, a hairstylist, and her husband, a chef, were at a loss trying to find a good preschool they could afford until Cincinnati Preschool Promise stepped in. A tuition subsidy enabled the couple to send Landon, the oldest of their three children, to top-rated Little Blossoms Academy. Forney says it turned her son's young life around.
"He knows all his letters. He knows all his colors. He knows his shapes," she told WCPO. To help Landon with social and emotional growth, she said, the school tailored a plan just for him, teaching the boy to share his toys and be as comfortable playing in groups of kids as he had been around adults.
"He's just grown so much," Forney said. "I'm proud of him."
When Deena Merritt heard about Cincinnati Preschool Promise, she knew it would be a good fit for her son Louis. Here's why: https://t.co/Z3Geo81XZ3 #CincyPromise #EarlyEd #Preschool #KindergartenReady pic.twitter.com/hl0eemx9jR

— Preschool Promise (@CincyPromise) June 15, 2018
The program's mission is twofold: supporting overwhelmed parents, financially and otherwise — in particular, by eliminating mountains of paperwork and red tape — and bringing more preschool programs up to speed through coaching and curriculum advice so they can meet Ohio's standards to qualify for inclusion in Preschool Promise.
With 82 preschools already on board, the program worked with 22 more on improvements for eligibility.
"We're really excited and energized for what we're going to be able to achieve in year two and beyond," Turner told Cincinnati.com.
That's great news for moms like Alysun Ogilby. In the midst of a divorce, the 36-year-old faced a dilemma: find affordable day care — two spots for her twin boys — or give up a new job at her daughter's school. Preschool Promise saved the day.
"I kind of felt like I was in the middle of the ocean without a life jacket and just treading water and trying to survive," Ogilby told Cincinnati.com. "Preschool Promise was so refreshing to me. And they were so kind. They will forever hold a special place in my heart."
Get stories like these delivered straight to your inbox. Sign up for The 74 Newsletter