Chris Christie Dances on Common Core, Tangles with Bush on Randi Weingarten, in NH Conversation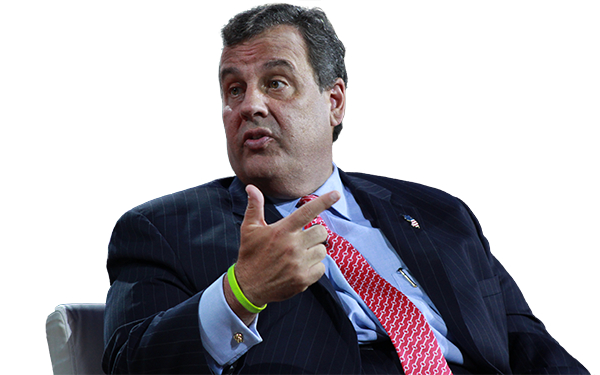 Call it a dance of political pragmatism.
New Jersey Gov. Chris Christie on Wednesday waltzed his way through a defense of his flip-flop on the Common Core standards, saying he rejected the program after listening to the advice of his constituents.
"There comes a moment when a leader has to listen," he told a New Hampshire audience gathered for an education summit hosted by The Seventy Four.
---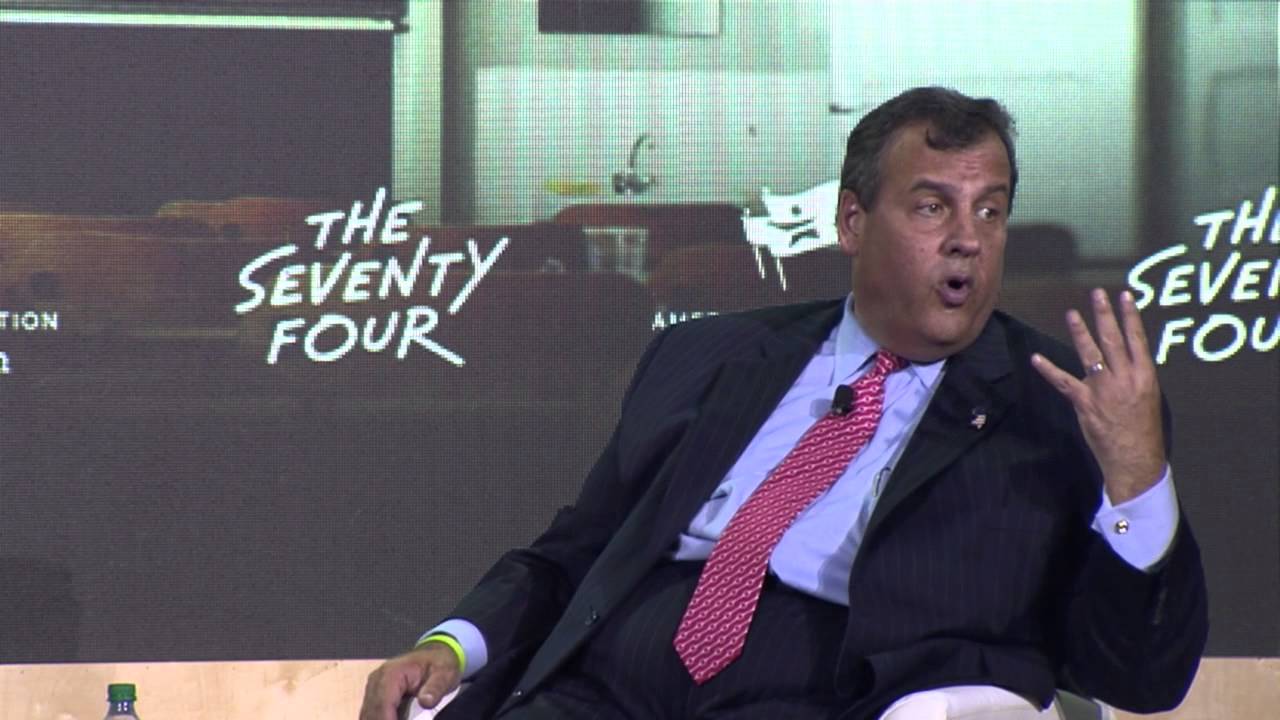 ---
Pressed by moderator Campbell Brown, The Seventy Four co-founder and editor-in-chief, to explain his change of heart, Christie said after years of experimentation in New Jersey he realized the standards don't work.
New Jersey was an early state to adopt the Common Core — about five years ago. But in May, weeks before his presidential campaign announcement, Christie gave an impassioned speech rallying against the standards.
Teachers and parents complained about the loss of autonomy in designing their kids' learning, Christie said.
The governor has joined other Republican presidential hopefuls distancing themselves from the Common Core. The move,
The Wall Street Journal
reported on Tuesday, rubbed some of his political donors the wrong way. But Christie said Wednesday he wasn't concerned about accusations of flip-flopping.
"I actually have a thinking, operating brain," he said.
Looking towards the future, Christie said schools should adapt to technological advances including installing smartboards in classrooms and giving kids iPads to work from. To build a better school system, students and teachers will need to adapt, he noted.
Christie also took the opportunity to tout his education record in New Jersey — pointing to reform efforts in Newark and Camden, mostly urban communities where the school system is under state control. In those cities the governor expanded charter schools and offered parents more chances to choose their kid's school, among other reforms. But he faced extreme political backlash, particularly in Newark.
---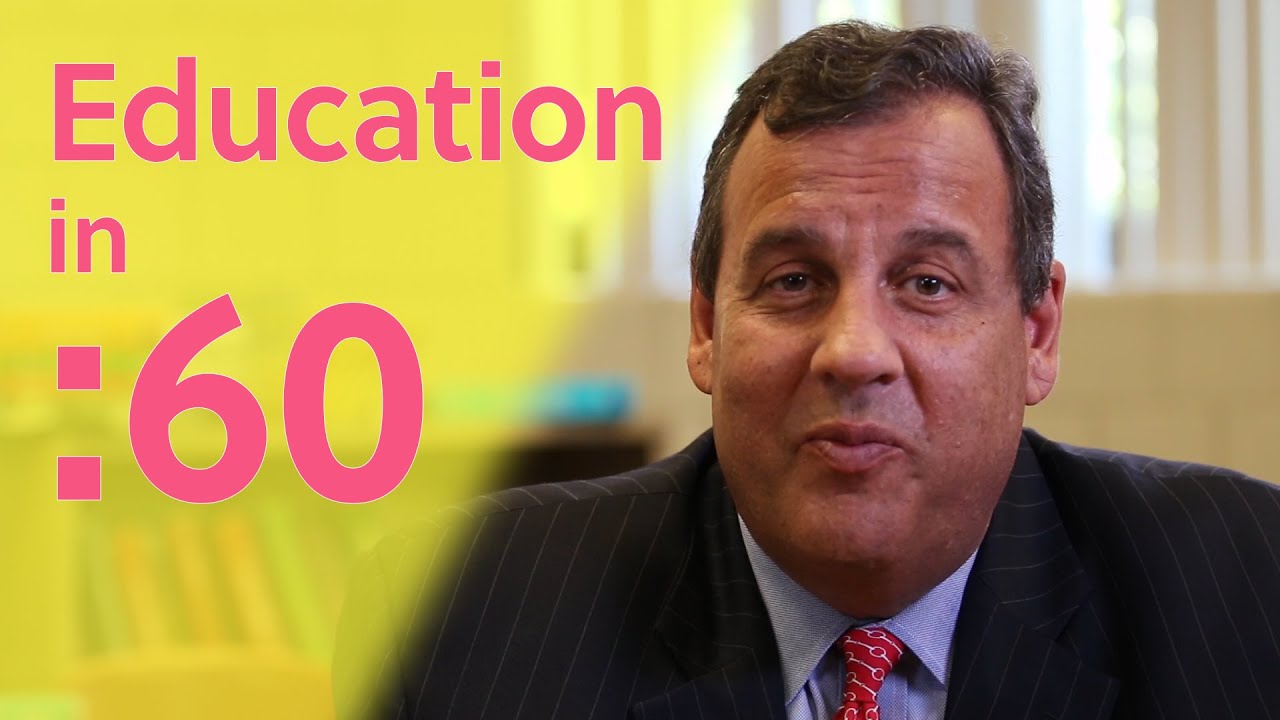 ---
The governor struck a familiar tone when he lambasted teachers unions. Christie, who recently made headlines when he said on national television that teachers unions deserve a punch in the face, cast them as obstacles to making necessary changes to improve public education.
To buttress the point, he accused New York City Mayor Bill de Blasio of trying to turn back 20 years of education progress because he is beholden to teachers unions, calling him a "crazy liberal."
"We have the solution to this problem," he said of issues facing schools. "We don't have the guts to challenge (the) unions."
But Christie's rhetoric on teachers unions turned a corner when he accused former Florida Gov. Jeb Bush of saying earlier in the day that he was not willing to work with teachers unions.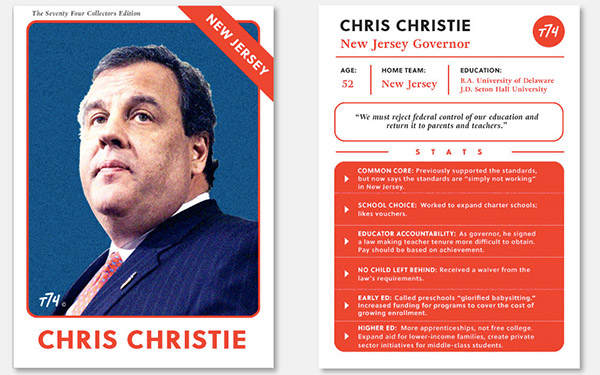 In his comments to Brown, Bush was critical of teachers unions, saying they fight for adult interests; but he did not say that he wasn't willing to work with them.
Christie said he worked with American Federation of Teachers head Randi Weingarten to incorporate merit pay into the teachers' contract in Newark, the state's largest city.
"I don't like working with her but I did," he said.
The displeasure was mutual, Weingarten tweeted afterwards.
Working w/ you wasn't so fun either, @ChrisChristie. But ya gotta do what ya gotta do. I'll work w/anyone to do right by kids #EDsummit15

— Randi Weingarten (@rweingarten) August 19, 2015
Support The 74's year-end campaign. Make a tax-exempt donation now.