Chiefs for Change Unveils First Class of 'Future Chiefs' in Bid to Nurture New, More Inclusive Leaders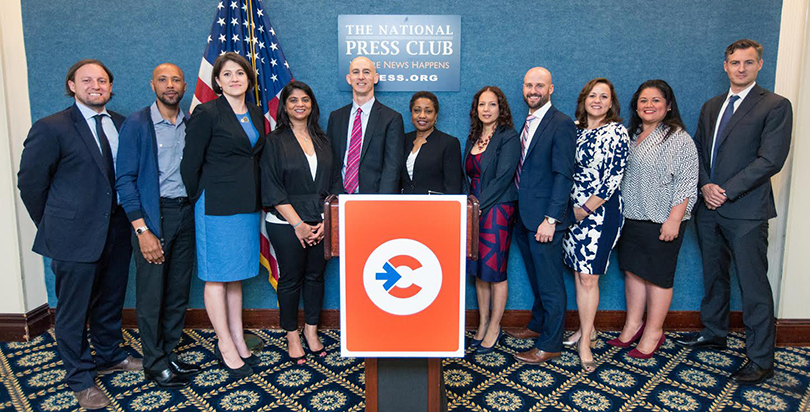 Chiefs for Change announced Thursday the selection of eight state and district school officials as its inaugural class of "future chiefs," a diverse group of men and women leading schools from Newark to New Mexico.
The eight will receive a year of coaching, mentorship and collective learning, said Chiefs for Change, a group of state and district leaders who favor tough academic standards, school choice and other education reforms. The up-and-coming education leaders will get support from the successful veterans. The program will also function as a sort of unofficial headhunting service, helping to match the future chiefs to jobs that do open in district and state school offices.
The new program is aimed at combating two problems: the "leadership crisis" caused by constant churn among school officials, and a dearth of school system leaders of color even as children of color make up an ever-increasing share of the U.S. school population. The country's schools were 50.3 percent white in the 2013-14 school year, according to the latest
Civil Rights Data Collection
. Education Department projections, which run a few years behind actual data collection,
predicted public schools would be majority-minority by fall 2014
. Most of those students also
live in poverty
.
Thirty states have different education leaders than they did at the start of the 2014-15 school year, the group said. And just 6 percent of district superintendents and 12 percent of state commissioners are people of color, according to Chiefs for Change's website.
John White, state superintendent in Louisiana and a Chiefs for Change board member, said the leadership turnover wouldn't be acceptable in any other industry, and can have real impacts on the educational opportunities available to the country's neediest students.
Too often, plans to improve schools, like the proposed ones for implementing the Every Student Succeeds Act, the new federal K-12 education law, "are weakened by the unfortunate and oftentimes political transitions that exist in the education profession and that we have to change," White said at an event in Washington, D.C.
Cultivating new leaders is critical to ensure all students have great opportunities, U.S. Education Secretary John King said in a statement. "Future Chiefs will help better prepare a diverse group to step up and lead schools, districts, and states so that we continue to improve both equity and excellence for students," he added.
Black and Hispanic students lag behind their white peers in tests scores and both high school and college graduation rates by percentages that are substantial and persistent.
The members of the inaugural class, announced at the National Press Club in Washington, are:
-Vanessa Rodriguez, chief of talent and leadership, Citizens of the World Charter Schools; formerly at Newark Public Schools

-Jack Elsey, chief schools officer, Education Achievement Authority of Michigan

-Kunjan Narechania, chief operating officer, Louisiana Department of Education

-Angelica Infante-Green, deputy commissioner, New York State Department of Education

-Christopher Ruszkowski, deputy secretary for policy and program, New Mexico Public Education Department
-Andrea Castaneda, independent consultant; formerly at the Rhode Island Department of Education

-De'Shawn Wright, chief of staff, Newark Public Schools

-Talia Shaull, chief talent officer, Tulsa Public Schools
The future chiefs said they're particularly excited about the opportunity they'll have to shadow other already-accomplished chiefs. Ruszkowski, for example, will be spending time with Tulsa, Oklahoma Superintendent Deborah Gist, already a member of the organization.

Others said they're pleased to have the broader group of other school leaders they trust to learn more about education issues nationally and to help evaluate new policies or programs.

Infante-Green said she appreciates having others in a similar situation to rely on when the work is hard.
Parents struggling to find great education options for their kids are the real motivator — her own parents were immigrants and her mother only went to school through 8th grade, she said.

"Until every parent can just send their child to that local school [and know they'll receive a great education], the work isn't done," she said.
Chiefs for Change started in 2010 as an affiliate of the Foundation for Excellence in Education, former Florida Gov. Jeb Bush's education advocacy group. It became an independent nonprofit at the start of last year.
The group focuses in three areas: assisting in the implementation of the Every Student Succeeds Act; cultivating new district and state leaders; and supporting leaders implementing "next generation" learning practices.
In addition to White and Gist, current Chiefs for Change members include Hanna Skandera, the chief in New Mexico, and Chris Cerf, superintendent in the Newark Public Schools.
Support The 74's year-end campaign. Make a tax-exempt donation now.