Chicago Charter School Families Protest Cap As Strike Deadline Looms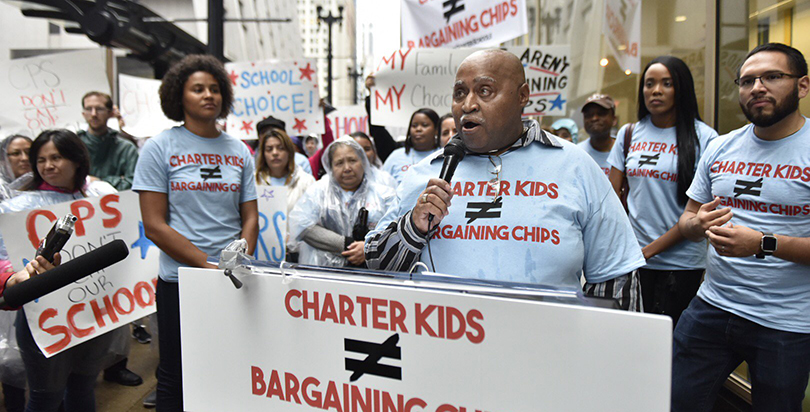 Charter school families and educators sent a message to the Chicago Public Schools this week that they don't want their schools to become collateral damage in the ongoing war between the city and the Chicago Teachers Union.
Wearing matching T-shirts, dozens of parents and school leaders marched in the rain around City Hall and school district headquarters on Thursday, arguing that the district shouldn't dangle a cap on charter growth as a "bargaining chip" in its protracted contract negotiations with the teachers.
"I don't approve of adults using our children as pawns in political disputes," Bernard Kelly, the parent of a Chicago International Charter School student, said in a statement. "Parents want more good school options, not less. If they put a cap on the amount of charter schools allowed in Chicago, they are limiting our children and my choice."
---
Pro-charter protestors swarm CPS HQ to oppose a cap on the schools, which was part of a past contract proposal between the district & union. pic.twitter.com/ldFXeExI51

— Juan Perez Jr. (@PerezJr) October 6, 2016
---
The school district and the union plan to negotiate right up to the Oct. 11 deadline, when teachers say they'll strike — for the second time in four years — if there is no deal in place. The CTU, which has about 27,000 members, has been without a contract since June 30, 2015.
Union leaders said they were cautiously optimistic that a deal could be reached now that talks are intensifying for the first time since their 40-member "Big Bargaining Team" unanimously
voted to reject
the city's latest contract offer in February.
It's that last point that has rankled and — in an unprecedented way — mobilized the local charter community. Chicago International Charter Schools, Knowledge Is Power Program (KIPP), UNO Charter School Network and Noble Network of Charter Schools sent supporters to Thursday's protest, according to organizers, to advocate that the district and the union leave a charter cap out of their talks.
"We're not part of this conversation," Constance Brewer, chief external affairs officer for the Noble network, said in an interview. "We have been forced to speak out because CPS and the CTU are negotiating over our future in a contract in which we have no say."
---
"I'm Melvin McGrew and I'm the proud father and grandfather of Noble students from Butler College Prep." #SaveOurCharterSchools pic.twitter.com/jYzTXyii3a

— Noble Network (@BeNoble) October 6, 2016
---
Meanwhile on Thursday, unionized teachers at the UNO Charter School Network
voted to authorize their own strike
on October 19 if they can't reach a contract deal by then. It is being described as potentially the first teachers strike at a charter school in the country and, by some on social media, as an act of solidarity with the Chicago Teachers Union.
Organizers listed the UNO network as being part of the protest condemning the CTU and the district for dragging charter schools into their current negotiation. The UNO teachers union has staked out a different position in the past. In 2012, the union representing the charter network's teachers and support staff, Chicago ACTS Local 4343,
approved a resolution
calling for a charter school moratorium ahead of the CTU strike.
There are 129 charter campuses in Chicago that educate some 58,000 students, and the district is currently reviewing requests to open more schools, according to the Illinois Network of Charter Schools. There were 12,800 names on charter school waiting lists in Chicago in 2013–14,
according to the National Alliance for Public Charter Schools
. One student could have his or her name on multiple lists. A larger Chicago charter waiting list number of 19,000 has been disputed by some.
During the
seven-day strike
in 2012, charters schools remained largely apart from the labor strife.
It's unusual for a large urban school district to offer to curtail charter growth in contract negotiations, but if the measure does make it into the next agreement, it could have implications beyond Chicago. The CTU's 2012 strike emboldened and instructed teachers unions across the country to take more forceful stances against education reform programs, said Bob Bruno, a professor of labor and employment relations at the University of Illinois at Urbana-Champaign.
"I'm confident that [putting a charter cap into the contract] would be this kind of breakthrough position that [other] teacher unions would have to have discussion about," said Bruno, the author of a upcoming book on the 2012 strike.
The CTU has argued that the district's promise wouldn't have any teeth. While Chicago Public Schools authorizes the schools, charter applicants who have been denied can appeal to the Illinois State Charter School Commission.
But charters argue they shouldn't have to go through an appeals process, and a bill has been proposed in the state senate that would
abolish the commission's veto power
on denied charter school applications.
"We see it as a very real threat," Brewer said.
That "threat" to Chicago's charter sector looms at a time when the union and the school district are locked in a showdown with no easy outs.
Chicago Public Schools is in a dire financial crisis. The Chicago Board of Education approved a
$5.4 billion operating budget
in August that relies heavily on borrowing and the hope that state lawmakers and the union will agree to chip in on the district's pension payments. The district's already risky debt burden prompted Moody's Investors Service to
drop its bond rating
further into junk status in September.
And the district just sent
layoff notices
to hundreds of teachers and school support staffs, citing a massive drop in enrollment.
But the union said such cuts are unacceptable. In fact, CTU vice president Jesse Sharkey said this week that there is at least $200 million in additional "pressing educational needs" that the district needs to fund, according to the
Chicago Tribune
. Those
needs include
smaller class sizes in elementary schools, more social workers for the neediest schools and additional staff to help with administrative work. The union has repeatedly said the city could tap its
tax increment financing
, funds geared toward development, to pay for local education.
On Thursday, union members participated in a nationwide "Reclaim Our Schools" demonstration that was held in dozens of schools in Illinois and hundreds throughout the country, in which parents, teachers and students staged protests to call for more money for neighborhood schools. Democratic vice presidential nominee Tim Kaine
participated
in one in the battleground state of Pennsylvania.
---
---
Meanwhile, the district said it has already formed a strike contingency plan that includes keeping schools open, providing free breakfast and lunch to needy kids and offering free transportation to students.
Shari Runner, president of the Chicago Urban League, is hoping those plans won't be necessary.
"For the sake for our community, we are really hoping that the CTU and CPS can come to some agreement," she said. "There is no reason why … we should allow children to be out of school."
Support The 74's year-end campaign. Make a tax-exempt donation now.