Chavous & Duplessis: Undoing 'Separate but Equal,' Six Decades After Brown v. Board of Education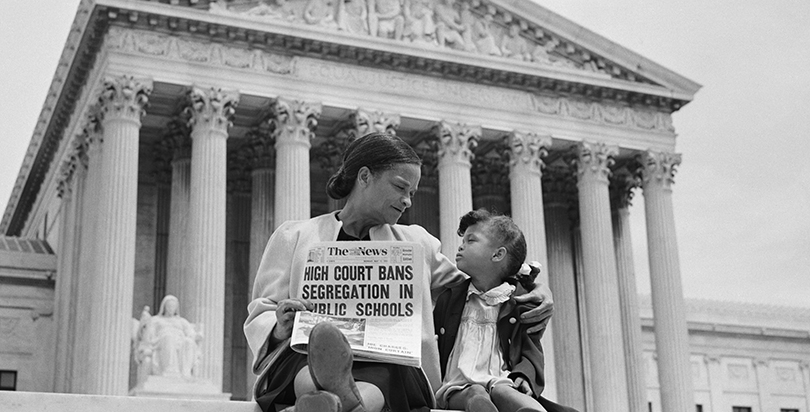 This month marks the 63rd anniversary of Brown v. Board of Education, the landmark Supreme Court decision that struck down the misguided principle of "separate but equal" schools for white and black students.
More than a half-century since the ruling, a troubling reality remains: Equity in public education continues to elude African-American students. And in many cases, the schools attended by today's black children are not only separate; they're also wholly unequal.
Recent data
from the U.S. Government Accountability Office show that 16 percent of K-12 public schools have predominantly poor and black or Hispanic students, up from 9 percent in 2000. This growing sector of racially and economically segregated schools offers fewer math, science, and college preparatory courses and has disproportionately higher rates of students who are held back, suspended, or expelled. It's no wonder that parents in communities of color throughout the country are asking, "Why are our schools so bad?"
The answer? For decades, the practice of assigning students to schools based on their ZIP code has conscripted poor children — many of whom are racial and ethnic minorities — to the worst-performing public schools. In Alabama, for example, black children account for
92 percent
of the students in failing public schools, despite accounting for just one-third of the 731,000 students across the state. And while some families have had the good fortune of being able to vote with their feet and leave the school they're assigned, most aren't so lucky.
The Brown decision promised education would be the greatest equalizer in the fight for civil rights. If we want to live up to its ideals, we must provide equal opportunity for a high-quality education to every child, and we have to act with urgency. The most effective way to achieve this is by dramatically increasing school choice in America.
In 25 states and the District of Columbia, school choice options are leveling the playing field for minority students, allowing their parents to choose schools that meet the needs of their children. Through vouchers, tax credit scholarships, and Education Savings Account programs, nearly 400,000 children are accessing a private school of their parents' choice. And these schools are producing positive results for students. Ample research shows that
test scores
,
graduation rates
, and the number of students
enrolled in college
improve through vouchers and other private choice programs.
What's more, choice programs largely benefit minority families. That's why the pro-school-choice coalition enjoys broad, bipartisan, and diverse company: 72 percent of African Americans and 75 percent of Latinos indicated support for the concept in a
January poll
conducted by the Democratic firm Beck Research.
This strong current of minority support is driven by parents who are — understandably — frustrated by the plodding pace of efforts to improve neighborhood schools. In a school choice environment, no longer are parents obligated to send their child to a school in their neighborhood just because the school is geographically close, especially if that school is failing, underperforming, or unsafe. The ability to leave an undesirable situation for a better one gives black parents leverage and control over their child's education — an invaluable positive outcome in the post-Brown era.
A growing body of research indicates that students participating in school choice programs tend to end up in more integrated classrooms. Of the
10 empirical studies
that have examined school choice's impact on racial segregation, nine found that school choice programs move students into less segregated schools, while the remaining study found no net effect on racial segregation.
And in states with long histories of school segregation, such as Louisiana, greater racial and income diversity is a welcomed outcome. It's clear that not only does school choice help improve the quality of education, it can even break down systemic barriers to integration.
Education is the most important civil rights issue of our time. That was true during the Brown decision in 1954, and it remains true today. That's why it's impossible to support policies that sustain the status quo and perpetuate an antiquated system of separate and unequal education.
While some groups may choose to put unions and special interests over kids, elected leaders are taking notice of the power of school choice. Several proposals to advance private school choice at the federal level would give students in need the opportunity for a high-quality, life-changing education.
We owe it to students — and their parents, guardians, and families — to support efforts that create the conditions in which every child can succeed. As America grows more diverse, we must double down on our commitment to educational equity so that the promise of Brown can be realized.
Kevin P. Chavous is a founding board member for the American Federation for Children. He is a former member of the Council of the District of Columbia and a former chairman of D.C.'s Education Committee. Ann Duplessis is a former Louisiana state legislator, where she served on the Senate Education Committee and fought successfully to expand educational options for Louisiana's children.
---
---
Support The 74's year-end campaign. Make a tax-exempt donation now.