Chávez: To Improve Education for All Kids, the Biden Administration and New Congress Must Start Transforming Our Schools in the 1st 100 Days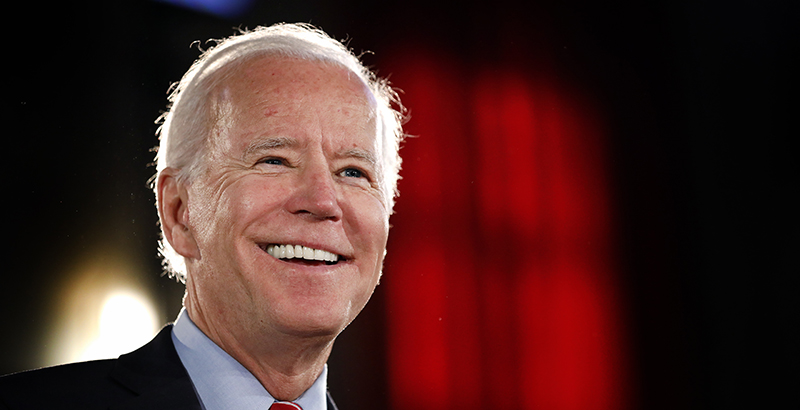 Following an election where more than 160 million Americans – the most in history – made their voices heard, our country must come together on behalf of the 50 million future voters currently attending our nation's public schools to show them the importance of reverence for our democracy.
Within its first 100 days, the new Biden-Harris administration, secretary of education nominee Miguel Cardona and members of Congress on both sides of the aisle must work together to address challenges that have only grown worse during the pandemic. We all must collectively hit the ground running to protect public schools from the damaging effects of chronic underfunding. It's going to take a transformation.
From closing the homework gap – exacerbated by the lack of broadband in disproportionally Native American, Black, Latino and low-income households – to addressing the teacher shortage, promoting racial equity and addressing the growing needs of special education students, these challenges require an all-hands-on-deck approach from policymakers from both parties.
It's time to finally have plans in place that support a more student-centered, personalized learning approach that prepares the next generation to enter the real world with 21st century skills.
The pandemic has upended traditional methods of education. Nonetheless, public schools have remained accessible to students in other ways even as many of our physical locations remained closed – a testament to the tireless dedication of teachers, principals, superintendents, counselors and the 14,000 school boards across the country.
These heroes have persisted even as public school leaders and advocates had to spend the early months of the pandemic fighting off attempts by the U.S. Department of Education to shift public tax dollars to private schools.
Although public schools won that particular battle, there is an immediate need for emergency relief funding to deal with the impact from the pandemic — including support for in-person and high-quality online learning, legal and mental health services and student meals — now and in the future.
So much is on the line. That's why the National School Boards Association and our state associations are calling on the federal government to provide the resources and flexibility to meet the needs of our new movement, "Public School Transformation Now!" This will be the driving campaign that NSBA is focusing on in 2021 and beyond.
The campaign brings together national education leaders who support a long-term transformation of our public schools to better address the needs of each child. This includes great teachers who are trained in utilizing modern instruction methods, using time effectively and providing students with access to digital learning tools that can adapt to their unique needs both in the classroom and at home. While COVID-19 required a shift in how we think about our schools, students and the role of technology in innovating teaching, we have to reimagine the future of education even beyond the pandemic and tackle the problems it has exposed.
For example, in rural communities, like the small farming town in Arizona where I grew up, lack of broadband connectivity, declining teacher recruitment and retention, decreasing enrollment, and depleted state budgets continue to leave students at a further disadvantage than some of their peers in more populated communities.
It's clear these challenges are not partisan and are present in parts of the country that voted for both parties. That's why a bipartisan approach must ensure access to broadband at school and home, and provide funding for innovation, new learning models and a renewed focus on equity – so all students can succeed.
Students must be able to learn on a level playing field. That's why this summer, NSBA launched the Dismantling Institutional Racism in Education (DIRE) initiative to assist state school boards associations and other education leaders in addressing racial inequities. We look forward to DIRE serving as a resource as Congress works on legislation around equity issues.
This transformation of public schools also requires support for special education, students with disabilities and their families. NSBA and state school boards associations across the country are calling for full funding and flexibility of the Individuals with Disabilities Education Act.
When IDEA was enacted 30 years ago, the federal government committed to funding 40 percent of the average per-pupil expenditure for special education. Unfortunately, that pledge has never been met, with current funding at a dismal 13 percent. It's time for federal leadership to fulfill its commitment to protect the most vulnerable children within our education system.
Some measures already have bipartisan consensus, which Congress can pass during week one of the new administration and send to the President's desk. The Supporting Students With Disabilities During COVID-19 Act, for example, would provide billions of dollars for state grants through IDEA and early childhood education programs. This would immediately serve students who have been disproportionately impacted by this crisis while simultaneously supplementing revenue-starved state budgets.
The nation's school boards are uniquely positioned to work with incoming federal leadership from both parties to meet these challenges. As a direct line of communication from the community to the school, the 90,000 local school board members set education goals, approve policies, adopt curriculum, set budgets and oversee administrative policies for their schools.
There are a lot of party line battles to come between the next administration and Congress, but fully funding a transformation of public schools to improve our children's education future shouldn't be one of them.
Anna Maria Chávez is executive director and chief executive officer of the National School Boards Association, a private, nonprofit and nonpartisan organization that advocates for equity and excellence in public education through local school board governance.
Get stories like these delivered straight to your inbox. Sign up for The 74 Newsletter