Charter Schools with Federal Grants Stay Open Longer, Watchdog Group Finds
Schools that received funding from the Charter Schools Program were about half as likely to close within 12 years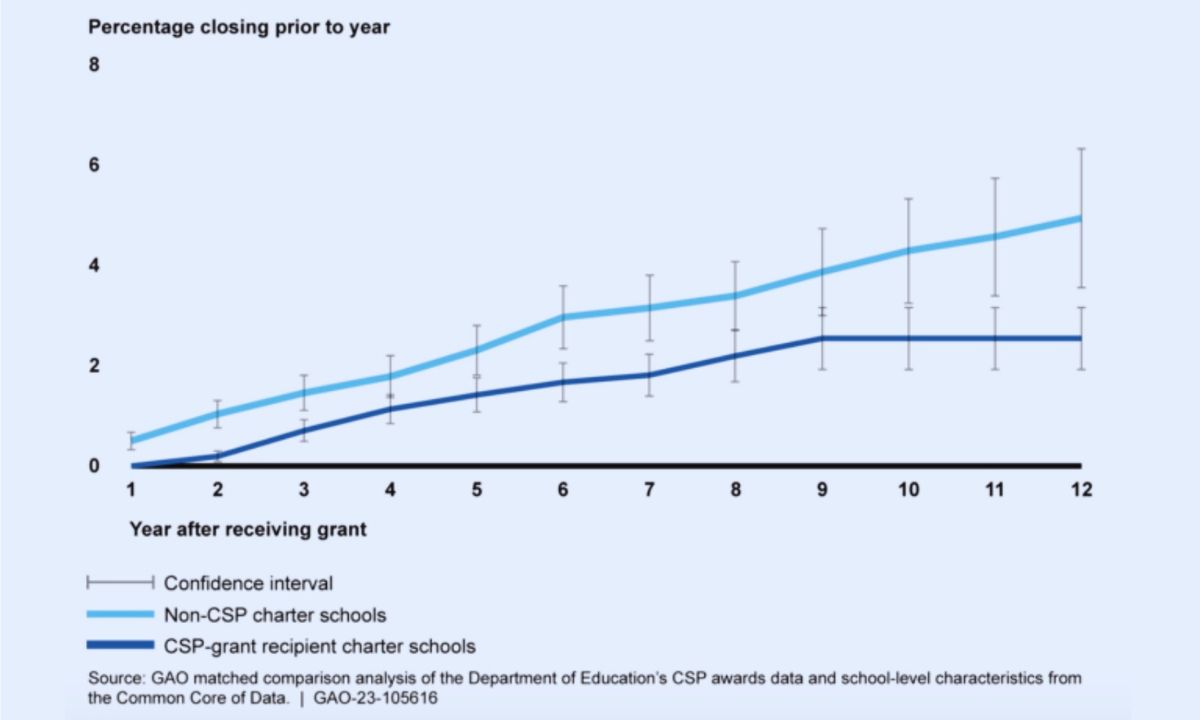 Get stories like these delivered straight to your inbox. Sign up for The 74 Newsletter
Charter schools that received federal funding for start-up costs were less likely to close within five years than those without the financial boost, according to a new report from a government watchdog group.
Between 2006 and 2020, 1.4% of schools with a grant from the Charter Schools Program closed, compared to 2.3% of schools without the funding. And within 12 years, schools with a grant were about half as likely to close as those without one.
But echoing the results of another recent federal report on the program, the Government Accountability Office found that states awarded about $152 million in grants to 638 charter schools that closed or never opened — representing about 14% of those that received grants. 
Even so, charter school supporters welcomed the GAO's main takeaway.
"This finding only underscores the need to increase funding for the [Charter Schools Program] so that more charter schools have access to start-up funds and planning grants," said Nina Rees, president and CEO of the National Alliance for Public Charter Schools.
The report is the latest to respond to questions from policymakers about the program's effectiveness as the Biden administration moves to implement tighter rules for grantees. Charter supporters argue the updated regulations, which seek to create more racially balanced schools and increase transparency, would limit growth. But critics say grant recipients waste taxpayer dollars when they close or never open. Democrats in Congress asked for both the GAO report and an earlier one from the U.S. Department of Education's Office of the Inspector General.
The Inspector General found that charter operators opened about half of the schools that they promised. Carol Burris, executive director of the Network for Public Education, wrote in an op-ed that the report also drew attention to "sloppy record keeping and weak oversight" of the program. 
The GAO focused on the sustainability of schools that opened, comparing similar schools that received grants with those that did not.
It found that the pattern of grant-receiving schools remaining open longer was consistent regardless of grade levels and student poverty and whether the schools were urban, suburban or rural. The results also held true in the three states that received the most funding from the program — California, Florida and Texas.
California saw a more dramatic spike in schools closing after nine years if they didn't receive a grant. Ana Tintocalis, spokeswoman for the California Charter School Association, attributed the difference to additional quality measures that grant recipients must meet to receive funding.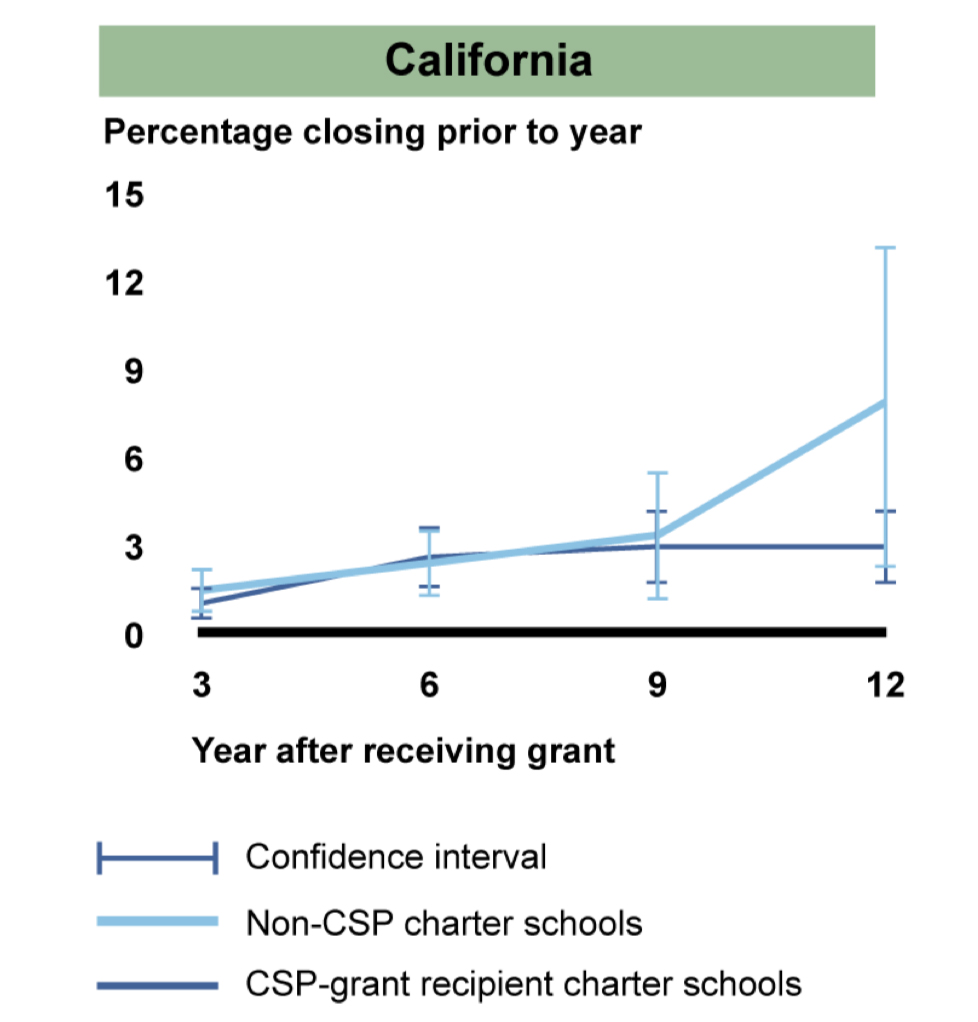 Increased closure rates, she added, also likely stem from demographic shifts and the high cost of living and working in the state.
"The biggest reasons for closures across the state tend to be difficulty securing facilities and low enrollment, which impact our urban schools the most," she said.
When GAO researchers interviewed officials in seven states, they found financial mismanagement and a lack of community support were also among the top reasons why charter schools close, whether or not they receive a federal grant.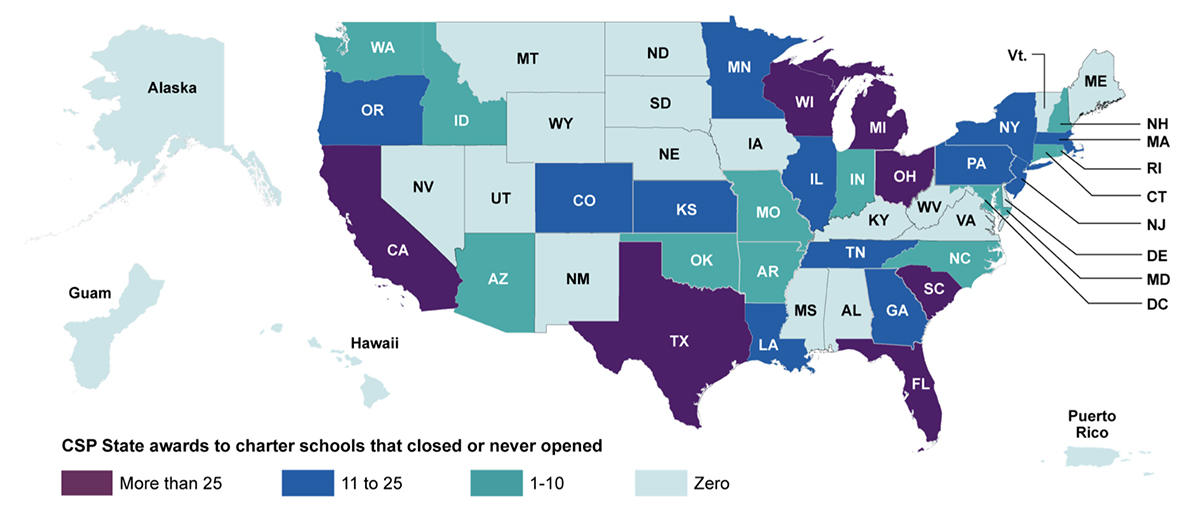 A year ago, the National Association of Charter School Authorizers released a report highlighting how states have used grant funds to support school districts, mayor's offices, nonprofits and other institutions that approve and renew charter school applications.
Karega Rausch, president and CEO of the organization, said the GAO's report reflects"meaningful changes" in policies since then that have "led to increased accountability."
In some cases, that means stopping a planned charter from opening," he said, and "closing an existing charter school that doesn't live up to their promises to students, communities and taxpayers."
Get stories like these delivered straight to your inbox. Sign up for The 74 Newsletter