Chang: Public Education is Missing in Presidential Election Debates. It Must Again Become Part of the National Conversation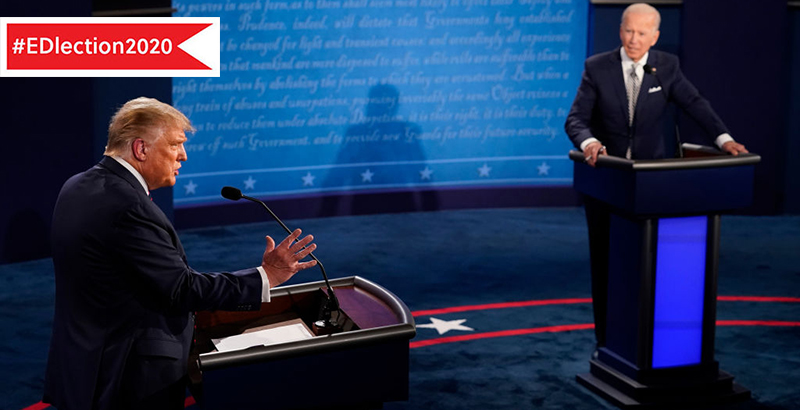 While disparities in opportunity are not a new issue, there is no doubt that gaps have been exacerbated in 2020. Our nation's failure to respond to a global pandemic and the continuous assault of systemic racism on Black communities and other people of color have disproportionately reduced the quality and quantity of educational opportunities low-income Black and Brown youth can access. These youth make up most of the students in American public schools. Yet, even with glaring educational inequity across the nation, the candidates vying to be president and vice president barely make note of it. Debate moderators and interviewers ask no questions about education platforms. The show goes on as if equal access to high-quality public education were not essential to our nation's success.
Amid tremendous uncertainty caused by COVID-19 this year, educators and administrators in public schools are expected to find a way to advance classroom goals without adequate support from policymakers. The pandemic has led to food and housing insecurity, loss of jobs and wages, and frightening illness and loss of life for many families. Community trauma, specifically for children of color, has been immense. It's evident to those of us who work in education that one of the cornerstones of democracy, equal opportunity for all, is under the most considerable strain it has been under since perhaps desegregation. Yet despite the urgent need for solutions, education is barely a blip on the campaign radar. The fly that landed on Vice President Mike Pence's head during his debate with Sen. Kamala Harris has gotten more discussion than the state of public schools in America.
Why?
We know education is the most effective tool for social change. W.E.B. Du Bois, who spoke about "education as the lever to uplift a people," underscores the connection between learning and prosperity. We cannot have a conversation about eradicating poverty in America if education isn't central to our efforts to achieve that goal . Our future workforce, leaders and economy all depend on the success of public education. It is the heartbeat of our nation and dictates our economic and societal trajectory.
Our nation is at an inflection point: Will we challenge the status quo and push harder than ever to guarantee that children of color won't be left behind as they battle headwinds they can't control? COVID-19, paired with the civil unrest in the nation, offers us a chance to closely examine and reshape the system as we know it. We have the chance to build the education system that ensures every young person is thriving and equipped with the knowledge, skills and emotional well-being to make life better for themselves and their communities. We can pursue educational equity collectively, as a society, by holding our elected officials accountable to prioritizing it.
For Black and Latino students, and families across the country who are desperate for schools that will put them on the path out of poverty, our leaders must offer bold solutions. I'm a member of Education Leaders of Color, a national network of over 400 educators, current and former school administrators, advocates, and activists across 40 states across 40 states united by a goal to end generational poverty by going beyond education to holistically address traditional barriers to success for Black and Latino students. Our network urges the presidential candidates to demonstrate their commitment to our communities and create sustainable change by listening to the voices of those most affected by the challenges before the nation right now.
Candidates for the most powerful positions in our federal government from both parties have been silent on how to break through the polarizing divides that have consumed efforts to improve public education. In fact, they rarely mention the institution at all. It is as if we assume as a nation that public education will always be there for us. Sadly, I grow less sure by the day that this is true. If we want democracy to survive and our nation to thrive, we must push our leaders to acknowledge the integral role public education plays in ensuring those goals are achievable.
Tommy Chang is former superintendent of Boston Public Schools.
Get stories like these delivered straight to your inbox. Sign up for The 74 Newsletter