Championing High-Quality Literacy Instruction: Inside Knowledge Matters' New Curriculum Review Tool
Executive Director Barbara Davidson: Emerging review efforts have not been precise enough about what defines 'knowledge building' in ELA curricula.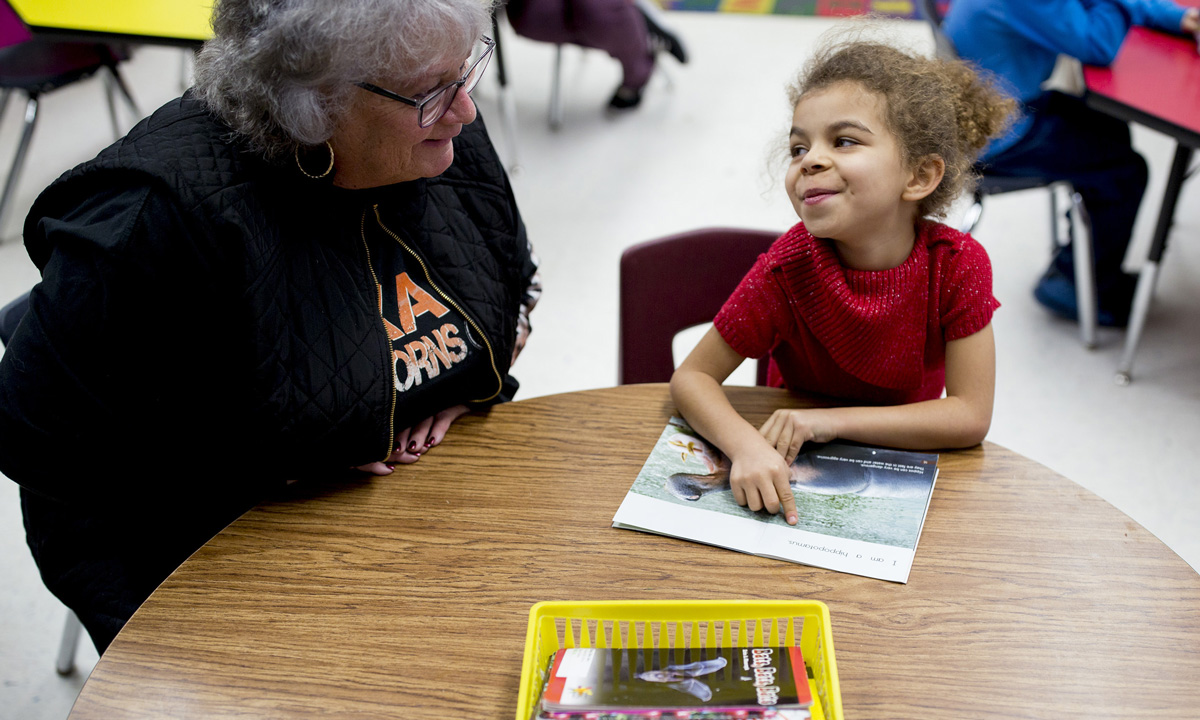 Support The 74's year-end campaign. Make a tax-exempt donation now.
Today, the Knowledge Matters Campaign is unveiling a new K-8 English language arts curriculum review tool to advance the understanding of truly high-quality, content-rich literacy instruction. It has felt like a necessary, even urgent, resource at this pivotal moment in time.
The last year has witnessed a surge in focus on the importance of background knowledge to reading comprehension. Researchers, including Knowledge Matters' Scientific Advisory Committee, have outlined the practices necessary to effectively cultivate content knowledge in literacy instruction, and policy analysts have lamented its absence in state legislation addressing the 'Science of Reading'.
This has been a welcome shift in the national conversation about children's literacy, and one we have been proud to advance.
Naturally, educators want to know how these key research insights and practices should be translated into curriculum design. In our estimation, this is where the conversation needs to be – and also where it has been coming up short. Emerging and evolving curriculum review efforts have not been precise enough in truly informing the field about what defines "knowledge building" in ELA curricula. Rubrics and guidelines that aren't specific will only produce watered down results that confuse and disappoint. The stakes are too high not to get this right.
The new Knowledge Matters Review Tool identifies eight dimensions to high-quality, content-rich ELA curricula:
· Laser-like focus on what matters most for literacy
· Communal close reading of content-rich, challenging texts
· Systematic development of high-value academic language to support building knowledge
· A volume of reading organized around conceptually coherent texts to build knowledge
· Regular discussions grounded in texts and topics to build knowledge
· A volume of writing to build knowledge
· Targeted supports to ensure all students have access to challenging, grade-level content
· Ease of enacting curriculum
The Knowledge Matters Campaign recognizes eight K-8 ELA programs that have distinguished themselves across each of these eight dimensions. While they differ greatly in their details, all of them do a far better job of building content knowledge than the ELA programs in widest use across the country, including some that have received positive reviews for alignment to standards.
This new tool is a natural progression of the Knowledge Matters Campaign's efforts to demonstrate what "good" looks like from the perspectives of leading experts and pioneering educators. The voices we've captured in our School Tour visits have shown that schools using these curricula are particularly special learning environments, characterized by high-levels of student engagement and support for teachers in making the shift to this way of teaching. By illuminating the design principles behind excellent reading and writing instruction, we hope to advance the pace at which this kind of learning experience, which is far more equitable to students, becomes the norm, rather than the exception, in US schools.
As we add transparency to our review approach, we also wanted to add transparency to our review process. In fact, this tool has a proud heritage.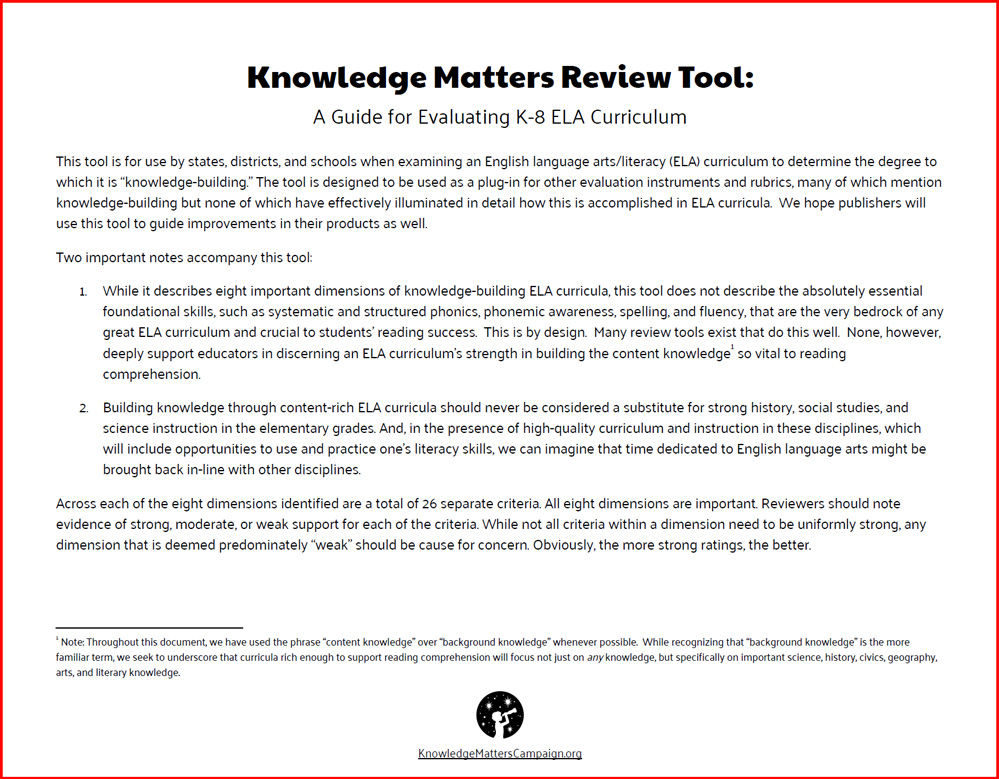 The authors of the Knowledge Matters Review Tool, Susan Pimentel (StandardsWorks co-founder), David Liben, and Meredith Liben, have a long and storied history of illuminating for educators how standards and curriculum work together. This team served as lead and contributing authors on the Common Core English Language Arts standards, then as authors of the original Publisher's Criteria and Instructional Shifts that drove the design and development of some of the highest quality ELA curriculum on the market today. For over a decade, these three individuals led important work to support the implementation of college and career-ready standards at Student Achievement Partners.
Sue, David, and Meredith's work is marked by their careful analysis of research paired with a deep understanding of classroom instruction. This trio's expertise has brought excellence to our work: first, in the thoughtful curation of leading curricula in the space, and now, in the development of a tool that can be used by the field to make their own assessments.
Our hope now is that more educators and decision makers use this tool to inform their curriculum choices and recognize that the highest-quality curriculum is the scalable, equitable path to ensure strong readers.
Support The 74's year-end campaign. Make a tax-exempt donation now.