Cervone: What Does Racial Equity Mean in the Nation's Whitest State? Maine Education & Workforce Coalition Is Looking to Find Out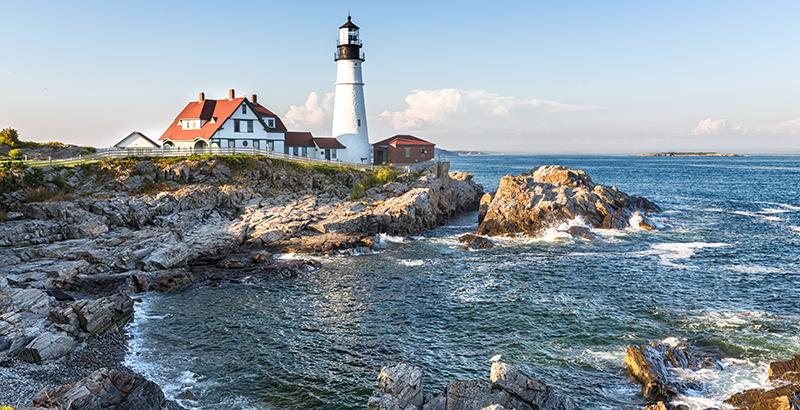 It's no secret that Maine, and northern New England more broadly, is among the whitest places in the United States. Maine is 95 percent white, compared with 61 percent of the country as a whole. Unfortunately, this fact is used by many as a rationale for not addressing race in our communities, our systems and our work: There are few people of color, people say, so race is not an issue. But at MaineSpark, a diverse alliance of education organizations, government agencies and business leaders, we are committed to preparing all students in our state for college and careers. That means addressing racial inequity head-on.
Grassroots organizations across Maine have been doing this work with and on behalf of communities of color, including immigrants and refugees, for years. But larger organizations and institutions have lagged behind. Education leaders across the state and region need to acknowledge that we're providing a grossly inadequate experience to our students by not addressing issues of race in their learning, from the classroom to the schoolyard. And that means we have to talk about race, equity, diversity and inclusion inside our own organizations as well, including examining our own biases, discussing the ongoing effects of structural racism and elevating underrepresented voices.
It's difficult and uncomfortable work, and we're the first to acknowledge that we're still figuring out how to do it. We're confident we will continue to stumble along the way. But today and going forward, we are committing to prioritizing this critical issue.
Another reason it's so hard to discuss racial inequity in Maine is the prevalence of generational poverty. Fully half of Maine students qualify for free or reduced-price lunch. In some schools, that metric is 100 percent. Schools are feeding, clothing and providing mental health care to too many students in Maine on a daily basis, often without adequate resources.
What does that have to do with race? Many leaders across the state point to the overwhelming poverty in Maine and simply say they don't have the capacity to address race — or feel that it's not a pressing need. Others believe that their work addressing poverty also covers issues of racial equity. And, at a deeper level, the concept of white privilege is something very difficult for many Mainers to understand. For low-income white people who have known only poverty, the thought that they are somehow privileged can seem bizarre, even insulting. Given their own circumstances, coming to terms with systemic racism just doesn't seem worthwhile.
Unfortunately, though grounded in Mainers' lived experiences, these reactions are common examples of what has come to be known as white fragility — defensiveness that often shuts down important conversations about race and racism.
MaineSpark is responding to this resistance by making a stronger case for why we need to address equity in terms of both poverty and race across the state. The first step is to challenge the key assumptions that hinder serious conversations about race in Maine.
To start with, we need to acknowledge that, despite Maine's relative lack of diversity, race has been and continues to be a real issue. While Maine has a rich abolitionist history, the Ku Klux Klan also played an important role in the state's politics during the late 19th and early 20th centuries. And it doesn't take much searching to find headlines in today's papers that speak to ongoing racism in our communities, in our classrooms and from the mouths of our leaders. We need to own this uncomfortable fact.
Second, we must disaggregate statewide data that obscure Maine's local diversity. If you look at the six largest school districts in the southern end of the state — Westbrook, Auburn, Biddeford, Lewiston, South Portland and Portland — their student populations are just 66 percent white, close to the national average. In Portland Public Schools, there's close to an even split between white students and students of color. Why is this important? These six districts account for approximately 15 percent of all Maine K-12 students and live in the most economically vibrant region of the state. In other words, racial diversity is critical for Maine's future.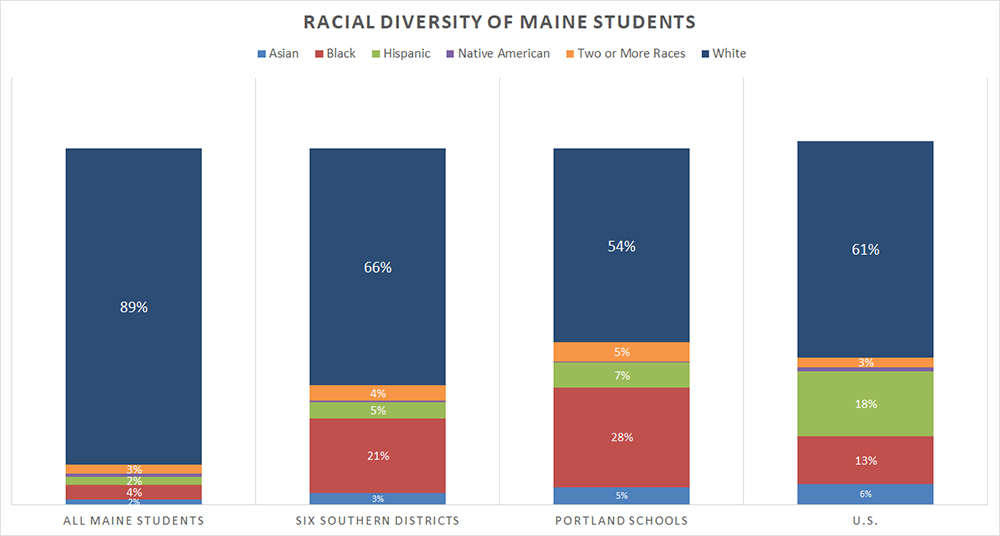 But even schools that are 100 percent white need to address issues of race and equity with their students. In our increasingly diverse and interconnected country and world, all children need exposure to and understanding of diverse individuals and perspectives to flourish in college and careers. The absence of racial diversity should be the impetus for action — not a justification for the status quo.
MaineSpark is working to change the conversation around racial equity in Maine in several ways. First, in the coming months, we will release a report that highlights the diversity of Maine students. We'll use this report in our work with our partners and share it with policymakers and education and business leaders statewide.
Second, we're engaging in professional development on racial equity and white privilege. Our partner, Education First Consulting, offered this training to MaineSpark member organizations last fall, and we dedicated our annual summit in May 2019 to a conversation on racial equity with 100 Maine education leaders. This powerful discussion surfaced important issues — such as the lack of teacher diversity in our state — and we are exploring next steps in this and other areas.
Relatedly, the Maine Community Foundation recently began offering professional learning opportunities for business, education, government and community leaders statewide to build understanding of white privilege and structural racism in their own lives and in the institutions and networks where they work.
Finally, we are distributing small grants to support Maine education organizations in addressing issues of racial equity within their programs. We borrowed this idea from our colleagues at the New Hampshire Alliance for College and Career Readiness, part of a broader network of similar state-based alliances funded by the Nellie Mae Education Foundation.
We know we have a long way to go and a lot to learn, but we are committed to advancing this critical work in our state. And now, we have a clear path forward to doing so.
Ed Cervone, a co-founder and leader of MaineSpark, is executive director of the Center for Innovation in Education and vice president of external partnerships at Thomas College. Until recently, he served as executive director of Educate Maine.
Support The 74's year-end campaign. Make a tax-exempt donation now.