Censorship or Student Safety? Plans to Remove Iconic Mural at San Francisco High School Spark Furor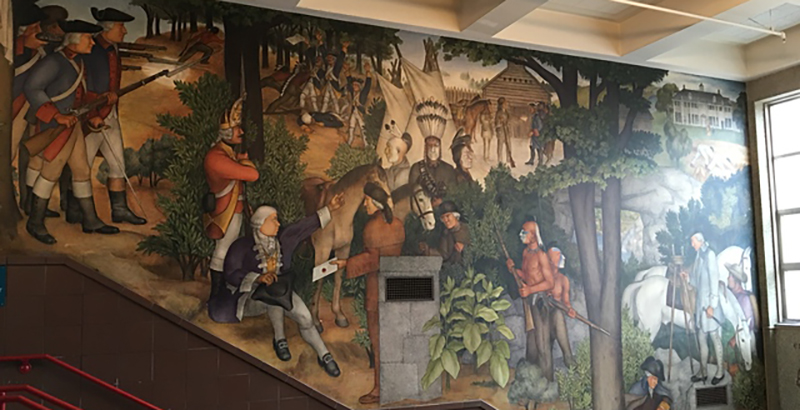 A fierce debate over racism and censorship has erupted in one of the largest schools in San Francisco.
In early July, the San Francisco Board of Education voted unanimously to paint over a series of 13 murals arrayed around George Washington High School. The works, depicting allegorical scenes from the life of the first president, include images of slaves toiling at Mount Vernon and early settlers venturing westward over the corpse of a slain Native American.
The vote was described by one board member as a form of "reparations" for historical crimes, and some members of the school community have complained that encountering the monumental art each day forces painful reckonings with oppression. But opponents of the decision argue that destroying the murals will effectively sanitize history and purge a rare and highly valuable work of American wall art. Some have even compared proponents of the idea to ISIS and the Taliban, who destroyed priceless works of cultural heritage in Afghanistan and Syria.
The order to repaint all 13 panels, which most observers agree are simply too extensive to be relocated elsewhere, has drawn criticism, as has the plan's price tag: an estimated $600,000, which would include an environmental impact assessment. District staff estimated that the removal might take over a year; the board has said it would consider temporarily covering the art in the event of a legal or procedural delay.
A group of artists from around the country have penned an open letter urging the board to reconsider. Members of the school's alumni association have threatened legal action, while a group of activists are attempting to put a special measure on the city's election ballot next year that would prevent the murals' removal.
But arguments centered on free expression and preservation have thus far not persuaded local authorities. In a letter to the New York Times, school board members Stevon Cook and Mark Sanchez wrote that the potential trauma facing minority students must be prioritized over the concerns of preservationists.
"The San Francisco Board of Education is charged with ensuring the well-being of all our students, academically, socially and emotionally, particularly those who have been historically marginalized," they wrote. "Should an immovable, public-school-located piece of art that for 80 years has traumatized students be allowed to remain?"
'A Disney version of the past'
The controversy echoes previous spats over monuments to prominent Confederates, as well as poorly received contemporary art that sought to illuminate the country's troubled history only to be rejected as racially insensitive.
Yet the debate around the murals is distinguished by the unique provenance of the work at stake. Unlike many of the disputed Confederate statues, which were often interchangeable and mass-produced in the early 20th century, the paintings covering the high school's lobby and stairway are the work of a celebrated artist: Victor Arnautoff, a Russian-born immigrant who trained under the legendary Diego Rivera. Some of his most important works, including Life of Washington, were commissioned as part of the New Deal-era Public Works of Art Project.
Art historians say that Arnautoff, who adopted Rivera's Communist politics and was later interrogated by the House Un-American Activities Committee, was accomplishing something radical in emphasizing Washington's role as a slaveholder. At the time of the murals' completion in 1936, popular histories of early America and its leaders tended toward glorification.
More than 200 verified works of New Deal-era art can be found in roughly 120 public schools around the country, according to a tally provided to The 74 by John Tibbetts and Barbara Bernstein of the online New Deal Art Registry. The various paintings and sculptures were commissioned to put artisans back to work during the Depression as well as to enliven public spaces. Decades after their original installation, not all have been meticulously preserved: Just last year, a much-loved ceiling mural completed in 1940 was carelessly painted over in the Bronx's DeWitt Clinton High School.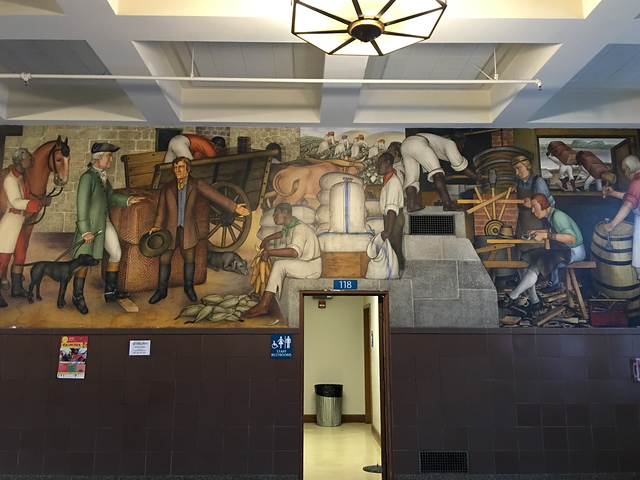 Gray Brechin is a former journalist who founded The Living New Deal, a historical association dedicated to researching and publicizing the legacy of Franklin Roosevelt's signature domestic program. In an interview, he said that Life of Washington holds unique value among the period's art.
"The purpose was also to be educational," he said. "But these go so far, with the mural of the dead Indian in particular, that I often wonder how Arnautoff got away with it at the time."
The Berkeley-based Brechin is one of the signatories of the open letter of protest sent to the school board, and he vehemently opposes any effort to alter Arnautoff's work. New Deal art was originally meant to be on public display in schools and other municipal buildings, he said, but with the advent of newer safety measures, members of the public are less likely to see it. He says he sees the decision to paint over the murals as an attempt to go further still, wrecking a distinctive cultural artifact to offer high schoolers a measure of psychic protection against trauma.
"This school board, and the people for whom they are working, are not educators," he said. "They're not interested in education. They're interested in the infantilization of these kids, who are in apprenticeship to be adults. What they want on the wall is a Disney version of the past, not a depiction of what actually happened."
Other critics have raised concerns about whether the decision-making process truly made room for student voices. The board's decree followed a similarly lopsided vote in February from an advisory panel convened to determine the fate of the murals. But an account of the controversy published in April by the New York Times found that multiple school employees had advised against covering Life of Washington, noting that their students were largely opposed to the drastic step being taken in their name.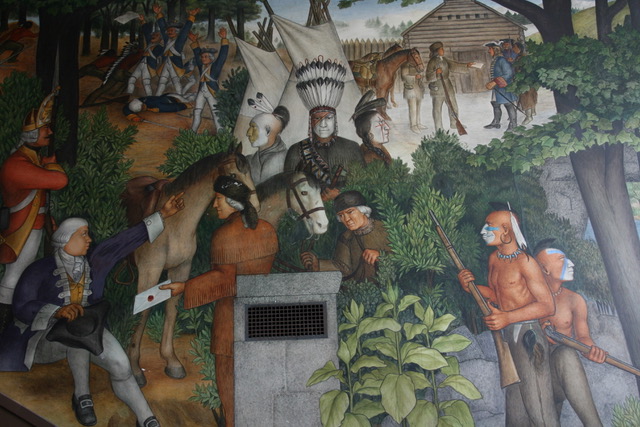 Nora Pelizzari, a spokesman for the National Coalition Against Censorship, said that the adults in charge missed a chance to involve students in a more collaborative exercise in consensus-building.
"There's an educational benefit to encouraging critical thinking and collaborative problem-solving," she said. "The people arguing that students are being traumatized by this — we have yet to hear those students, and what that trauma is, and if they want the mural removed. I think we're not giving students enough credit, and we're not giving them the opportunity to impact their own environment. So for us, the next steps on this are to push for spaces for student voices to be heard on all sides."
One solution: Make more art
In fact, several members of the George Washington High School community have gone on the record demanding that the murals come down. At board meetings that solicited testimony from both sides, a recent graduate said that she'd never been taught the purpose of the work while enrolled as a student and that its presence "is teaching students to normalize violence and death of our black and indigenous community." A current student of Native American heritage called the series "insulting and demeaning."
And the controversy has expanded further than just the murals themselves. A former school board member previously suggested rechristening George Washington High School itself, reasoning that no district school should have a slaveholder for a namesake.
The pained sentiments are not the first that have been levied against Arnautoff's paintings. In the early 1970s, a similar wave of activist ferment led the San Francisco school to commission a new set of murals from Dewey Crumpler, a local black artist. Those pieces, arranged throughout the school, show huge chains being severed by black, Latino, Asian and Native American subjects.
Today Crumpler says that his work completes Life of Washington and that any attempt to erase Arnautoff's work will render his own incoherent.
He described the urge many people have to eliminate unpleasant representations of history as understandable but misguided: "'When something makes me feel uncomfortable and reminds me of a horrific history, I believe it should be removed.' Which is exactly what the people who wrote American history did for several hundred years — to write history that served their interests, and in doing so, to shape history to reflect certain mythologies."
Crumpler's proposed remedy for students wounded by the murals was to tap their creativity and make new art. Anything else amounted to a literal whitewashing of history, he argued.
"I hate — I hate deeply — to go against the interests of young African Americans and Native Americans. I do not like being in that situation. This is about art and not falling down the slippery slope. I support any effort to … take art seriously. You don't destroy it; you make something new. That's how you make change, that's how you critique. We have to give our responses to history as much significance to the history that was made."
Support The 74's year-end campaign. Make a tax-exempt donation now.