CDC's New School Guidance Scraps Quarantines, Lifts 'Test to Stay' Recommendation
A weekly roundup of headlines about how the pandemic is shaping schools and education policy, vetted by AEI Visiting Fellow John Bailey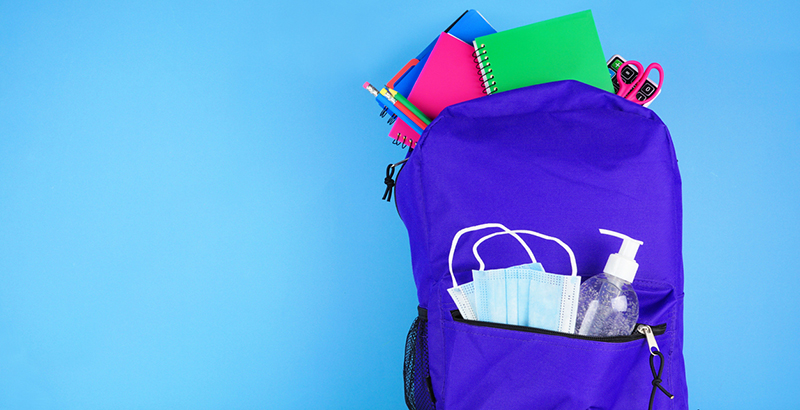 Get stories like these delivered straight to your inbox. Sign up for The 74 Newsletter
This is our weekly briefing on the pandemic, vetted by John Bailey. Click here to see the full archive.
This Week's Top Story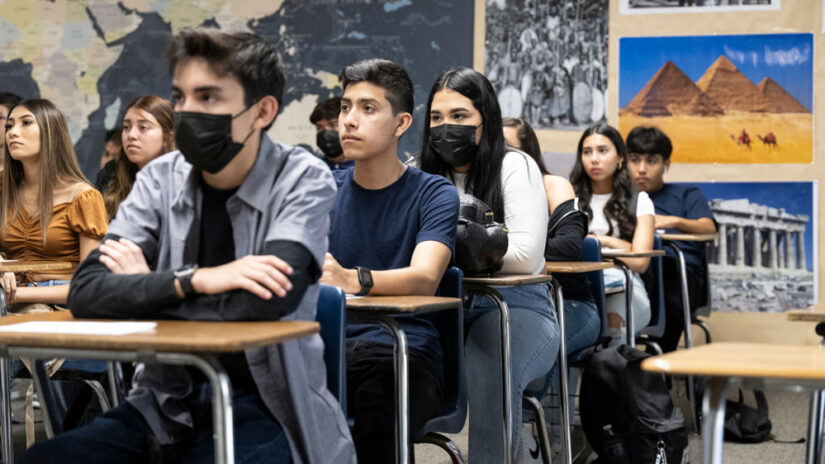 New CDC Guidance Loosens Restrictions, Removes 'Test to Stay' Recommendation
NPR reports: "The revised guidance – released by the Centers for Disease Control and Prevention on Thursday – lifts the requirement to quarantine if exposed to the virus, deemphasizes screening people with no symptoms and updates COVID-19 protocols in schools, eliminating a recommendation for test-to-stay after potential exposure."
In place of test-to-stay, people exposed to COVID should mask for 10 days following the exposure and get tested after 5 days, according to the new guidance.
"The update isn't necessarily a huge overhaul of the existing guidance, but it does represent an increasing focus on individuals making their own decisions about their level of risk and how they want to mitigate that risk, said Dr. Marcus Plescia, chief medical officer for the Association of State and Territorial Health Officials."
The Washington Post has more details and reactions from experts.
The Big Three
School Vaccine Mandates for COVID-19 Are (Mostly) Not Happening
"No state in the country is planning to require student vaccinations, a marked turnaround from where things seemed to be headed last winter, when multiple states and school districts suggested vaccine mandates were coming soon. Only Washington, D.C., has announced a mandatory school vaccine policy this fall, for students 12 and older."
"A state lawmaker in California who had introduced a bill to require COVID-19 vaccines for K-12 students withdrew it in April. … The same week, the California Department of Public Health announced it would no longer add the COVID-19 vaccine to its list of mandated childhood vaccines for public schools because they had not all yet received full FDA approval."
"The U.S. Supreme Court has endorsed states' authority to require student vaccines, but many policymakers were wary of testing that legal authority for COVID-19 shots that had only received emergency use authorization. (The Justice Department issued a memo last summer saying schools could legally do this, but the threat of defending those decisions in court was both real and unappealing.)"
COVID Vaccine Mandates Heighten School Inequity
"Most COVID restrictions in the U.S. have long since ended, but the school districts in New Orleans and the District of Columbia are mandating COVID vaccines for children to attend school in person this fall. In the capital, the mandate applies to students 12 and older and requires a booster in addition to the initial two-shot course, while in the Crescent City it kicks in at age 5 and requires only two shots."
"These mandates raise serious questions about racial inequity."
"In Washington, 36% of children 12 to 15 and 43% of 16- and 17-year-olds have received three shots of a COVID vaccine. For Black children, those rates are only 23% and 31%, respectively. Roughly 60% of school enrollment is black."
"If school began today and the mandates were strictly enforced, at least two-thirds of Black adolescents in Washington and almost half of all children in New Orleans wouldn't be allowed in the classroom."
COVID Grads Face College
"Angel Hope looked at the math test and felt lost. He had just graduated near the top of his high school class, winning scholarships from prestigious colleges. But on this test — a University of Wisconsin exam that measures what new students learned in high school — all he could do was guess."
"Nearly a third of Hope's high school career was spent at home, in virtual classes that were hard to follow and easy to brush aside. Some days he skipped school to work extra hours at his job. Some days he played games with his brother and sister. Other days he just stayed in bed."
"Colleges could see a surge in students unprepared for the demands of college-level work, education experts say. Starting a step behind can raise the risk of dropping out. And that can hurt everything from a person's long-term earnings to the health of the country's workforce."
City & State News
California
The bus driver shortage is affecting school transportation in Santa Maria.
Illinois
High school sports return without COVID-19 restrictions.
Chicago Public Schools releases 2022-23 COVID guidelines.
Maryland
Baltimore City schools expands tutoring program.
Ohio
Columbus teachers union votes to authorize 10-day strike notice.

COVID-19 Research
Pfizer COVID Vaccine Efficacy Wanes 27 Days After Dose 2 in Teens
"We found waning vaccine protection of BNT162b2 against symptomatic COVID-19 infection among adolescents in Brazil and Scotland from 27 days after the second dose. However, protection against severe COVID-19 outcomes remained high at 98 days or more after the second dose in the Omicron-dominant period. Booster doses for adolescents need to be considered."
Despite Awareness of COVID-19 Risks, Many Americans Say They're Back to 'Normal'
Over half of Americans (54%) personally know at least one person who has died of COVID-19.
Nearly 1 in 3 (31%) know someone who has experienced long COVID.
A majority of Americans (54%) say they rarely or never wear a mask indoors when with people from outside their household — more than double the proportion in January.
4 in 10 (41%) say they have already returned to their "normal, pre-COVID-19 life" — up from 16% in January.
A Plan for the Upcoming School Year
"We need strong, universal vaccine campaigns at schools."
"Schools need to upgrade their ventilation and filtration systems. This is one of the most powerful tools we have to curb COVID-19 and other viruses because it happens in the background — it's an institutional-level intervention that doesn't require the teachers, parents or students to do anything."
"Attending school far outweighs benefits of quarantining for a respiratory virus that is out of control in the community. It's reasonable (and overdue) to remove quarantine requirements."
"Masks are effective to the wearer. They are even more effective if everyone is masking. If a school is in an area of high transmission, it's certainly reasonable to mask to reduce transmission and, thus, reduce missing school. However, for that strategy to work, the wearer must mask everywhere else in the community. I don't think it makes sense for a school to mandate masks if the larger community does not do so either. We shouldn't ask students to hold down the fort if the larger community hasn't also committed either."
Viewpoints and Reports
Catching Up and Moving Forward: Accelerating Math Learning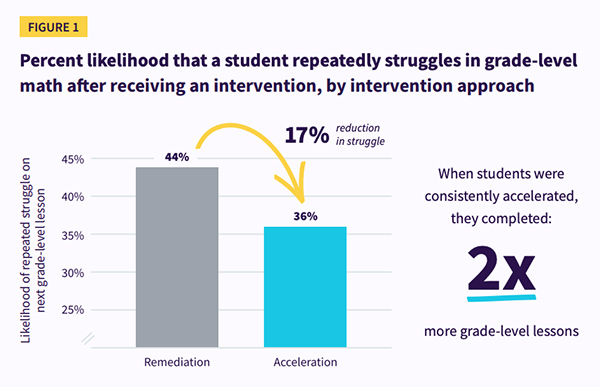 Using two years of pandemic-era data from more than 600,000 students, Zearn researchers found that Learning Acceleration helps kids learn more and struggle less in math. Researchers found:

"A student struggled 17% less in math when they experienced learning acceleration [compared to] when they were remediated."
"A student that experienced consistent learning acceleration completed twice as many grade-level lessons over the course of the year when compared to a student who was frequently remediated."
"A student enrolled in a majority Black, Latino or low-income school was more likely to be remediated when compared with their white and high-income peers – even when they already demonstrated the same level of success with grade-level work."
"A student enrolled in a majority Black, Latino or low-income schools struggled 19% less in math when they experienced learning acceleration."
2022 Kids Count: Rising Anxiety
Via Annie E. Casey Foundation. More via Axios.
"In 2020, 11.8% of children experienced anxiety or depression, up from 9.4% [in] 2016."
"The increase of reported anxiety among youth was highest in South Dakota (102%) and California (70%)."
A Three-Prong Strategy for a Better Education for All
Via Patricia Levesque in EdNext
"First, fix the existing system. It's important to improve today's public systems, which serve the majority of students who are educated in traditional schools."
"Second, create alternatives to the current system to expand options for all families. Educational opportunity acknowledges every child's uniqueness, rooted in the belief that all students are deserving of access to the option that best meets their needs."
"Third, reimagine the system. The future of education requires work today that can pave the way to new learning models, new education pathways and expanded student experiences for years to come."
Early Data: Outcomes from High-Impact Tutoring
"Students in grades K-5 who scored well below benchmark at the beginning of [the] year and received tutoring three times per week for 30 minutes per day were more likely to make outsized literacy gains and narrow their skills gap on a nationally normed reading assessment than their peers who did not attend tutoring or attended less frequently."
"The data comes from more than 160,000 students in more than 150 districts or Local Education Agencies that Amplify supported over the last school year."
… And on a Lighter Note
"Hey, You're Doing Just Great": Oklahoma little leaguer gets hit in the head and then comforts the pitcher who is shaken up afterward.
For even more COVID policy and education news, subscribe to John Bailey's daily briefing via Substack.
Disclosure: John Bailey is an adviser to the Walton Family Foundation, which provides financial support to The 74, and serves on the board of Zearn. The Bill & Melinda Gates Foundation, Carnegie Corporation of New York, Chan Zuckerberg Initiative, Overdeck Foundation and Charles and Lynn Schusterman Family Foundation provide financial support to Zearn and The 74. The Bill & Melinda Gates Foundation and Chan Zuckerberg Initiative provide financial support to Opportunity Insights and The 74.
Get stories like these delivered straight to your inbox. Sign up for The 74 Newsletter