Las Vegas Schools Hire Trappers for 2 Dozen Cats — But Won't Say Where They Went
District hires pest control company to trap and remove close to two dozen cats from a Las Vegas high school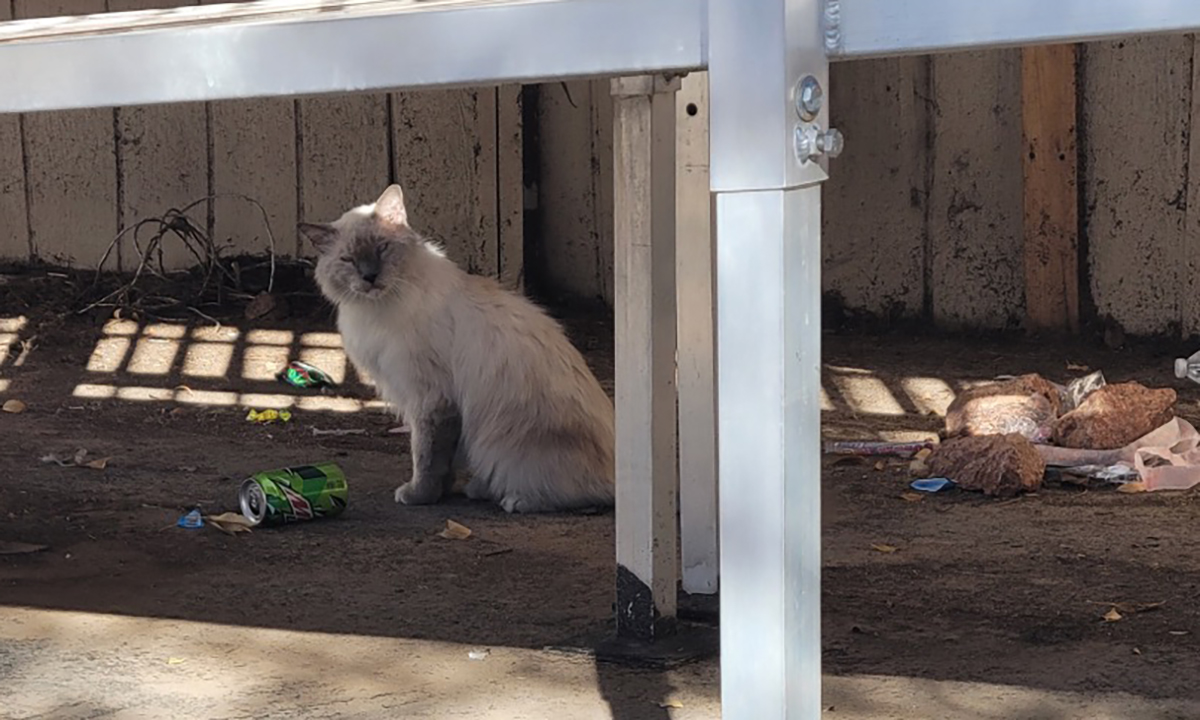 Support The 74's year-end campaign. Make a tax-exempt donation now.
The Clark County School District hired a pest control company last month to trap and remove close to two dozen cats from a Las Vegas high school, but officials refuse to say what was to become of the creatures.
"Desert Squad Pest and Wildlife will do 1 month of trapping for feral cats underneath the portable buildings that are at the School," says the company's estimate for $6,000 to trap cats at Desert Pines High School. "The traps will be checked daily and re baited. … Desert Squad Pest and Wildlife can't guarantee that all cats will be removed because in this process more cats could come."
Tabitha Linton, owner of Desert Squad Pest and Wildlife, says her company has a permit from the state to trap and euthanize pests, including cats. She says cat trapping is not a routine request, but one the company has performed.
State law defines a pest as "any form of animal or vegetable life detrimental to the crops, horticulture, livestock, public health, wildlife, quality of water and beneficial uses of land in this state."
"With that, if the pest control falls within this criteria, (the law) does not restrict trapping and euthanasia," says Ciara Ressel, spokesperson for the Department of Agriculture.
The company declined to disclose how it kills cats.
"Is it a pest animal or is it a lost pet? I have no idea how these pest control companies can possibly tell the difference," says Keith Williams, founder of Community Cat Coalition Clark County. "If it's a pest animal, they can take it out and shoot it. If it's a pet, they've stolen someone's animal and euthanized it illegally."
Linton declined to say what was to become of the cats at Desert Pines HS, adding the school's principal, Isaac Stein, instructed her not to divulge their fate to the media. "I've been instructed by Principal Stein that any inquiries have to be redirected back to him."
Stein and CCSD also refused to say what was to become of the cats.
"The school explored options for cleaning sites contaminated by felines with outside entities specializing in complying with local regulations and the humane capture and care of animals," a statement from CCSD said.
But cat lovers know there's nothing humane about removing a colony of cats.
"You can't relocate feral cats. They'll kill themselves trying to get back where they were." says Nancie Anastopolous of Community Cat Angels, a nonprofit that treats sick and injured felines, and finds homes for those suitable for adoption.
In October, Gina Greisen of Nevada Voters for Animals, got wind of the plan to trap and remove the cats and persuaded Stein to allow rescue organizations to intervene. The pest control company retreated, and volunteers from Community Cat Angels (CCA) trapped some two dozen cats, who were neutered, sterilized, and returned to the campus at no cost to CCSD. Medical care for two cats cost CCA more than $1,500. At least two of the cats were socialized and ultimately adopted.
"If you have nothing to hide, and you're just doing TNR (trap, neuter, release) which is totally legal, why did everyone clam up?" asks Greisen, who worries that owned cats in the neighborhood adjacent to the school could have been lured by the bait, trapped, and removed by the pest control company.
That's what happened to a Florida woman whose outdoor cat was trapped and legally killed. The law has since been changed.
"I'd like to know how they are euthanizing these animals and if they are looking for an owner or checking for microchips," says Williams. "When people call the pest control company and get inquisitive, they get hung up on. The company refuses to answer any of those questions."
School board trustee Linda Cavazos says the cat trapping contract was included in the board's consent agenda, in which smaller items are approved in one motion.
"We're only briefed on the big ticket items," she says, adding she "was not aware of any contract like this at all." Cavazos says she inquired about the contract and was told Superintendent Jesus Jara would review it. She says she has not heard back. Jara did not return calls.
Revolving door
Las Vegas, North Las Vegas, and Clark County fund the Animal Foundation (TAF) and support its community cat program, where found cats – socialized as well as unsocialized – are vaccinated, sterilized, and released where they came from in order to keep the shelter population from exploding and to avoid a higher rate of euthanasia.
The program is not without its critics, who have grown more vociferous since learning of CCSD's foiled effort to remove a colony, and complain cats are caught in a revolving door.
"It sickens me that we have a taxpayer-funded community cat program, which releases every cat found on the street where they can then just be picked up by another taxpayer-funded effort, and ultimately euthanized," says Anastopolous.
TAF's CEO Hilarie Grey did not respond to requests for comment.
An unsterilized cat averages three litters of four kittens a year, according to experts, a rate that can't be absorbed by shelters and rescues via adoption, giving rise to a debate over the most humane means of controlling overpopulation – TNR or catch and kill.
Is catch and kill, which is widely practiced in Australia, an effective means of population control?
"It can be, if they rounded up and killed about 10,000 cats a year," says Williams, who estimates the valley's feral cat population at more than 200,000. "That's why we try to TNR 10,000 cats a year. That's what it takes to actually affect the population."
Some local governments, such as Henderson, require trapped animals to be turned over to be evaluated for adoption or euthanized. But in most of Southern Nevada, so-called community cats – which run the gamut from socialized and abandoned domestic cats to unsocialized ferals, are protected by law and allowed to run free.
"You can trap feral cats for the purpose of having them spayed or neutered and returned to the same area," says Clark County spokesman Erik Pappa, adding that county code and state law "prohibit the unjustifiable killing of animals."
The City of Las Vegas, home to Desert Pines HS, gives animal control officials, not exterminators, the authority to declare a cat or a colony a public nuisance.
"The city's preference would be that pest control companies take captured feral cats to an appropriate rescue or shelter," says City of Las Vegas spokesman Jace Radke.
While animal control officers have the right to trap a community cat that is deemed a threat to public health or safety, a licensed veterinarian must decide if the cat poses an imminent danger or has bitten a person, in which cases it may be euthanized, the code says.
Animal control officials who investigated the CCSD trapping contract say the pest control company has agreed to abide by TNR procedures should it resume trapping at the school.
Greisen wants the Department of Agriculture, which regulates exterminators, to investigate whether pest control companies are illegally disposing of community cats. She's also hoping a legislator will ask for an opinion on whether cats, under state law, are a pest.
Nevada Current is part of States Newsroom, a network of news bureaus supported by grants and a coalition of donors as a 501c(3) public charity. Nevada Current maintains editorial independence. Contact Editor Hugh Jackson for questions: info@nevadacurrent.com. Follow Nevada Current on Facebook and Twitter.
Support The 74's year-end campaign. Make a tax-exempt donation now.