Case Study: What a 'Whole-Person' Approach to Education and Healthcare Looks Like in North Carolina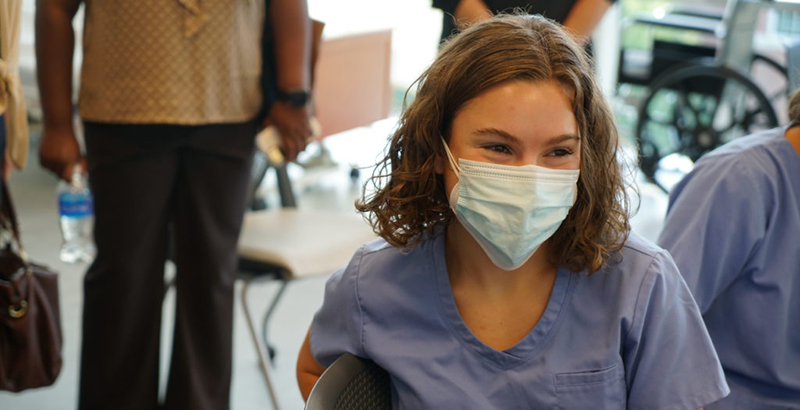 Get stories like these delivered straight to your inbox. Sign up for The 74 Newsletter
EdNC joined Blue Cross and Blue Shield of North Carolina on their "Extra Miles" listening tour in Henderson and Buncombe counties. Blue Cross NC is traveling to visit education and health care systems along with other anchor institutions across the state.
"It's never been more important that we are on this hospital's campus than it is now," Dr. Laura Leatherwood, president of Blue Ridge Community College, said.
EdNC recently joined Blue Cross N.C. on their "Extra Miles" listening tour in Henderson and Buncombe counties. Their first stop was Blue Ridge's Health Sciences Center.
Standing three floors high, each floor in the building provides services or training that meet the health care demands of Henderson County. It's a unique partnership that exists between three different entities that are all housed in one building, Leatherwood said.
Pardee UNC Health Cancer and Surgery Center is located on the first floor. The second floor houses two of Wingate University's graduate programs, Physician Assistant Studies and the School of Pharmacy. The third floor is the physical site for Blue Ridge's Allied Health programs.
The uniqueness of this partnership extends far beyond the building.
Starting in high school, students can begin taking Allied Health classes through Blue Ridge. Once they graduate, students can transition into one of 15 programs offered by the community college. Students who choose to continue their studies may enter one of Wingate's graduate programs.
The result is an entire educational journey completed without students ever leaving their community.
"Our high school students can matriculate from high school into our Allied Health programs and immediately go into a doctorate of pharmacy and never leave Hendersonville," Leatherwood said.
As the tour continued, we heard from Blue Ridge students who had either just begun their program or were near the end. When asked if they planned to stay in the county, all but one student said yes, which is great news for Henderson County.
"More and more people want to live, work, and play in Western North Carolina," said James Kirby, president and CEO of Pardee UNC Health Care.
In 2019, Henderson County was home to over 117,000 people. And in Transylvania County, an area that Blue Ridge also serves, the population totaled just over 34,000.
More people means the demand for health care workers will increase.
The students EdNC and Blue Cross NC met will enter the workforce at a critical time, providing services across the spectrum.
After the tour in Henderson County, we traveled to Buncombe County, Henderson's neighbor. We were joined by leaders from Asheville-Buncombe Technical Community College, Blue Ridge, MAHEC, Dogwood Health Trust, and Biltmore Farms to discuss the region and efforts to address the social determinants of health in the area.
Buncombe County is home to over a quarter of a million people and is one of 18 counties that the Dogwood Health Trust serves.
Dogwood Health Trust is a private foundation "with the sole purpose of dramatically improving the health and well-being of all people and communities of 18 counties and the Qualla Boundary in Western North Carolina."
The foundation focuses on innovative and equitable ways to address the factors that contribute to overall health and wellness, which include housing, education, economic opportunity, and access to health care and resources.
The idea of improving the health and well-being of all people was the focus of the tour that day. And it was the community partnerships and interconnectedness of health, education, housing, and jobs that really sparked conversation among leaders.
"I think it's becoming more clear to us, over the years we've talked about disparities, but that these non-medical drivers of health are critical if you truly want to drive towards better overall health and well-being," said Tunde Sotunde, president and CEO of Blue Cross and Blue Shield of North Carolina.
Sotunde's message of a holistic approach aligns with the thoughts of community college leaders across the nation.
In a recent Chronicle of Higher Education article, Pam Eddinger, president of Bunker Hill Community College in Boston and advisory board member of the Belk Center for Community College Leadership and Research, discussed community colleges being a hub where they welcome students and all the support systems that come with them.
"So whether it's education nonprofits, basic-needs providers, or community-activist organizations that provide identity and support for students, we need to open our doors and house them all. We can't do everything ourselves," Eddinger said. "Education is nothing if you can't get health care, transportation, child care, and basic needs all woven together to support that student."
Sotunde's advice to the students of Blue Ridge highlighted this point.
"Always have a whole-person approach," Sotunde said.
Sotunde told them that health is not just the physical but the mental and emotional, too, adding that, as health care workers, they would need to think about non-medical factors like transportation.
A student then raised her hand and said, "Mind, body, and spirit."
"That's right," Sotunde said. "That's right."
This article originally appeared at EdNC.org.
Get stories like these delivered straight to your inbox. Sign up for The 74 Newsletter