Cantor & Balfanz: Relationships Can Fuel Student Growth, Resilience and Educational Equity. Bringing Caring Adults Into Schools Can Help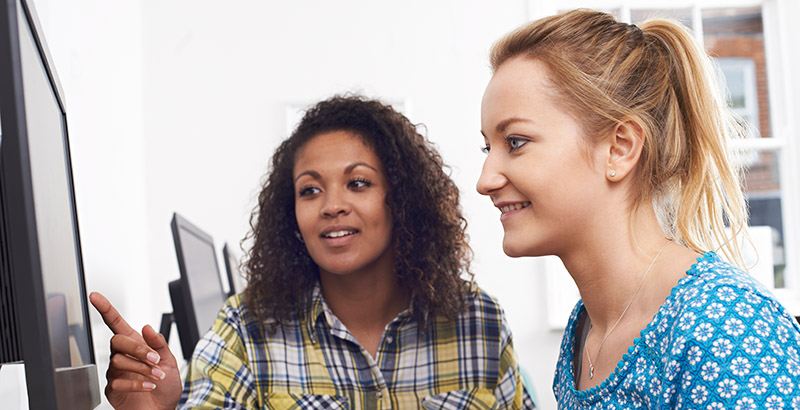 While all students have experienced disruption to their daily lives this spring, COVID-19, the economic disaster that followed and the continued violence against African Americans are disproportionately affecting communities of color, particularly black students.
Educators need to step up and help students regain their footing, heal and flourish.
The country's education system's typical, standardized response simply will not be enough to help children recover from the challenges we are experiencing. As educators, community leaders and policymakers prepare for and make decisions about how best to reopen schools, they should take an approach that is responsive to academic learning loss, systems of racial injustice and the emotional trauma that many students — and educators — are experiencing. They must be intentional and proactive in ensuring that students are not just physically safe in schools but emotionally safe so they can thrive.
How should the educational system be restructured to care for all students in a way that addresses their individual needs while building upon their experiences and talents? Based on our decades of experience with science and serving in schools, we believe the following elements will help adults better support students now and when schools reopen.
The experiences, environments and relationships that children are exposed to drive brain development and shape who they become. This means that we can deliberately design environments with attention to how learning happens and how the brain develops. Schools can become places that both nurture children's holistic growth and help to inoculate them against the stresses of the scary, uncertain world we live in.
Developmental and learning science calls for five integrated elements in every school: positive developmental relationships, environments of safety and belonging, integrated physical and mental health supports, intentional development of the skills and mindsets of successful learners, and engaging instruction that empowers children to discover what they are capable of. If we build these elements into all environments in which children learn and develop, we will help pave a path toward educational equity, where all students have opportunities to thrive in school and beyond.
To apply whole-child design to this moment of crisis, educators should prioritize what Turnaround for Children refers to as the new 3 R's: relationships, which protect children from the effects of stress and build trust; routines, which calm chaotic brains and promote executive functions; and resilience, which empowers children to surmount and thrive through crisis. Focusing on the 3 R's will not only prevent students' setbacks but also will help them build powerful skills for learning and for life.
Strong, trusting relationships are not just nice to have; from a biological perspective, they release the hormone oxytocin, which is an essential ingredient in healthy brain development. Positive relationships stimulate the connections among brain structures, support the development of complex skills like reading, shield children from the effects of adverse events and enable resilience to future stress. Strong bonds with family, educators, peers and mentors are a crucial part of an environment that fosters healthy development in young people. In schools, all adults — teachers, athletic coaches, nurses, tutors and mentors — should have the opportunity to build strong bonds with students.
The need to physically distance ourselves from one another to stay healthy in this pandemic has threatened the very connections that help us feel safe, manage stress, grow and learn. Talented, hardworking educators will likely see a huge increase in the scale and intensity of the day-to-day challenges they face when schools reopen, and they will need tools and resources to create learning environments that prioritize positive, healthy relationships and learning. The "How Learning Happens" video series, produced by Edutopia, and the "Building Partnerships in Support of Where, When and How Learning Happens" report from The Aspen Institute offer vivid examples of educators doing just that in classrooms across the country.
Practices such as looping — working with the same teacher for more than one year — and the 2 x 10 strategy — having one-on-one conversations with a student for two minutes on 10 consecutive days — that promote strong bonds between students and adults are more important than ever in re-engaging students with their school community. Elevating students' voices is critical in helping them develop a sense of who they are, their personal agency and critical skills. Hearing directly from students through surveys and assessments and finding time to review results with them ensures that the student experience informs adult decision-making in schools.
One way to ensure that these practices are in place is to increase the number of adults in schools, including through national service programs. Imagine if there were student success coaches — diverse teams of highly trained AmeriCorps members serving full time in underresourced schools, forming positive, trusting relationships with students while providing them with research-based social-emotional and academic services. A national study released in May by the Everyone Graduates Center at Johns Hopkins University School of Education found that students who spent more time with City Year AmeriCorps members saw improved academic, attendance and social-emotional outcomes — and that students who were furthest behind benefited the most.
Student success coaches could collaborate with educators to create and sustain learning environments that help students make sense of their recent experiences and strengthen their social-emotional and academic skills. This approach would achieve three desirable goals: promoting development of students' social, emotional and cognitive abilities while catching them up academically; addressing the need for more adults to spend one-on-one and small-group time with students in schools in an effective and cost-efficient way; and providing diverse young Americans with the opportunity to help schools across the country recover from COVID-19 and ongoing racial violence while gaining valuable skills through a challenging year of service.
Research and experience tell us that we can design learning environments that holistically develop children through consistent, caring and positive relationships. And we believe that supplying additional caring, trained adults in schools is a crucial step toward achieving that goal while addressing the equity gaps exacerbated by the pandemic.
With this knowledge and power, we have the opportunity to reimagine our education system so every child belongs, learns and thrives, even under the most challenging of circumstances, and in all environments. Do we have the will to do something with it? The answer should be a resounding "yes."
Pamela Cantor, M.D., is a child psychiatrist and the founder and senior science adviser at Turnaround for Children, an organization with one foot in the science of learning and development and one foot in public schools, equipping educators with tools and strategies to help all students thrive. Jim Balfanz is CEO of City Year, a national nonprofit that recruits and trains AmeriCorps members to serve full time in 350 public schools across 29 U.S. cities, building positive relationships with students and providing social, emotional and academic support that help to keep students on track to high school graduation and college and career success. 
Support The 74's year-end campaign. Make a tax-exempt donation now.