Can College Courses For High School Students Lure Families back to LAUSD?
LAUSD superintendent Alberto Carvalho hopes to expand a national program offering college level classes to low-income high school students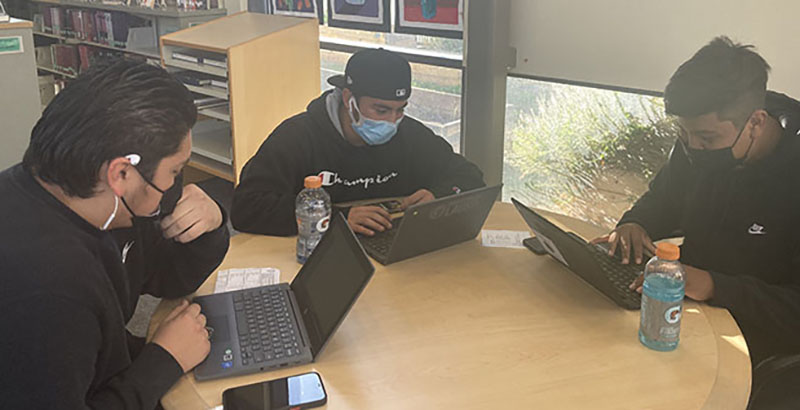 Support The 74's year-end campaign. Make a tax-exempt donation now.
Updated May 18
Los Angeles Unified high school senior Hailey Galvan had never considered attending one of the country's most elite colleges — until she took a special college course offered at her school.
It was in the National Education Equity Lab class at Santee Educational Complex in Southeast L.A. that Wesleyan University professors taught Hailey and her classmates the works of psychiatrist Sigmund Freud and German philosopher, Friedrich Nietzsche in a course called "The Modern and The Postmodern."
"[Wesleyan] wasn't really an option for me, but I just fell in love with the class," said Hailey. "… Now I want to study sociology in college."
The class Hailey took is part of a partnership between LAUSD and The National Equity Lab – a program launched in 2019 bringing courses from colleges to low income public high schools across the country. The program currently reaches more than 10,000 students. 
At two Los Angeles high schools, Santee and Birmingham High School in the San Fernando Valley, college classes ranging from Poetry in America to Statistics and Data are offered five days a week. The students watch recorded lectures from professors, completing the same work as the college students. Courses from schools such as Harvard, Stanford, and Yale, that cost as much as $1,800 per semester are offered to these students for free.
Los Angeles's new superintendent, Alberto Carvalho, said he wants to expand the program this fall to attract families back to LAUSD schools where enrollment has been on a sharp decline.
"There aren't many programs that meet students where they are at like this one and allow simultaneous opportunities to earn high school credits while participating in the highest level of collegiate education," Carvalho told the LA School Report.
As Miami school superintendent, Carvalho doubled the number of schools partnered with Ed Equity Lab from 11 high schools to more than 20. 
"This is as close to replicating a college course in high school as I've ever seen … it shows the kids, 'I can do this as much as anyone else,' " said Santee English teacher David Berry.
Santee principal Violeta Ruiz, who is focused on getting more students to attend four year colleges said Ed Equity Lab helps students realize they can attend elite schools. "We want to do everything we can to make sure that our students believe that they can go onto a four-year university," Ruiz said, "We want to expose them to as many schools as possible." 
Although many colleges have been making a push to enroll more students from low-income communities, the data show these students are less likely to get into the most selective colleges, said Ed Equity Lab founder Leslie Cornfeld.
"I think that the talent is evenly distributed, but the opportunity is not," Cornfeld said.
"Even top students at low-income schools didn't think they were college worthy." She said admissions officers at top colleges would tell her 'we (were) trying to find talented students in these zip codes, but we just can't.'"
The Ed Equity Lab program is designed to make universities aware of students in low-income communities and give students the confidence and preparation to go onto the best college for them.
Currently teaching a course from Howard University on the Principles of Criminal Justice, Santee psychology teacher Allison Glick-Neagle said each class begins with a discussion. One day, the students discussed the 13th amendment and its effect on the growth of incarcerated individuals. One student wrote about the effects of street lighting on crime rate for a midterm paper.
"I just feel like in these classes you can actually express yourself and your opinions. In my regular high school classes, it's very 'by-the-book,' " said Daniel Pae, a junior at Santee enrolled in two Ed Equity Lab classes this year. "These classes let you explore."
But there are issues which LAUSD school and Ed Equity Lab officials promised would be resolved before the courses are expanded in September.
This school year, three of the four Ed Equity Lab classes at Santee have been held 7:00 a.m. to 8:00 a.m., not during the regular school day. Berry and other teachers said the early hour, a problem since the program began at Santee in 2019, has kept enrollment low and tended to attract only the most motivated students.  
Because the Ed Equity Lab classes did not appear on the master course list at Santee when students were choosing spring classes, the three teachers leading the courses selected their own students. Glick-Neagle's criminal justice course from Howard University has 11 students. Her regular psych classes have up to 45 students. 
"It's really us searching for the kids who can meet at our unholy hours and who we feel can do the work," said Berry. "It'd be great to have these classes embedded in the day where we could reach more students of different abilities. That would really be equity, rather than serving the AP kids, yet again."
School officials said the problem at Santee was a "scheduling issue." The classes at Birmingham are all offered during the school day.
Carvalho said making the Ed Equity Lab courses offered during the day beginning next fall "is something we aspire to do." 
"Certainly it is my intention to align this program with more readily accessible time slots for greater participation," said Carvalho. "I realize that there might be challenges with this program in LA. Right now the program is somewhat restricted…"
A spokeswoman later said the Ed Equity Lab courses at Santee will be offered during the school day starting in the fall.
Since many top colleges, including the University of California system, no longer require standardized tests like the SAT and ACT for admission, other criteria to make students stand out like the Lab program are even more important, said Cornfeld.
"Carvalho definitely sees the power of this program to draw students and families back into the [public school] system," Cornfeld said, " … I think that school district leaders realize that as we are increasingly going test-optional, this is a new pathway and a new credential for students to demonstrate their college readiness and the talents that they can bring onto these campuses."
Support The 74's year-end campaign. Make a tax-exempt donation now.