Cami Anderson: 4 Reasons Community Service Should Be Part of Every School's Design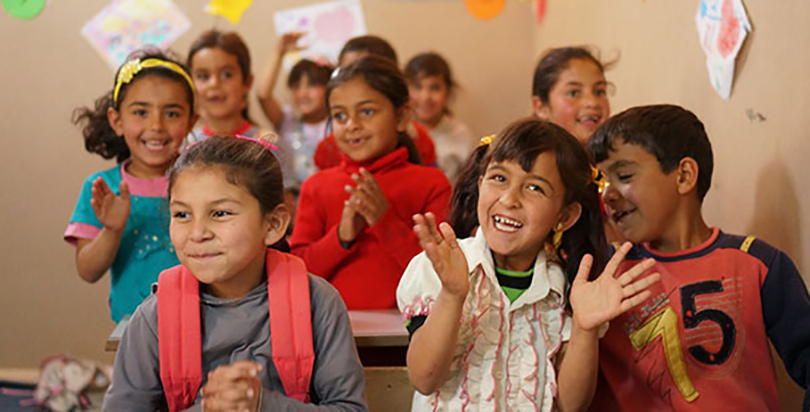 Some of Rose Farah's greatest childhood memories are visiting her father's family in Syria. So, she was particularly devastated when the refugee crisis escalated and made national news. Images of homelessness, hunger, and desperation kept her up at night.
Feeling a connection to the suffering, the 18-year-old high school senior did what so many of us think about but rarely do: She took action, successfully organizing kids and adults at her school (New York's Convent of the Sacred Heart) to raise funds for school-aged Syrian refugees that would enable them to attend boarding schools.
Rose says she couldn't imagine her life without school, and she wanted to do her part to ensure that this crisis wouldn't divert the next generation of Syrians from educational opportunities. Setting small and steady goals, Rose helped change the life trajectory of 18 students — as well as her own.
Last week, Rose and I were honored by The Points of Light Foundation and its local partner, GenerationOn, both organizations that support charitable individuals young or old who engage in meaningful service efforts. I was not only moved by Rose's story on a personal level, but hearing her reflections served as a reminder of why educators must focus more attention on giving students meaningful, self-directed opportunities to serve others.
After all, both research and practice show:
1. Empathy, or the ability to understand the feelings of others, is teachable; not only is it a critical skill that helps kids succeed, but also means they are likely to contribute positively to their communities.
Paul Tough's book summarizing decades of achievement motivation theory, finally has leaders in education reform talking about "social and emotional learning." As a community, we are realizing what great teachers have always known: we can and must teach "non-cognitive" skills like empathy as purposefully, thoughtfully, and methodically as we teach Algebra. Service opportunities can anchor lessons in empathy.
2. Efficacy, or believing that the results of one's actions can have a positive, immediate and long-term impact, motivates kids and helps them preserve through difficult situations.
Gallup and other survey research shows that students who feel like they are heard, who have an opportunity to lead, and who believe they can impact their world stay in school longer, graduate at higher rates, and ultimately have more economic success. For many years, educators have sought to take principles of youth development and put them in action in high schools. When they do, they get better outcomes. Supporting young people in identifying causes they are interested in and working to fix them should be an important part of school.
3. All young people, especially those who have struggled or are currently struggling, have something to give — and have a perspective that leads to innovative solutions to seemingly intractable problems.
Too often we think of service as something people of means do "for" people without means. This mentality means we fail to cultivate the extraordinary leadership and social justice skills of kids growing up in poor communities. Young people who have had to overcome significant obstacles often bring persistence, creativity, and dedication to tackling tough issues. Meaningful service opportunities should be made available to all kids.
4. Service provides opportunities for shared experiences that allow kids (and adults for that matter) to work across identity lines — lines that too often have us interacting exclusively with people who share our race, ethnicity, socioeconomic status and/or neighborhood.
The army trains soldiers to think of their enemy as "other". Most "isms" are exacerbated when people stay in their silos and do not develop meaningful relationships with people they define as "other". Service opportunities can take you places and have you interacting with people outside of your immediate circle — and it is critical for educators to cultivate opportunities for young people to thrive in those situations. Some research shows that the ability to thrive in diverse groups is as valuable in terms of access to 21st century jobs as high levels of literacy and numeracy.
This month, we lost another of America's great social justice warriors, Muhammed Ali, who famously said "Service to others is the rent you pay for your room here on earth." Service is humbling: you often learn more that you give. As educators, we must find ways to give all students, not just students like Rose who are lucky enough to go to great schools, the opportunity to give back, realize their full potential, and see their impact.
Get stories like these delivered straight to your inbox. Sign up for The 74 Newsletter