Call It a Corn-ucopia: Nebraska Teacher Reaps Big Prizes With Down-on-the-Farm Costume on 'Let's Make a Deal'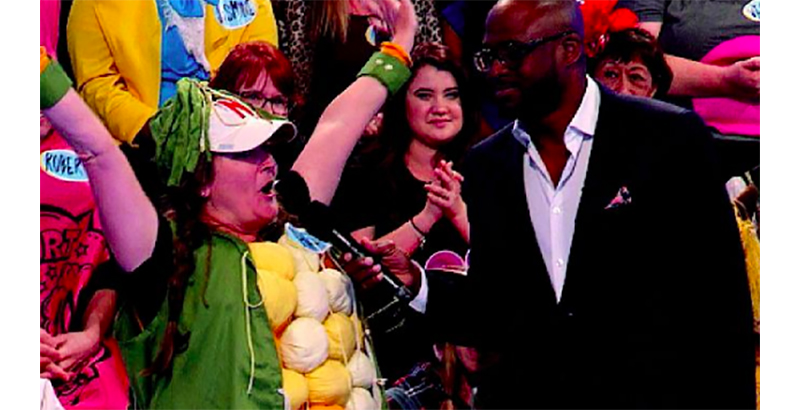 This article is one in a series at The 74 that profiles the heroes, victories, success stories, and random acts of kindness found at schools all across America. Read more of our recent inspiring profiles at The74Million.org/series/inspiring.
Pick me!
That's what a Nebraska teacher, dressed as a giant ear of corn, hoped the host of TV's Let's Make a Deal would do. And Amy Burns, who teaches special ed at Horizon Middle School in Kearney, Neb., had one of the most a-maizing experiences of her life when Wayne Brady plucked her from the audience to be the first contestant on the Nov. 5 program — and the show-closing "Big Deal" player, too.
The whole adventure cropped up after Burns and two friends scored tickets to the game show for an upcoming girls' trip to California. So, she told Kearneyhub.com, she grabbed a costume that fellow teacher Roni Wilson had created for the local Cornfield to Cornfield 10K run and tossed it in her suitcase.
Her two friends dressed as a farmer and a scarecrow.
On the way to the taping, Burns told KQKY.com, "They said there were certain parts that you needed to get excited, and I thought, well, I already am high-energy, so 4½ cups of good old black coffee? Let's do it! And I did it. It was like the whole time, high fives up and down the bus that we had to load up to get to the studio, and we waited there at the studio, we did the wave, we played some baseball, you name it, I was doing it.
"I even tried to sneak behind, peek behind some of the curtains, and a guy walked out, and I was like, d'oh! OK, never mind. And then I heard, "Corn." I heard "Corn." And I thought, oh gosh, we're in trouble. We're going to get kicked out of here before we even get on. And really, I think they were scoping me out or something."
"And then we walk into the studio and there's about 100 of us and we sit down and you're just sitting there and you're wiggling and jiggling, you're having a good old time, and then all of a sudden they bring on the show and all I heard was "CORN!" Thought, yup! That's ME!"
Her costume, she said, was "popping good!"
"Who wouldn't 'pick' corn when you're on Let's Make a Deal from Nebraska?" Burns told KRNY.com.
She frittered away her first prize, a purse stuffed with cash, giving it up for a television. When another contestant took her TV, Burns chose Door #3 and got a trip to Iceland.
"I was like, Iceland? Are you kidding me? I couldn't even breathe," she told KRNY.com.
But later, she traded it away for what she hoped would be a yellow Jeep during the "Big Deal of the Day." (Aw, shucks — the big deal, a blue Dodge Journey, was behind Door #1. Burns chose Door #3, a two-person barrel sauna and a cypress wood patio swing.)
When it was all over, Brady offered a kernel of wisdom, thanking Burns for making a difference with kids: "Thank you for being here, my dear, and thank you for teaching."
Or, as the mother of three told KQKY.com, teaching is what keeps her going: "Making a difference in the lives of our students today … I love it. I wouldn't change anything."
Support The 74's year-end campaign. Make a tax-exempt donation now.