California Student Test Scores Change Little from Last Year's Low
Despite an influx of money to counter learning loss during the pandemic, English language arts and math test scores remain low.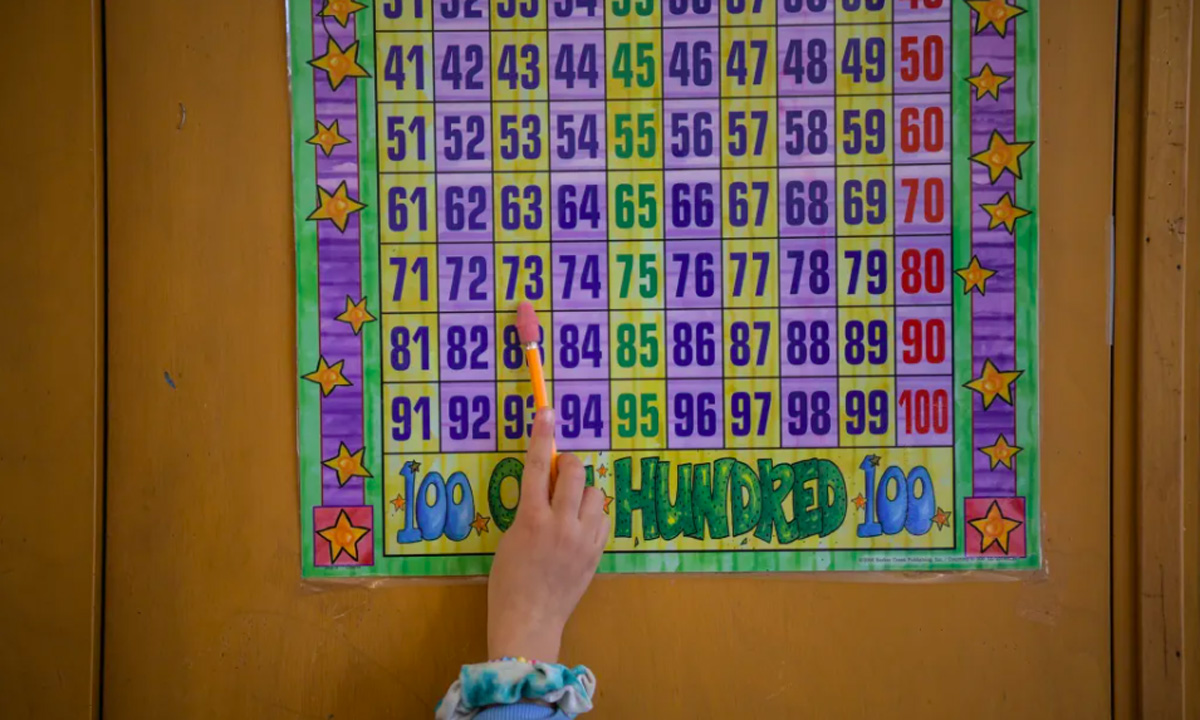 Support The 74's year-end campaign. Make a tax-exempt donation now.
After California invested billions to help students rebound from the pandemic, K-12 math and English language arts scores remained mostly stagnant last year and still well below pre-COVID levels.
The annual Smarter Balanced scores, released today, showed that English language arts scores dropped slightly and math scores inched upwards a bit from 2022, although both scores lagged behind pre-pandemic numbers. Science scores were also up slightly.
Overall, 46.7% of students were at or above grade level for English language arts, and 34.6% met or exceeded the standard in math. In 2019, before the pandemic disrupted education, 51.1% met the reading standard and 39.7% did in math.
"We're not where we want to be. We have a long road to go, but we are making headway," said Linda Darling-Hammond, president of the State Board of Education and president of the Learning Policy Institute, an education research organization. "It looks like we're turning the corner from the pandemic, and some of our investments are beginning to pay off."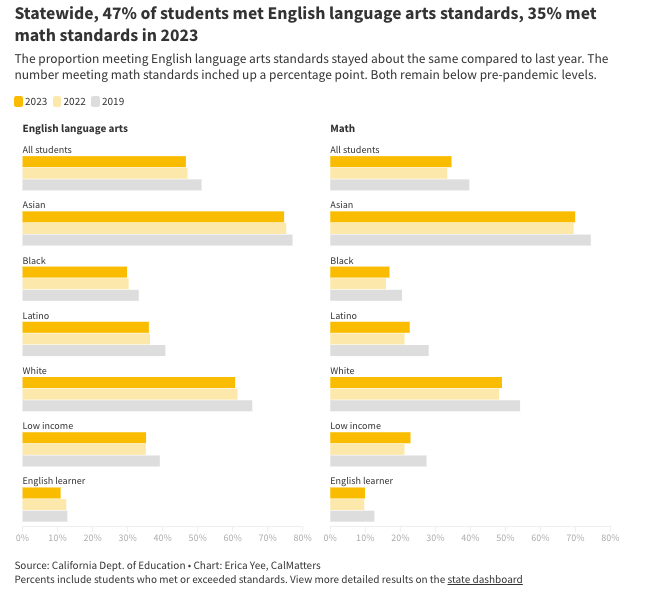 Meanwhile, chronic absenteeism — defined as missing 10% or more of school days — fell significantly, according to data also released today. In 2021-22, 30% of students were chronically absent from school, more than three times the rate pre-pandemic, an alarming trend that advocates feared would have dire consequences for California. But in 2022-23 the number dropped to 25%, an encouraging sign for social workers, counselors and others who've been working to bring students back to the classroom.
"This is wonderful news," said Cristina Dobon-Claveau, president of the California Association of School Social Workers. "After the pandemic, school social workers played, and are still playing, an integral part in ensuring students are attending school and have their basic social-emotional and academic needs met."
The decline in chronic absenteeism suggests students are more engaged in school, and the numbers might have been even better without the disruptions caused by lingering COVID outbreaks and climate disasters such as floods, storms and fires, Darling-Hammond said.
One explanation for the flat test scores is a rise in students with high needs, said Mao Vang, director of assessments for the California Department of Education. Last year California saw an uptick — from 60% to 63% — of students from low-income families, as well as higher numbers of students experiencing homelessness. There were also more students in foster care, migrant students and those with disabilities. The numbers are even more pronounced because overall enrollment has declined.
'A sense of complacency'
But overall, the Smarter Balanced scores were disappointing, said Christopher Nellum, executive director of the Education Trust–West, a research and advocacy group focused on students of color and low-income students' success.
"One- or two-point gains are not to be celebrated when we have hundreds of thousands of students who are below grade level," Nellum said. "I'm concerned that there's a sense of complacency about student achievement."
While he applauds the state's investments in transitional kindergarten, community schools and other initiatives, he also believes schools need to be held accountable for students' academic performance. The state's school funding system, for example, should include more concrete goals with rewards for schools that show improvement and penalties for schools that don't meet certain benchmarks.
"Money is important, but we need to put more teeth into our accountability measures," he said. "California is an amazing state, and getting it right matters — not just here, but across the country."
Billions in school investments
The Smarter Balanced tests, given each spring to students in grades three to eight and 11, are one of the primary measurements of student achievement in California. Prior to the pandemic, scores had been rising steadily for most groups of students, although some groups, such as students with disabilities, English learners, Black, Latino and low-income students, lagged significantly behind their peers.
But when most schools shifted to remote learning in March 2020, thousands of students fell behind. They either lacked access to technology, had no quiet place to study during quarantine, were busy caring for younger siblings, or they felt overwhelmed by mental health challenges.
When campuses re-opened, some students were so far behind that the state and federal governments poured billions of dollars into helping them catch up. Schools received money to hire tutors, expand after-school and summer programs, expand transitional kindergarten, and serve free breakfasts, lunch and snacks to all students.
The state also invested $3 billion to create hundreds of new community schools, which are campuses that include social services and health care programs available to students and their families. The idea is that students whose basic needs are met will be more engaged in school and perform better academically.
Meanwhile, the state also unveiled a new math framework, intended to boost math scores, and invested millions in a statewide literacy plan. Proposition 28, which passed last year, will bring up to $1 billion annually for schools to expand their arts programs.
Heather Hough, executive director of Policy Analysis for California Education, a nonpartisan research center, noted that some of those investments — such as the federal COVID relief grants — will be expiring soon. And the lackluster test scores suggest that money alone might not cure California's education challenges.
"The concern is that we're settling in, that the pandemic was not a blip," she said. "I think we need to look closely at how these investments are actually going to affect teaching and learning, and whether teachers are getting the resources they need to really help students in the classroom."
Big improvements for some districts
There were some bright spots in the Smarter Balanced results. Compton Unified, in Los Angeles County, showed big improvements for many students, especially among 11th-graders. Black students, in particular, saw jumps in both English language arts and math. Latino students also gained ground in math and English language arts scores. At a Monday press conference, Ayanna Davis, the district's board vice president, noted that the graduation rate among Black students has jumped from 50% in 2010 to nearly 90% in 2023. More than 40% of Black students completed the required coursework for California's public universities last year, up from just 3% in 2011, she said.
"We have really focused on African American achievement, I think successfully," Davis said.
Fresno Unified also bucked the trend, posting increases for most student groups in both English language arts and math. Eleventh-graders saw some of the most significant improvements, with English language arts scores jumping almost 10 percentage points and math scores increasing by nearly 3 percentage points from the year before.
Statewide, scores among Black, Latino, English learner and low-income students reflected the overall trend: slight dips in English language arts scores and slight increases in math scores, but still well below the 2019 scores.
Manuel Buenrostro, director of policy for Californians Together, which advocates for English learners, cautioned that test scores are important, but only one way to gauge student achievement. Schools and families should also pay close attention to attendance and discipline data, as well as school climate surveys, which measure topics like mental health, bullying, drug use, violence and whether students feel safe and connected at school.
The most recent California School Climate survey results were released in December, showing improvements in some categories but still high rates of mental health struggles, lack of motivation and other challenges.
"We have to look at what's not captured in scores, and that's students' social and emotional needs — are our students being well taken care of," he said.
Support The 74's year-end campaign. Make a tax-exempt donation now.