California Schools Teaming Up With New Child-Focused Ride-Sharing Company to Meet ESSA Goals for Supporting Foster Youth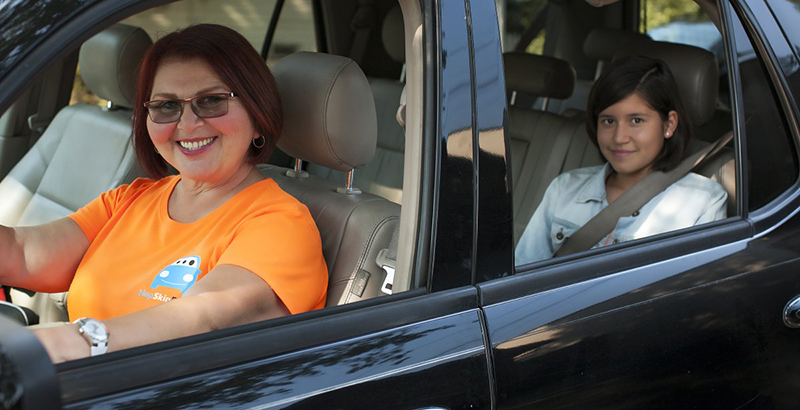 This article first appeared in The Chronicle of Social Change
Last month, the child-focused ride-sharing company HopSkipDrive announced a new partnership with Los Angeles County's Office of Education (LACOE) to transport foster youth to school.
Moving at what one official called a "fast and furious" pace to rectify its failure to comply with foster care mandates enshrined in the federal Every Student Succeeds Act (ESSA), LACOE has contracted with the L.A.–based tech company to give foster kids rides to their so-called "school of origin" through the end of the school year.
The plan, according to HopSkipDrive CEO Joanna McFarland, also includes Los Angeles Unified School District and the Department of Children and Family Services, which oversees the county's foster care system.
The ride-sharing service will be paid $400,000 through the end of June, according to a LACOE spokesman. Three coordinators with the agency's Foster Youth Services Program will be responsible for scheduling rides, and HopSkipDrive's drivers and staff will receive trauma training.
If a success, the pilot could affect not just the roughly 12,000 school-age foster youth in L.A. County, but hundreds of thousands more across the U.S.
"We are excited to work with local agencies throughout California and, beyond that, throughout the country, really to help them comply with ESSA," McFarland said.
The announcement also referenced a $7.4 million investment from Student Transport Inc., a publicly traded New Jersey company that maintains a fleet of 35,000 vehicles. This is a significant infusion of cash for the company, which has raised roughly $22 million since its official launch in 2015.
With STI's presence in school districts across the country, McFarland sees the partnership as crucial in giving HopSkipDrive the scale it needs to serve foster youth outside of the company's current markets: L.A. County, Orange County, and the San Francisco Bay Area. The company has even created a unit dubbed "the justice league" to take ESSA compliance on.
The law, signed by President Barack Obama in 2015, established a clear December 2016 deadline for education agencies like LACOE and Los Angeles Unified School District to work with the foster care system to transport these especially vulnerable students to the school they were attending when they entered foster care, if in their best interest.
"Students in foster care face multiple and sometimes ongoing trauma, including removal from their homes," said Rachelle Touzard, who runs the foster care program within LACOE, in a press release. "Keeping them in their school with familiar teachers and friends can help minimize that secondary trauma and dramatically increase their potential for academic success."
Research has shown that more than one-third of all foster youth will experience five or more school moves by the time they turn 18. And each move can cost four to six months of academic process.
Despite the obvious need and a federal mandate, in January, The Chronicle of Social Change revealed that key agencies within Los Angeles County — including LACOE — had failed to come up with a plan to transport students in foster care.
By May, the Los Angeles County Board of Supervisors authorized a $500,000 stopgap plan to start transporting foster students through the end of 2017. And in July, the California Department of Education, which had failed to ensure that the state's 1,000-plus school districts had complied with ESSA, replaced the official who had botched implementation with a well-regarded advocate for the educational rights of foster youth.
That same advocate, Jackie Wong, now leads the state's Foster Youth Services Coordinating Program. Ensuring ESSA compliance is a key part of her work there.
"I am excited to see what the model will look like with LACOE stepping up to coordinate," she said. "The structure makes a lot of good sense."
Although Wong said that she needs to do her "due diligence" given the sensitivity of transporting children who are in foster care, she sees the pilot being pursued in L.A. County as something that could be spread throughout the state and beyond.
"If you can figure it out here in a clear way, it can absolutely be a model for other places," Wong said.
HopSkipDrive runs all of its drivers through a 15-point eligibility test that includes fingerprint scans, driving histories, and documentation of five years of childcare experience.
Outside of the counties where HopSkipDrive currently operates, there are many more states that need help with ESSA implementation. In August, the Chronicle queried 17 states and the District of Columbia to determine how many had complied with the law's foster care mandates.
In addition to California, Illinois and Colorado's state education agencies either confirmed they had not complied or submitted a response suggesting they had not.
While seven states were in compliance, another eight submitted responses that were insufficient to determine if they were complying fully, partially, or not at all.
There are still 33 states for which compliance is not known. All this means a huge potential market for HopSkipDrive and other ride-sharing companies that specialize in child transportation.
Daniel Heimpel is the president of Fostering Media Connections and publisher of The Chronicle of Social Change, a national news outlet that covers issues affecting vulnerable children, youth, and their families. Sign up for their newsletter or follow The Chronicle of Social Change on Facebook or Twitter.
Support The 74's year-end campaign. Make a tax-exempt donation now.